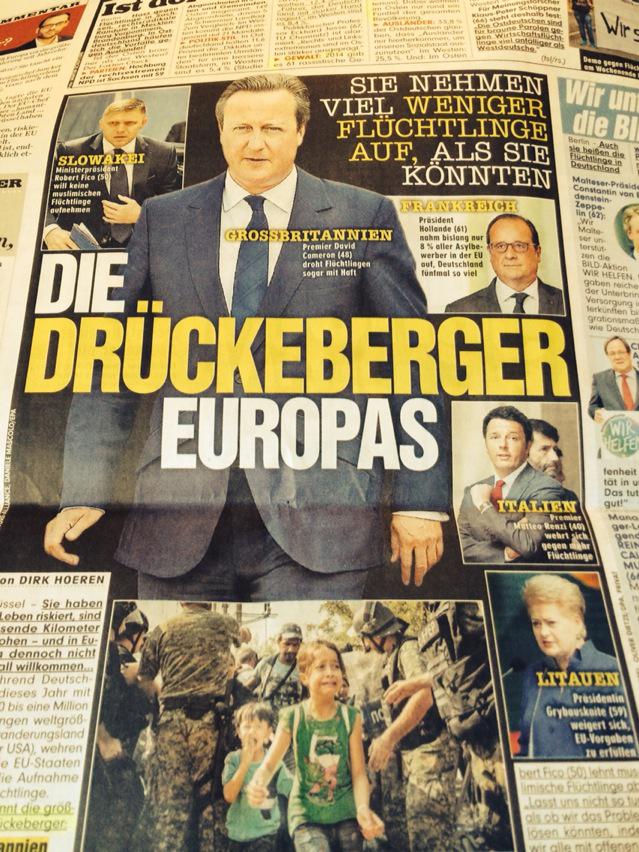 Above: yesterday's Bild, Germany's biggest-selling newspaper. The headline accompanying the picture of Cameron translates as "The slackers of Europe – they take far fewer refugees than they could." First among the slackers, says Bild, is "Great Britain – it has so far taken 114 refugees for every one million residents, one third of the EU average. For comparison, Germany has taken 905 per million population and Hungary 3,322."
Cameron's increasingly xenophobic stance, as he seeks to appease the anti-EU Tory right and fend off UKIP, should be a warning to the anti-EU idiot-left: however you may wriggle and squirm, you're giving "left" cover to some of the most reactionary forces in British politics. The forthcoming referendum is, in reality, going to be a vote on immigration, with the anti-EU forces standing for isolationism, little-Englandism and (in some cases)outright racism.
The principled left should stand for more European integration, not less. The following letter was sent to the Morning Star on 31 July, but (perhaps unsurprisingly) not published:
Dear Morning Star,
It is obvious that the only possibility of resolving the present migration crisis in a fair, humane and rational manner will involve more European co-operation, solidarity and integration.
Migrants should be allocated between EU member states on the basis of a country's wealth, size and number of those of the same heritage already settled in a given country. This approach would involve abandoning the Dublin accord (which requires refugees to seek asylum in the first EU country they enter) and arranging any resettlement immediately after the application is made, to ensure a family or individual isn't wrenched away from somewhere they've come to regard as home. It would almost certainly have to happen before an application is either approved or rejected, with all the difficulties that entails for cross-border information sharing and language barriers. It would also mean countries that have previously experienced low levels of immigration having to accept more.
As has been shown by both the deal forced on the Greeks and the unsuccessful attempt to establish such an agreement earlier this year, such solidarity is not always forthcoming: more EU integration is the only possible way forward. The main reason the British government would oppose any such arrangement is that it would mean taking in more people. For all the cost to the economy of Operation Stack and policing the tunnel, the Tories put cutting immigration figures and being seen to oppose European integration ahead of seeking a rational and humane solution. The anti-EU left need to take note. 
Jim Denham