The miserable worm Gove has crawled all the way across the Atlantic to suck up to Trump (in the slime-trail of Farage), and his "interview" with the scum-bag appears in today's Times.Little Govey can scarcely contain his breathless admiration for his host, who he describes  as "like a man who has been plugged into some power source where the dial has been turned up to levels well beyond the safety regulations would recommend" and "the force of nature that is the man".
Govey's main point (apart from greasing up to his new hero) is to remind us that the Great Man supports Brexit:
"And, ultra-competitive as he is, the president-elect was particularly keen to remind me that, almost alne among international figures, he had the natural good judgement to foresee our departure from the EU."
Not just foresee it, of course, but to positively welcome it. Trump's animosity towards the EU, it would seem, stems from the EU's obstruction of a proposed "expansion" (we can guess what that meant) to a property he owns in Ireland: "What happened is I went for an approval to do this massive, beautiful expansion … but I learned a lot because … they [ie the EU] were using environmental tricks to stop a project from being built."
During the campaign of lies, deception and xenophobia that the Leave side ran during the referendum campaign, Little Govey and most of his Tory chums claimed that they weren't seeking the break-up of the EU, merely then UK's amicable exit.
The one single useful aspect of Govey's Times piece is that Trump makes it clear that the aim of nationalists, nativists and outright racists like himself is the total destruction of the EU (in this respect Trump is more honest than Govey and the Tory Leavers):
"A combination of economic woes and the migrant crisis will, he believes, lead to other countries leaving. 'People, countries, want their own identity and the UK wanted its own identity. But, I do believe this, if they hadn't been forced to take in all of the refugees, so many, with all the problems that it … entails, I think you wouldn't have a Brexit. This was the final straw that broke the camel's back … I believe others will leave. I do think keeping it together is not gonna be as easy as a lot of people think. And I think this, if refugees keep pouring into different parts of Europe … I think it's gonna be very hard to keep it together because people are angry about it."
So it takes the pathological liar Trump to point out a simple truth that the Tory Bexiteers and their useful idiots on the anti-EU "left" (Morning Star, SWP, etc) either denied of avoided during the referendum campaign: Brexit will inevitably help undermine the EU as a whole, which is precisely why racists everywhere seek this goal.
And the end result of the racists' wet dream of destroying the EU?
The freedom for workers to move across Europe would be lost. "Foreign" workers in each country from other ex-EU states would face increased hostility at best, and racist attacks (as is already happening in post-referendum UK) at worst.
There would be a big reduction in the productive capacities of the separate states, cut off from broader economic arenas.
Governments and employers in each state would be weaker in capitalist world-market competition, and thus would be pushed towards crude cost-cutting, in the same way that small capitalist businesses, more fragile in competition, use cruder cost-cutting than the bigger employers.
There would be more slumps and depression, in the same way that the raising of economic barriers between states in the 1930s lengthened and deepened the slump then.
Nationalist and far-right forces, already the leaders of anti-EU political discourse everywhere, would be "vindicated" and boosted. Democracy would shrink, not expand. The economically-weaker states in Europe, cut off from the EU aid which has helped them narrow the gap a bit, would suffer worst, and probably some would fall to military dictatorships.
Before long the economic tensions between the different nations competing elbow-to-elbow in Europe's narrow cockpit would lead to war, as they did repeatedly for centuries, culminating in the world wars of 1914 and 1939.
That's why the left should fight, not to go backwards from the current bureaucratic, neo-liberal European Union, but forward, towards workers' unity across Europe, a democratic United States of Europe, and a socialist United States of Europe. But the idiot-left, who advocated Brexit and privately look forward to the break-up of the EU, don't see things that way. They are the useful idiots of Trump, Le Pen, Farage … and even that wretched little weasel Gove.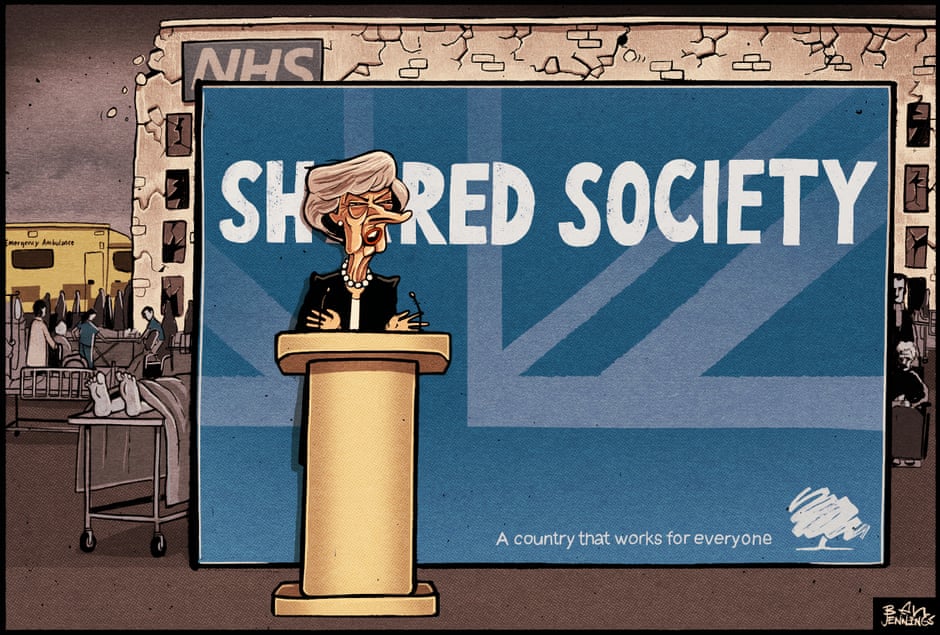 Cartoon: Ben Jennings, Guardian
By Phil Burton-Cartledge (first published at Phil's blog All That Is Solid)
When you're a leading politician and especially a Prime Minister, the pressure is on to stand for something. And as the real choices in politics truncated to who could best run the Thatcherite/neoliberal settlement, necessity and expediency dictated that one must pretend to be something more than a manager of that consensus. John Major had his Back to Basics campaign, married to the Citizen's Charter and Cones' Hotline wheeze. His Blairness got no less a figure than Anthony Giddens to cook up "The Third Way", the impossibility of marrying market fundamentalism to half-recognisable social democratic objectives. Even Bill Clinton bought into that one. Dave had his Big Society, a convenient celebration of volunteering just as the Tories committed themselves to butchering public services and replacing them with philanthropy and a committed citizenry. Ed Miliband had One Nation. The exception is Jeremy Corbyn, who is yet to fully define himself despite offering a politics that decisively breaks with received wisdom.
In her own way, at least at the rhetorical level, Theresa May also defined herself differently, and now her philosophy has a name: the Shared Society. Looking forward to a major speech on the matter, we know this is so much guff because of her record. In the six months May has been in power she's prevaricated, delayed, prevaricated, and delayed some more. With a dose of control freakery, as noted by Andrew Rawnsley, she's carried on flogging off strategic industry, and has overseen a budget that barely differed from an Osborne effort. May's shared society isn't looking that different from late period Dave, truth be told. And that's before we start talking about the NHS and the declaration of a humanitarian crisis by the crazed militants of the Red Cross. Her talk of dealing with "the shorter life expectancy for those born poor, the harsher treatment of black people in the criminal justice system, the lower chances of white working-class boys going to university, and … the despicable stigma and inadequate help for those with mental health conditions" remains just talk as long as these crises carry on without the government appearing to care too much about them.
Still, her original address from the steps of Downing Street was perceived as a master stroke from within the Westminster circus. Talk of dealing with everyday injustices, including economic anxiety and security came like a revelation to folks who rub shoulders with working class people only when ordering a latte. But it would be churlish to deny May's speech had significant cut through. Unlike Dave and Osborne who only pretended concern, May sounded like she meant it, that she understood something about the difficulties of modern life. In an uncertain world, she crafted a message pledging certainty, of a national community that has everyone doing their bit and getting their just rewards. This is where the shared society comes in. She defines it as,
A society that doesn't just value our individual rights but focuses rather more on the responsibilities we have to one another; a society that respects the bonds of family, community, citizenship and strong institutions that we share as a union of people and nations; a society with a commitment to fairness at its heart … it goes to the heart of my belief that there is more to life than individualism and self-interest. The social and cultural unions represented by families, communities, towns, cities, counties and nations are the things that define us and make us strong. And it is the job of government to encourage and nurture these relationships and institutions where it can, and to correct the injustice and unfairness that divides us wherever it is found.
Had Ed Miliband defined his One Nationism thus, the Tory press would have dubbed him a proto-totalitarian. Yet, from an ideas perspective, the shared society is interesting for three reasons. We know from her long stint in the Home Office that May is a petty-minded authoritarian who, like her predecessors, happily ramped up the government's snooping powers in the name of terror prevention. All throughout her career, May has never been one to celebrate individual sovereignty. Second, she is riding the wave of (English) nationalism. As Wolfgang Streeck has argued, societies that have seen labour movements broken and discourses of resistance buried turn instead to whatever ideological resources are to hand. In this case, nationalism is resurgent because the nation appears eternal vis a vis cultural, political and economic turbulence. Farage exploited noisy, entitled, frightened English nationalism to his advantage, and now May is doing the same – albeit in calmer, more measured (and respectable) tones. And thirdly, her "active government" promises social reform that will build a "great meritocracy". Forget your Ed Miliband, she's channeling Clem Attlee. Again, we'll wait and see about that as there's been nothing beyond a slight smoothing of social security policy.
It's bollocks, but unlike the wonky visions of days gone by it has a certain simplicity to it, one that even newspaper columnists will be able to understand. It promises justice and security, mainstays that should be Labour's, but have proven difficult to meld together and "own" in recent times – the fact May freely speaks this language and is treated seriously goes to show how far our party still has to go. Yes, May suffers from the triple vices of incompetence, dithering and control-freakery, and Brexit could undo her leadership. But her undeserved reputation as a serious grown up rests on this rhetoric, of knowing and understanding the problems of, shock horror, the working class. And most importantly, her apparent no fuss willingness to do something about them.
Momentum's Facebook page carries a bizarre video which comes from the TSSA rail union.
It's about railway privatisation, but instead of talking about private businesses exploiting passengers and workers, it focusses entirely on the French, German and Dutch public railway companies that have bought up parts of the UK system, and basically rests on an implied "foreigners stealing our railways" message. Really dodgy, and particularly unhelpful at this time of Brexit-inspired nationalism and racism.
On the TSSA website the link to the video is accompanied by the following gems from the union's recently re-elected General Secretary Manuel Cortes:
"This film makes the case that it is high time the UK takes back public control of our rail operating companies back [sic] from Keolis, Arriva and Abeilio [sic] who are just front companies for the French, the German and the Dutch states.
"Brexit has made Taking Back Control of train operating companies a vital economic necessity. Leaving the EU but leaving our rail operating companies in the control of EU countries to continue reaping the profits, would now be preposterous.
"It's a no-brainer case and we hope this film will be shared widely and be used to hold the Tories to account in England and Wales – and in Scotland too where under SNP nationalist rule ScotRail has been tuned [sic] into a Dutch rail colony – for their unpatriotic and misguided running down of UK rail."
Yes, we must hold the Tories to account for being unpatriotic!