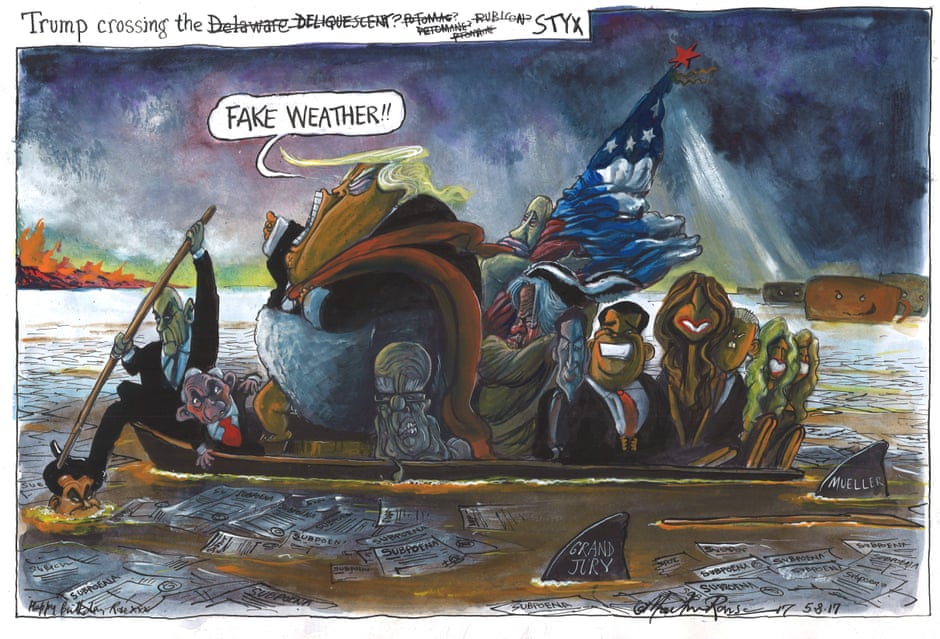 Illustration: Martin Rowson (The Guardian)
Martin Thomas spoke to Andrew Gamble about the character of the Trump government. Andrew Gamble is a Professor in Politics at the University of Sheffield and the author of many books on political economy. [The interview was recorded at the end of July, before the North Korea crisis blew up, and also appears on the Workers Liberty website]
MT: Since the 1940s the world markets have been structured by a series of institutions: the WTO, the IMF, the G20, the G7, NATO. The USA has been central to all of these. Is Trump going to blow them up?
AG: He hasn't been tested by a major international crisis yet, but almost certainly there'll be one during his presidency. How he will react is unclear: how much he will be guided by people like Mattis and McMaster and how much he'll do something unpredictable. There is a risk it could be the latter. While he hasn't done much that's very radical yet, he has certainly disoriented the complex web of international alliances that the US has put so much store by over the last 70 years. He has upset Australia and Germany: very long-standing allies. He has given comfort to Russia and some other states which are normally not close to the US at all. This has been very unsettling for lots of other states. The likelihood is that that's going to continue because of the erratic and chaotic way the Trump administration works.
MT: The Economist (26/1/17) commented that Trump was bringing to political dealing his approach from business bombast and brokering: "he aims high, pushes and pushes, but then settles for less than he originally sought". But, as the Economist comments, "dealing with countries is a higher-stakes game than bargaining over Manhattan building plots".
AG: I think it is partly that. He clearly had so little actual political experience. His business background was fairly low-level – real estate – he wasn't CEO of a major international company or anything like that. Tillerson is a different category of a businessperson from Trump. Trump's experience was as a reality TV host. That too has coloured how he has approached things. He approaches relations with other leaders with an eye on how it's going to play with his base and how he can make himself look good. He uses bluff and does outrageous things partly in the belief that this will enhance his ability to do deals. This is in itself a very unsettling way of conducting relations.
In the first six months he sent out more than a thousand tweets. These things are superficial in one way, but they betoken a style which is deeply unsettling: the fact that he is prepared to put things into tweets which normally, in previous presidencies, would have been private communications, the fact that he's prepared to go public. I had wondered whether his behaviour might start to change as he learnt more about what the US Presidency was like. But it seems at the moment that this doesn't seem to be happening. Every time his behaviour has become a bit more normal it has been followed by reverting to some of his old techniques and habits. I conclude that he probably isn't going to learn very much and what we've seen in the first six months is likely to carry on.
All US Presidents have had courts. But Trump's court is particularly fluid and has some very opposed factions within it, which, in policy terms, point in quite different directions. Trump seems to pivot from one of these factions to another, so that no faction is dominant for very long, and he plays the factions off against one another. That makes the policy even more erratic and hard to read for foreign observers. Where this is all going is strange. We should expect some major shocks, and particularly if crises of one kind or another test Trump.
MT: The Russia connection? What's in it for Trump? And what's in it for Russia?
AG: It is mysterious how difficult it is for Trump to shake the Russia connection off. That has led me to believe that there is something going on which we don't understand yet. The likely thing, although there isn't firm evidence for this yet, is that Trump's business empire is reliant in some way on Russian money – not government money, but oligarch money. There were stories at one time, of links through Deutsche Bank, which is one of the main funders of the Trump business empire.
The multiple links of people associated with Trump with Russia are extraordinary. There is probably something of substance behind it all. He has also got people, particularly Mattis and McMaster, who represent the American political security establishment and a traditional US policy towards Russia, and that of course chimes with what a lot of Republicans want.
So Trump has been forced to concede on the sanctions. But it doesn't stop him! The latest revelation, that at the G20 meeting [7-8 July in Hamburg] he had a second 60-minute chat with Putin in which Putin used a Russian translator and Trump wasn't accompanied by a translator. That in itself was a breach of state department protocol. What is going on? Why would you do that, when there is so much focus on his links with Russia and his associates? Read the rest of this entry »