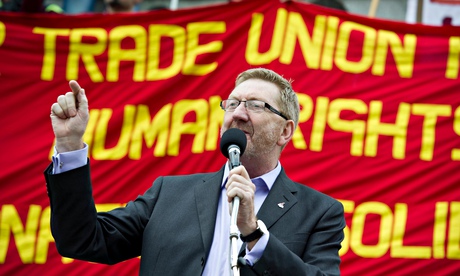 Speech delivered 20th June (NB: not the same as his piece in yesterday's Guardian)
Colleagues,
May I start by expressing Unite's shock at the death of Jo Cox and our deepest sympathy to her family.
We can only hope that the outpouring of grief from across the nation will help Jo's husband, Brendan and his family in these unbearable times.
Her death places in context what is really important in our lives.
She was, of course, a passionate advocate for the Remain campaign and would surely want political debate to continue.
Brothers and Sisters,
As this referendum campaign draws towards a close, I think everyone can agree on two things.
First, it matters. As we come up close to the moment of decision, this feels like one of the most important votes any of us will cast in our lives.
And second, this is close. The elite complacency of the start of the campaign, that this was just a quick canter to the winning post for REMAIN, has disappeared.
This could go either way.
For those two reasons, I wanted to speak out directly, both to and on behalf of the members of Unite, the biggest trade union in the United Kingdom, also as someone who can legitimately claim to know the hopes and fears of the working-class communities across the country, the sort of community I grew up in and have kept my roots in.
There is no need for a spoiler alert – Unite is fighting all the way for a Remain vote, and for Britain and British workers to build their future in unity with the rest of Europe.
But I have not come here to lecture or to patronise those working people who take a different view. Who can be surprised that in so many industrial areas, voting for the status quo is not exactly a popular option?
I am just asking all those people, including many Unite members, to reflect on their concerns, and whether they would be best addressed by staying in Europe, or by a Brexit.
And I want to flag up what I believe will happen to working people on the morrow of a vote to leave.
Let me turn first to the issue of IMMIGRATION:
Some pundits and commentators, like explorers returning from a visit to the deep unknown, are stunned to find that this has become an issue.
I for one am not in the least surprised. I understand those concerns. They are NOT, for the greatest part, anything to do with racism or xenophobia.
They are to do with the systematic attempt by our greedy elite to hold down wages and cut the costs of social provision for working people.
Let us be clear – what has been done in the last ten years is a gigantic experiment at the expense of ordinary workers. Countries with vast historical differences in wage rates and living standards have been brought together in a common labour market. The result has been huge downward pressure on living standards.
What happens when two hundred workers are competing for jobs where previously only ten did? Wages are frozen or cut.
What happens when workers can move from a country where a job pays £5 an hour to one where the same job pays £20? The answer is that many do so move, and the same job then ends up paying just £12 an hour.
That is why trade unions have never been in favour of a so-called free labour market. Control of the labour supply in an industry or across society has always been the core of our mission, to ensure that workers get their fair share of the wealth they create.
But let me be clear about something else. Pulling up the drawbridge against the rest of Europe is the wrong answer. Read the rest of this entry »