We've spelled it out before, but recent events are making it ever more obvious: Brexit necessitates appeasing the likes of Trump, Xi Jinping and Erdogan .
If the UK leaves the EU on a 'hard Brexit' (which it will, if the Tories have their way) then grovelling for some crumbs at their tables is all Britain will be good for.
And that is the question Corbyn, Watson and McDonnell have to answer. If Brexit goes through, who should the UK deal with in trying to get good trade deals? How would a Labour government be able to do it whilst simultaneously making clear its distaste for Trump and other racist and authoritarian leaders and regimes ?
If you oppose Trump, you have to oppose Brexit.
Today's editorial in the Brexit propaganda sheet known as the Daily Telegraph, spells out the inexorable logic from the perspective of the most reactionary (ie: pro-Brexit) section of the UK ruling class, who think May's mild criticism of Trump has already gone too far:
Trump-bashing will get May nowhwere

It goes almost without saying that Donald Trump was wrong to share anti-Muslim tweets by an extremist British group. But what should the government have said and done about it? Theresa May was right to call Britain First a "hateful organisation" and to correct the false premises behind the tweets. But to personalise her response by adding that Mr Trump "was wrong" was a mistake. A good relationship with America is the very definition of the national interest. To reply to a president's undiplomatic act with direct criticism may win easy political points. But such virtue signalling is itself hardly the act of a winning diplomatic strategy.

Worse, Mrs May yesterday seemed intent on deepening, not healing, the rift with our greatest ally. "The fact that we work together does not mean that we are afraid to say when we think the United States have got it wrong and be very clear with them," she said, casually dismissing the special relationship.

There are numerous ways for Downing Street to signal displeasure to our friends in Washington. Almost any of them would be more effective than engaging in a public slanging match. What, really, is there to gain by meeting an emotional and ill-thought-through presidential outburst with its prime ministerial equivalent.

Nuance and subtlety in such matters are not beyond our international partners. French President Emmanuel Macron famously snubbed Mr Trump at an international summit by swerving out of his way, a video clip of which delighted anti-American voters back in France. But that did not stop the savvy Mr Macron from welcoming the American leader to Paris as soon as practically possible, and treating him to the greatest Gallic hospitality. This does not represent hypocrisy so much as political sophistication.

Such things matter. How is it possible that the American president has visited France and Japan, but has yet to make an official trip to Britain? Instead, we were treated yesterday to the spectacle of a House of Commons in which MP's of all stripes queued to outdo each other in their condemnation of the leader of the free world. This passes dangerously close to the instinctive anti-Americanism that is such a dark element of the revolutionary left. That already has too firm a grip on one side of our politics. It must not infect Conservative benches too.
PS: never forget this, either.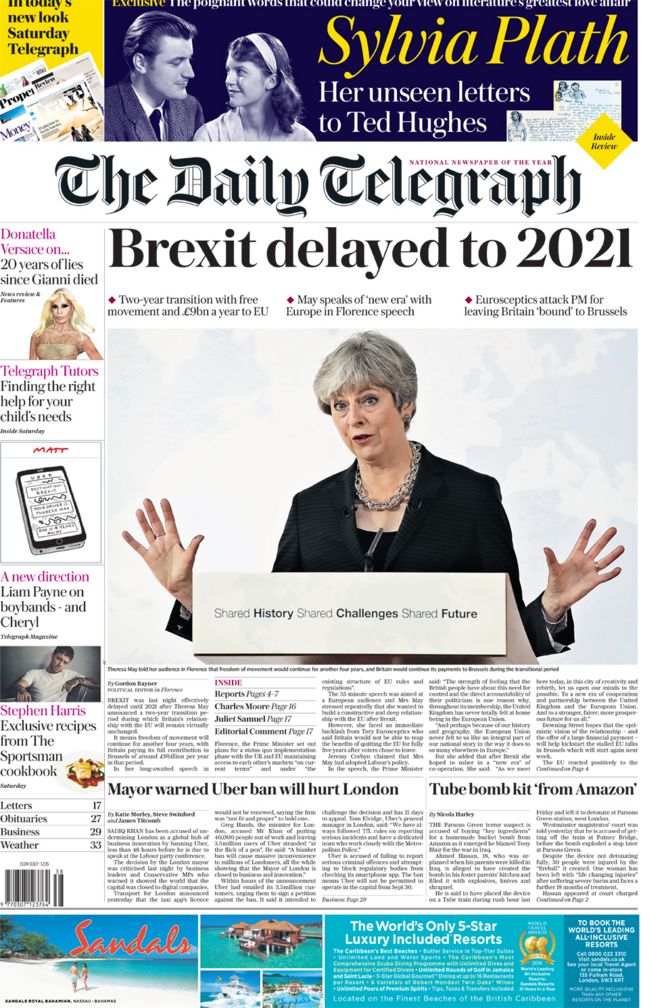 The Telegraph is generally keen on May's speech, but suggests she may have given away her "strongest bargaining chip" … 
One of the more outrageous, irresponsible and disgraceful elements of May's "Article 50" letter to the EU in March was the none-too thinly-veiled threat to withdraw security co-operation with Europe in the event of no trade deal being reached:
"In security terms a failure to reach agreement would mean our cooperation in the fight against crime and terrorism would be weakened," she wrote in the letter to European Council President Donald Tusk.
Wisely, May did not repeat this outrageous threat in her Florence speech yesterday.
But, according to the increasingly shrill and fanatical pro-Bexit Torygraph, there are people who thing she should have.
Torygraph content is now shielded behind a paywall, but we can read the full article (by chief reporter Gordon Rayner), thanks to the Brisbane Times, here. They key passage is this:
There were accusations that Mrs May gave away her strongest bargaining chip – access to Britain's security and intelligence might – by saying the UK was "unconditionally committed to maintaining Europe's security."
Now, just re-read that passage. Yes! It says what you thought it said.
My only question is, do the people making these "accusations" include the likes of Torygraph ex-editor and veteran anti-EU fanatic Charles Moore, current editor Chris Evans (no, not the DJ) and the rest of the Torygraph top brass?