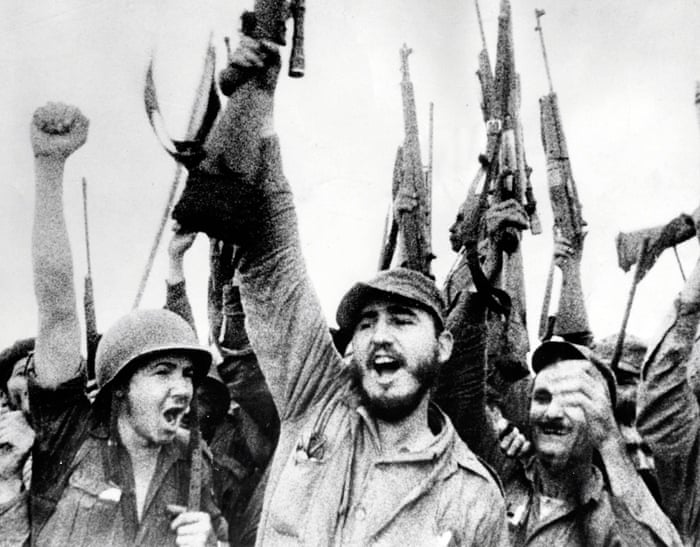 Castro leads his victorious troops (photo: History Archive/Rex/Shutterstock)
Pablo Velasco and Sacha Ismail examine Castro's legacy in an article written in early 2012, largely informed by  Cuba Since The revolution of 1959: A Critical Assessment, by Sam Farber.
---
The 1959 revolution that brought Fidel Castro and his 26 July Movement to power was a bourgeois revolution which smashed Fulgencio Batista's dictatorship, but replaced it with their own Bonapartist regime.
Half driven by US hostility and half by choice, this government opted to become a Stalinist state in 1961, adopting the model of the USSR and similar states.
Farber calls this a "bureaucratic system of state collectivism", in which society's economic surplus "is not extracted in the form of profits from individual enterprise, nor is it realised through the market. Instead, it is obtained as a surplus product of the nation as a whole. The surplus is appropriated directly, through the state's control of the economy". Cuban workers and peasants received their means of subsistence in the form of largely non-monetary rations — low cost or free food, housing, education, health and other welfare facilities. However the surplus product pumped out of the direct producers is controlled and allocated by the ruling bureaucracy — "without any institutional constraints by unions or any other independent popular organisations".
Cuba's achievements and failures "resemble those of the Soviet Union, China and Vietnam before these countries took the capitalist road". Part of this was Cuba's receipt of "massive Soviet aid from the early sixties to the end of the eighties… even the most conservative estimates would place it well above Cuba's calculated losses from US economic aggression during that period". Between 1960 and 1990, Cuba received about 65 billion dollars of Soviet aid on very favourable terms.
The "systematic repressive nature of the Soviet-type regimes made it politically difficult to build enduring oppositions within those societies". In Cuba there was "certainly no lack of physical brutality… particularly during the first twenty years of their rule. There were thousands of executions, and there was large-scale imprisonment, throughout the revolutionary period, of tens of thousands of people under typically very poor living conditions and physical mistreatment."
Who rules Cuba?
The state bureaucracy that developed out of the revolution is still in power.
The state owns the means of production and the bureaucracy "owns" and controls the state. The "one-party state" is in fact a no-party state, since the bureaucracy rules directly through the myriad of state and state-sponsored "mass" organisations.
The bureaucracy has privileged access to consumer goods through special stores, separate hospitals, recreational villas, and trips abroad. The armed forces and security services have their own medical facilities. Since the two-tier economy of hard currency and pesos was legally established in 1993, more conventional inequality has been unleashed.
The political ideal of the Cuban elite has been summed up by current head of state Raúl Castro as "monolithic unity" (2009). Although there is enforced mass participation in Cuba's polity, there is a complete absence of democratic control. Cuba has had a variety of ruling institutions, but none function democratically. The Communist Party was formed in 1965 and has only had six congresses in over 50 years. The Popular Power assemblies were not established until 1976 and allow only vetted candidates to stand on their biography, with those "elected" able only to rubber stamp decisions taken elsewhere by the bureaucrats.
Cuba does not have the kind of impersonal rule of law and citizens' rights against the arbitrariness and capriciousness of the state which exist in some bourgeois societies. This is evident in the crimes of "social dangerousness", and "antisocial behaviour", and the use of imprisonment, electric shock treatment and psychiatric institutions for opponents. Fidel Castro has admitted that there have been 15-20,000 political prisoners in Cuba and Cuba currently has 531 prisoners per 100,000 people, the fifth highest rate worldwide.
What about the workers?
The idea that Cuba is ruled by its workers is laughable. In 1959, the Cuban working class "was not socialist in any meaningful sense of the term, nor did it lend its own distinctive character to the Cuban revolution". Fidel Castro himself has admitted as much on numerous occasions.
The working class was certainly not passive during Batista's dictatorship. Despite the shackles of the state and business-gangster trade unionism, sugar workers, rail workers and bank workers fought militant reformist struggles around pay and conditions. The 26 July Movement had its own trade unionists who did organise successful strikes on a number of occasions after the rebel leadership landed in Cuba in 1956. But the general strike they called in April 1958 was a failure and workers' action only an adjunct to the main, guerrilla warfare strategy for taking power. Read the rest of this entry »