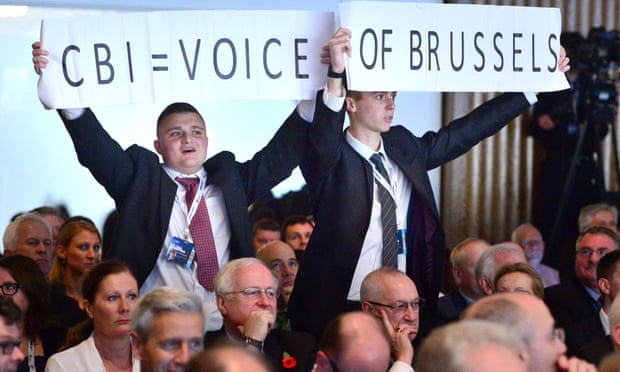 Sheppard and Lyon of Vote Leave protest at the the CBI conference
On Monday of this week David Cameron addressed the CBI conference in London, and was mildly heckled by two posh young men from the Vote Leave campaign.
For those who don't follow the intricacies of anti-European factionalism in the UK, Vote Leave is an outgrowth of Business for Britain and Conservatives for Britain, both set up by long-standing Tory anti-Europeans Matthew Elliott (founder of the Taxpayer's Alliance) and Dominic Cummings (former special adviser to Michael Gove), which for years have been pressurising Cameron and the Tory leadership for a harder line against the EU, and have now come out for withdrawal. Vote Leave claims to be a "cross party" campaign, but is overwhelmingly made up of right wing Tories with just Douglas Carswell of Ukip, Kate Hoey and a handful of Labour right-wingers, mavericks and millionaire donors, plus the Green's eccentric Baroness Jenny Jones, giving the outfit the excuse to call itself "cross party."
What was interesting about Monday's protest was that while the two posh boys were protesting inside the hall, outside a small gaggle of aging Stalinist little-Englanders calling themselves Trade Unionists Against The EU, held a simultaneous protest. The two protests were quite obviously co-ordinated, and indeed, the Morning Star (Nov 10) quoted one Robert Oxley (who turns out to be Vote Leave's Head of Media) as saying: "we will be working together closely during the campaign to do more of these protests – particularly at the AGMs of big companies who try to scare the British people into voting to remain."
The Morning Star seems to have interviewed the two posh boys as it named them as Phil Sheppard and Peter Lyon, and quoted Mr Lyon as describing their experience as "terrifying" but "worthwhile."
This is all a bit odd, because back in June of this year, the Morning Star carried an editorial ("Left reasons to ditch the EU") denouncing Conservatives for Britain and Business for Britain (ie the two main constituent parts of Vote Leave) as "neoliberal and nationalist extremists" and called on trade unions, the Labour Party and the left to "develop an independent position of their own, one which represents the real interests of workers and the mass of the people across Scotland, England and Wales."
Yet now we have the Morning Star giving sympathetic coverage to Vote Leave, and frequent Star contributor (and CPB member) Brian Denny co-ordinating the activities of Trade Unions Against the EU (of which he is, apparently, an Organiser) with Vote Leave.
But even stranger is the position  of the Campaign Against Euro-Federalism, which is to all intents and purposes, Mr Denny and a few of his friends like the ultra-nationalist little Englander (and fellow Morning Star contributor) John Boyd, just wearing different hats: the website of the other main anti-EU campaign, Leave.EU (presently battling it out with Vote Leave, for recognition as the official anti-EU campaign), set up by wealthy Ukip backer Arron Banks and virtually a front organisation for Nigel Farage and Ukip, carries the following endorsement:
CAEF
"As a well-established Eurosceptic Labour movement organisation operating for nearly 30 years, CAEF is pleased to join an organisation that seeks to represent people from all walks of life and defend national democracy, which is clearly under threat from a corporate-dominated European Union that is accruing evermore powers at the expensive of member states. No country can truly decide its own future democratically without the sovereign power to make its own laws and run its own economy in the interests of its citizens free from outside interference", Brian Denny