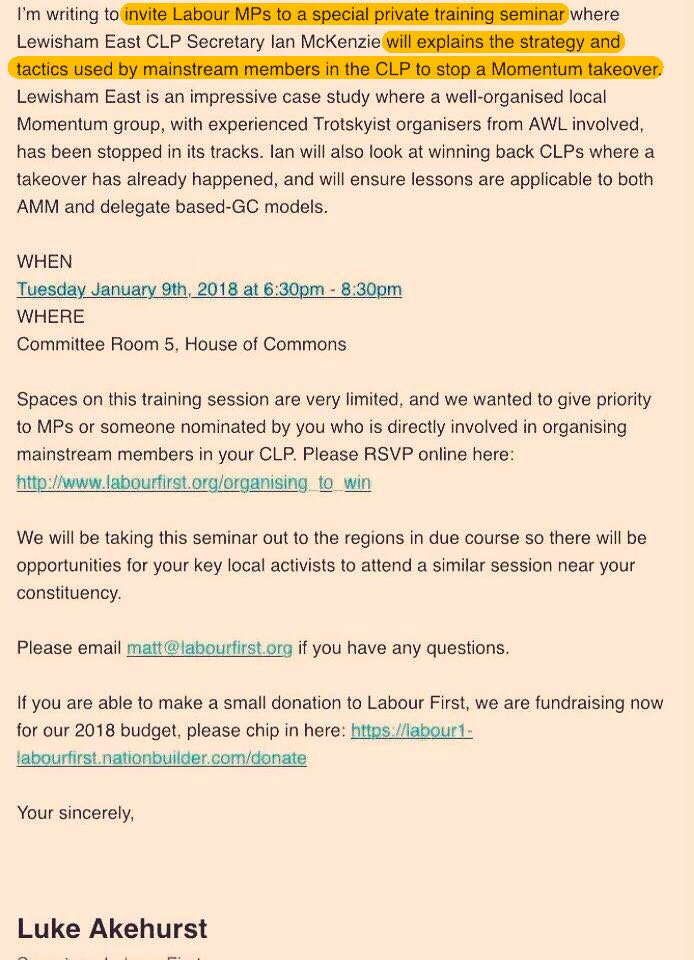 Above: Labour First factionalises
By Will Sefton (this article also appears in the present issue of Solidarity)
We may well have reached 'peak Momentum'. These are the most favourable political circumstances Labour's hard left could envisage.

They feel politically vindicated by the general election result, have a well-funded, well-staffed organisation holding a vast amount of data on Labour members and have reshaped Labour's membership through successive rounds of mass recruitment.
So says Luke Akehurst, secretary of Labour First, writing a sober article about Momentum and local council selections in the course of the last couple of weeks of right-wing hysteria from the bourgeois press, with Roy Hattersley and Angela Rayner making (politically differentiated) contributions.
Akehurst is relatively realistic on Momentum's political advances. The "centre-left", as he calls his wing of the party, did okay on nominations to Labour's National Executive, although Eddie Izzard still has 100 fewer Constituency Party nominations Momentum-backed candidate Yasmin Dar. One of the "centre left" candidates — Izzard, Johanna Baxter or Gurinder Singh Josan — could win a seat.
Across the UK, the left of Labour is, in fact, not sweeping the board. The picture is mixed. In Haringey, the campaign against the £2 billion Haringey Development Vehicle (HDV) regeneration plan has ensured nearly all of the incumbent Progress-dominated council Cabinet have been ousted by Corbyn supporters. In Lewisham East, the right retained control of the party. In Watford a Momentum-backed trade unionist would not have got onto the shortlist for the MP candidate without an intervention by the National Executive.
The two organised right wing groups within Labour – Progress and Labour First – are not identical, though they work closely with each other.
What really bothers Progress, so they say, is the lack of experience of the left candidates as against established right wingers. Akehurst and Labour First are more worried about the kind of politics that these councillors will be putting forward and who they feel they are accountable too. He mourns the passing of cosy dinners and drinks receptions with lobbyists and property developers.
Undoubtedly it is true that many of the new intake in councils in 2018 will be relative newcomers, some involved in politics within the last two years. That only indicates that the pressure on new left councillors to make cuts, to carry out "tough decisions", will be intense. It highlights the importance of discussing the strategy for councillors in a fight against austerity. It cannot wait till May. It needs to be more than an anguished plea for a Labour Government in 2022. Without such a strategy the left will be caught up in passing on more cuts and participating in running services in a dire state following seven years of Tory austerity.
Having a layer of Labour councillors who are accountable to Labour members and the local labour movement, who want to mobilise it to fight, is long overdue. But can we get this?
Minimally local council candidates should call for the next Labour government to restore all the money that has been cut since 2010. Local labour movements should call meetings to discuss the needs of the area and what strategy is needed to defeat the cuts. Our movement has historical examples that can be learnt from — victories at Poplar and Clay Cross, as well as those that ended in defeat as with the fight of the local government left between 1979 and 1985.
We must be absolutely clear that there is no subversion of democracy, no underhand coup, going on in Labour. Members are simply exercising their democratic right to select the representatives they want. Some right-wingers are moaning about an increasingly factional atmosphere and condemn the fact that Momentum has used its membership to mobilise people in ward and selection meetings.
Roy Hattersley notes that Momentum is not as tightly controlled as Militant, but has a much further reach. He raises the spectre of the "far left pamphleteers" being a dominant and aggressive force once more. But the movement could do with more pamphleteers and more engagement with tough arguments! Healthy labour movement organisation relies on members engaging with political arguments. Factionalism is simply arguing for a point of view and winning people over to it.
Both Labour First and Progress do just this! It is what Hattersley is doing. In this sense, we will need more factionalism, more organisation and more opportunities if members are to exercise their democratic rights. Unfortunately some on the left have chimed in in with the furore. Quoted in the Times, Shadow Education Secretary Angela Rayner said that established MPs and councillors had an "absolute right" to be there and to be listened to.
Rayner seems to have got confused between the divine right of Kings, which many councillors seem to want, and the open political debate in which all sides have the chance to make their case. Typically, as in Haringey, right-wing councillors would rather duck a political fight. There the right have resigned rather than go through an open selection process. They have refused to be held to account, and they have branded local members as bullies and unthinking drones who are mobilised purely to cause trouble for hard-working stalwarts.
Akehurst offers a more active strategy. "We have to build up our capacity to out-recruit Momentum by mobilising the larger latent public support of the centre-left and some centrists who want an electable Labour Party. This will require huge investment in digital and press recruitment advertising, coherent messaging, an attractive candidate for whenever Jeremy retires, and fresh policies, not 1997 answers to 2017 problems (though these are preferable to 1917 or 1977 ones)."
"Sadly, the existence of Momentum requires similar factional rigidity and structure on our side…This is contrary to the historic culture of the Labour Party, which until 2015 was not factional…we are buzzing around them as an incoherent rabble of individualists." This is utter nonsense.
The Labour Party has had factions for all its history; only, before Corbyn, the left was much weaker and the party was a rump. Akehurst is rewriting history, presenting the Labour Party as a friendly place where everyone used to get along, to try and weaken the grip of the left and to convince people that it is both wrong and irregular for there to be disruption to the normal boring, bureaucratic and cliquey goings on of local parties. In the face of the false nostalgia, we need to assert and fight for a democratic party that debates its policies and political differences in the open.
12 Comments
rotzeichen

said,

Momentum is about democratising the party whist Akehurst serves outside interests not directly associated with Labour. Look up his activities on google.

Akehurst is being deliberately divisive, because he is working to a separate agenda to the Labour Party, whilst Momentum is building a movement that supports Labour's real traditions. That is why it is has spontaneously received massive support.

People are not stupid, they understand the damage the Tories have done to this country and living standards, Akehurst on the other hand has been part of the faction that condoned attacks on ordinary people and blamed the victims rather than the government for the predicament they are in.

Akehurst is working against the interests of the Labour Party, and to put it mildly is guilty of everything he accuses the left of.

Glasgow Working Class

said,

Momentum are left infiltrators from various parties who know they would never be elected on their own manifesto. Labour need to rid themselves of this infestation or the party will split. The Tories would probably covertly fund momentum.

rotzeichen

said,

It just goes to show you know nothing about Momentum but are happy to lie about them.

The fact you are talking out of your nether end, is that the people you refer to are not allowed to join Momentum, they often complain about it, and noting the number of members of Momentum, do you really think the few thousand you refer to make up the hundreds of thousands that are in fact Momentum members.

The only thing you prove, is that you do not support the Labour Party, therefore you sneer from the sidelines hoping to make as much damage as you can. A Tory that knows he dare not speak its name.

Glasgow Working Class

said,

I am a member of the Labour Party and for many years. As long as there are fascists and Stalinists around I will not give you or anyone my name and address.. The democratic process will see the end of momentum..
And why should I be interested in momentum as they are separate from the my party..?

Political Tourist

said,

Can you be a member of Labour and UKIP at the same time?

Political Tourist

said,

No, she's in the Labour Party, UKIP and the DUP all at the same time

Glasgow Working Class

said,

PT and Chulo = Tossers. So whit party do you two belang tae?

rotzeichen

said,

I still think you are a Tory, the accent tends to give you away.

Political Tourist

said,

Think the Glasgow Bigot is having a giraffe.

Boleyn Ali

said,

"This is contrary to the historic culture of the Labour Party, which until 2015 was not factional"

Priceless