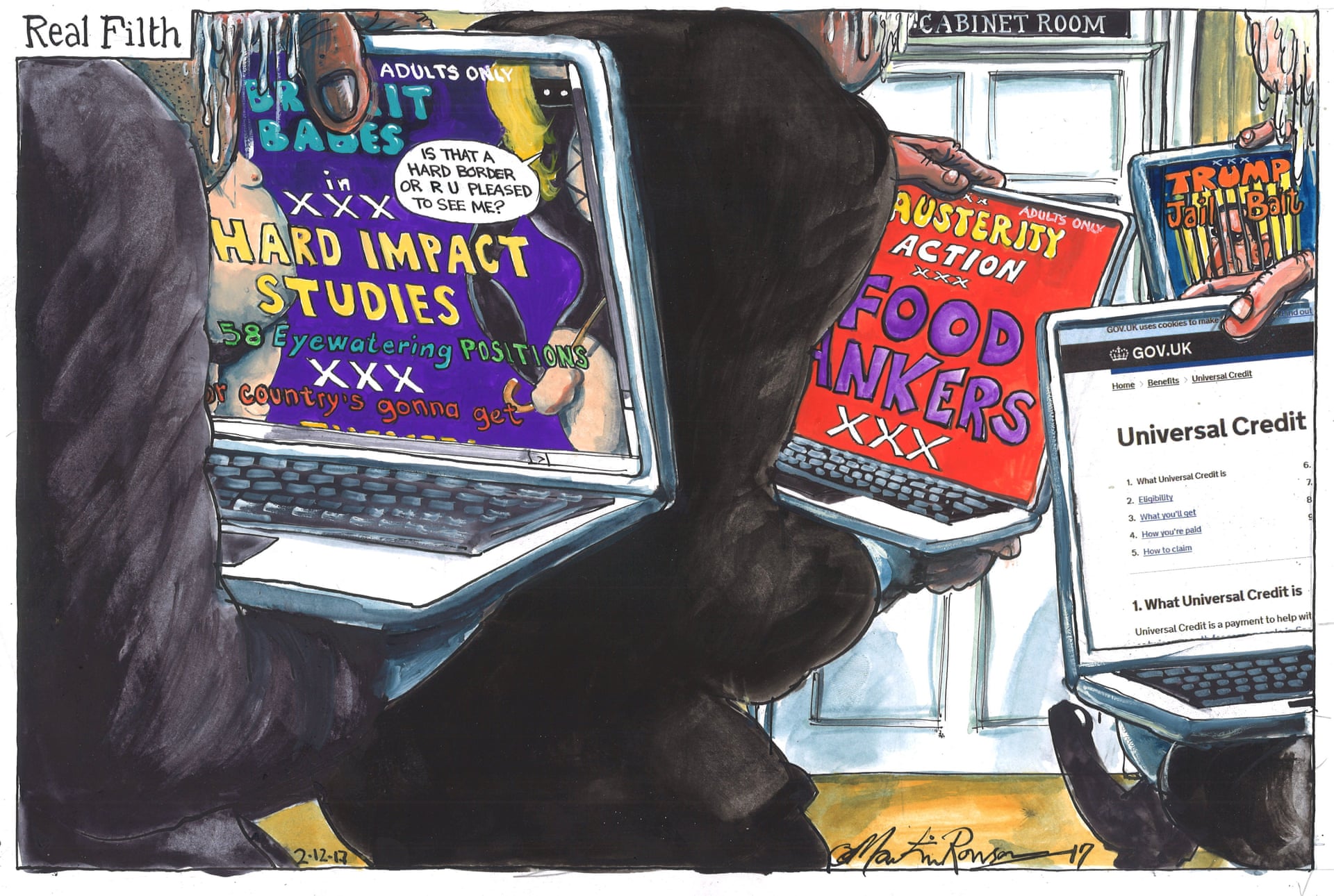 Illustration: Martin Rowson (the Guardian)
The first rule of defending yourself against an allegation is to decide on your story and stick to it. The second rule is not to confuse matters by introducing another line of defence that, in effect, undermines your story.
Damian Green's friends on the Tory benches have been repeating his flat denial of having used his Commons computer to access pornography. But then they go on to add that the porn was "legal", which rather begs the question, why does that matter if he wasn't looking at it in the first place?
The likes of Andrew "Plebgate" Mitchell, Ian Duncan Smith and David Davis have all expressed outrage at the allegations raised by former Met cops Bob Quick and Neil Lewis. Davis, a close associate and former boss of Green, has threatened to resign if his friend is forced out, thus making Green virtually unsackable and effectively tying May's hands. What will happen if further allegations about Green's personal conduct (making unwelcome advances towards Conservative activist Kate Maltby) are upheld by Sue Gray's inquiry, will be fascinating to observe. But the smart money must be on Green surviving – the political price of sacking him and then losing Brexit negotiator Davis would simply be too high for May to contemplate: it could even bring down the government.
Quick and Lewis have stated that during a 2008 investigation into the theft (masterminded by Green and David Davis) of documents from the Labour Home Office, they found thousands of pornographic images on Green's Commons computer, and also on his laptop. Lewis, who specialised in examining digital devices, said "the computer was in Mr Green's office, on his desk, logged in, it is his account, his name, in between browsing pornography he was sending emails from his account, his personal account, reading documents, writing documents and it was just impossible, it was sort of exclusive and extensive, that it was ridiculous to suggest that anybody else could have done it."
Green's friends (and idiots like this) bleat on about his right to be considered innocent until/unless proven guilty, and suggest that only a court of law can properly decide the matter. Such people are either ignorant or being deliberately disingenuous: this is not a criminal matter, but a workplace matter, which civil law principles apply: ie there is no presumption of innocence and guilt does not have to be proven "beyond reasonable doubt" but on "balance probabilities." Last I heard, the House of Commons was supposed to be a workplace; in any other workplace an employee found (on "balance of probabilities") to have accessed any sort of porn on a work computer, would be looking at summary dismissal. And the source of the evidence would be irrelevant, so long it stood up … on "balance of probabilities."
5 Comments
mark taha

said,

One-workplace should be "beyond reasonable doubt" as well.Two-how many people haven't looked at porn? It wasn't child pron,was it?

Anyone discovered to have looked at any kind of porn on a work computer can expect – rightly or wrongly -to be sacked.

Jim Smith

said,

Good point, WeatherEye, but another issue is – if the material was not illegal, what business is it of the police? Retired police officers should not gossip about matters that are not criminal. If decisions are made on the basis of police gossip, police gossip could be used against the Left (e.g. "I searched Jeremy Corbyn's flat in 1983 and found works by Trotsky and a poster of Che Guevara", or whatever)

Keith

said,

So strong and stable maybot cannot do anything as it means the fall of her Government. Green the DUP veto, the ever more demented far right headbangers etc. She cannot do anything at all of use without one of the hostages to fortune blowing her coalition of chaos apart. Awful.