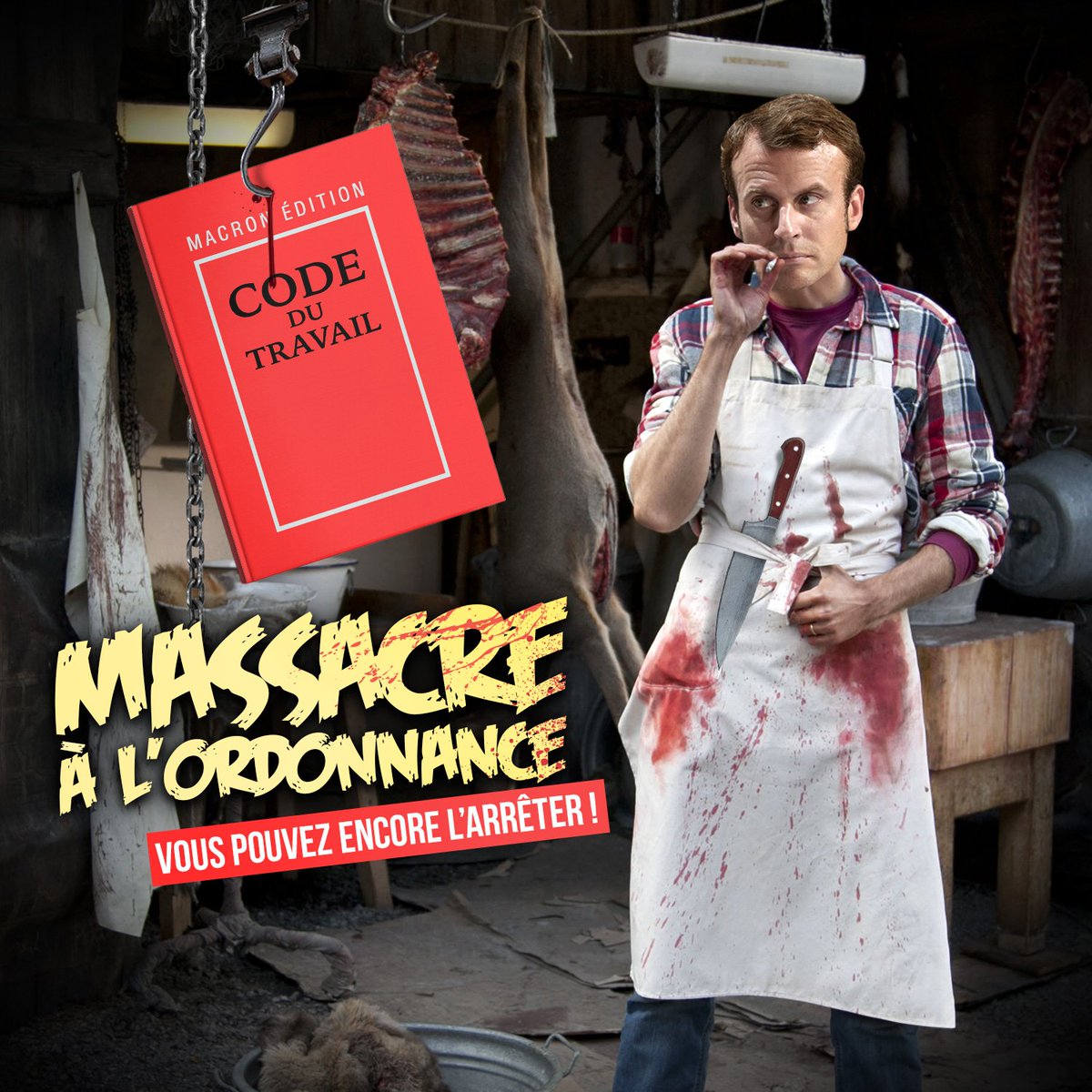 Andrew Coates, who follows French politics very closely, reports at his blog Tendence Coatesy:
First Demo Against Macron's 'Reforms', 12th of September.
Macron's government unveils controversial labour reforms.
France 24.
After meeting with trade unions on Thursday, the French government unveiled President Emmanuel Macron's controversial labour reforms, vowing to "free up the energy of the workforce" by making it easier for employers to hire and fire.

French Prime Minister Édouard Philippe and Labour Minister Muriel Pénicaud met with trade unionists on Thursday before publicly unveiling the labour reform measures, which are detailed on some 200 pages.

The highly anticipated and controversial labour reforms, a centerpiece of Macron's election pledge, are aimed at creating jobs.

The changes will be implemented via executive order, allowing Macron to avoid a lengthy parliamentary debate. The overhaul will be adopted by the government in September and must then be ratified by parliament, where the president's La République en Marche (Republic on the Move) party has a large majority.
Criticism from trade unions
Right after the announcement of the reforms, some unions voiced criticism, denouncing measures that they perceive to be more favourable to companies than to employees.

Philippe Martinez, secretary-general of the CGT trade union, lashed out Thursday, saying, "All our fears have been confirmed and the additional fear is obvious and has been written: It's the end of the working contract." He qualified the reform as "old recipes which will not change the lot of the people."

The communist-backed CGT has opposed the changes outright and is set to mobilise its supporters on September 12 for a street protest. Jean-Luc Mélenchon, the far-left leader of France Insoumise (Unbowed France) and a fierce opponent to Macron, is organising another protest on September 23.

France's biggest private sector union, the CFDT, declared itself "disappointed" but said it would not be calling its members to join the CGT's planned street protest on September 12.

Nevertheless, the CFDT is unhappy with the level at which dismissal awards in France's labour courts will be capped, and unhappy with a section of the reforms in which employers will be allowed to negotiate directly with staff in companies with fewer than 20 workers.

The boss of the hard-left Force Ouvrière (FO) union, Jean-Claude Mailly, said he disagreed with some of the changes, but like Berger suggested he would not recommend his members join street protests.

Meanwhile, François Asselin, president of France's confederation of small and medium-sized companies, the CPME, has praised the reform for being "particularly pragmatic".
The CGT wants their Day of Action and Strikes  to be the occasion to begin a serious moblisation against Macron's 'reforms'. (La CGT veut faire du 12 septembre la journée « contre la réforme du code du travail »)
To the lack of support from the two other main union federations  there is also  this.
La France insoumise (LFI), 17 deputies strong, to repeat, is organising its own demonstration on the 23rd of September, without the unions and any other group on the left. Jean-Luc Mélenchon appelle à un "rassemblement populaire" contre la réforme du travail le 23 septembre à Paris.
Macron has already seized on this to declare that Mélenchon   is claiming not just to be the only real opposition to the President but also to be a "rival to the trade unions". (Mélenchon à la tête de l'opposition ? Une chance, selon Macron.  Le président de la République estime que le leader de la France insoumise se pose en "rival des syndicats" sur la réforme du Code du travail. RTL)
Whether this division exists, or whether the LFI march will have any impact, is not at all sure.
A few days ago the Parti communiste français PCF, which has 11 MPs, and close ties to the CGT,  expressed reservations about this division amongst left parties. Their  leader Pierre Laurent contented himself with noting a "lack of respect" (manque de respect) in the way LFI operates (le Monde. 26.8.17). A young member added, " that for LFI "everything is built around his personality and his inner circle (tout est construit autour de sa personne et de sa garde rapprochée – literally his "bodyguard").
One thing is clear: the serious campaign will be launched by the Unions.
By contrast LFI declares that they are leading the movement, " «Nous proclamons en septembre la mobilisation générale contre le coup d'Etat social»" – we declare in September that there will be a mobilisation in September against the social coup d'Etat by Macron.. La France insoumise suggests that Mélenchon may soon be called for government if Macron is defeated, and they are ready to govern is need be. " Jean-Luc Mélenchon affirmait ainsi : «Nous sommes prêts à gouverner demain s'il le faut" (Des «élections anticipées», nouveau credo de La France insoumise. Libération).
In the meantime…
For the best analysis of these reforms seems Gérard Filoche:  Leurs mensonges sont énormes, Ils font le pire, ils ont passé le code du travail à l'acide
VIDÉO – Besancenot met en garde Mélenchon : "Personne ne pourra jouer solo"
Nobody can play alone.
As Olivier says, 1) the claim that LFI are the "only" opposition to the government, however much they have wind in their sails, is not the case, and 2) He will not be at the LFI demo since he is not part of LFI and 3) a united social front is what is needed.
http://www.lci.fr/politique/video-besancenot-met-en-garde-melenchon-personne-ne-pourra-la-jouer-solo-2062929.html
1 Comment