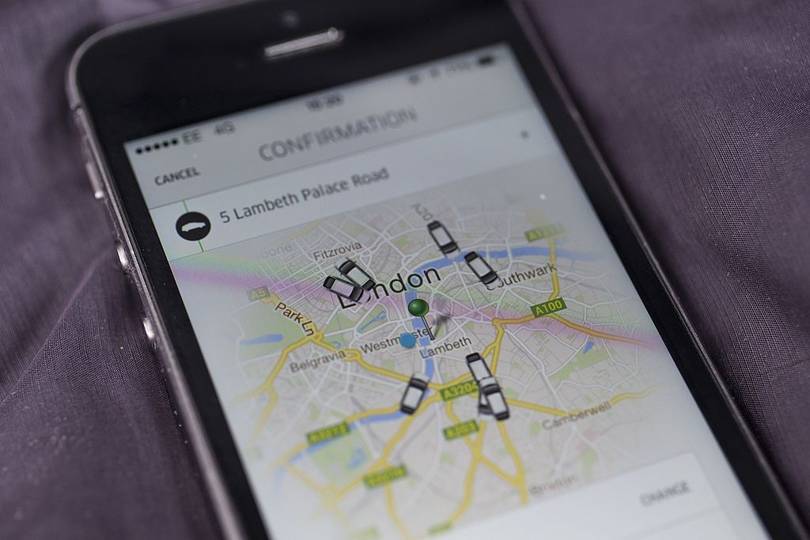 Getty Images / Oli Scarff
Former Blair advisor Matthew Taylor's review of the gig economy has disappointed just about everyone except the Tory government that commissioned it, and the gig economy bosses. Stephen Cavalier, the chief executive of Thompsons Solicitors said the recommendations of the review are "feeble and add another layer of unnecessary complexity".
The review recommends that gig economy workers should get sick pay and holiday leave, but doesn't recommend legislation banning zero-hours contracts. The review doesn't advise workers be guaranteed minimum wage, though companies will be expected to show how workers could realistically earn at least 1.2 times the living wage of £7.50 an hour, for example by modelling the rate at which they must complete tasks to earn such pay.
The idea is that would-be workers can log into a platform and see "real-time earnings potential". If they can't reasonably earn a living wage with the work on offer, the report  proposes it should be up to the worker to decide whether they should take up the work or not — but that also means that companies will not be required to pay minimum wage to those who knowingly agree to take on work at less busy times.
Under these proposals, if a worker chooses to "log in" to work at a time when demand is low, they might not earn the minimum wage — although the gig company would have to use its real-time data to warn them in advance.
Taylor's suggestions include a new category of worker called a "dependent contractor", sitting between fully employed and self-employed status.
"The creation of a new 'dependent contractor' status for gig economy workers would further complicate existing categories of how workers are defined in law," Cavalier said in response.
TUC general secretary Frances O'Grady said on Twitter that we "don't need new employment status." She added: "Unions' court victories prove many so-called self-employed are workers and should get the [minimum] wage."
She added: "Platform firms are pleading special status but really the new tech is just hiding old-fashioned casualisation and exploitation."
Estimates suggest as many as 1.1 million British people work in the so-called gig economy, with a report from MP Frank Field suggesting some delivery drivers are making less than £2.50 a hour. Field has previously accused gig economy companies from "free riding" on the welfare state, while the Bank of England has blamed the gig economy for wage stagnation and the Oxford Internet Institute has called for a fairtrade foundation for international gig workers.
Theresa May, who is launching the review is expected to say changes to gig economy companies will avoid "overbearing regulation". The Guardian reported May will say: "At its best, a job can be a genuine vocation, providing the means to intellectual and personal fulfilment, as well as economic security".
Gig economy firms have argued frontline workers — such as drivers and couriers — are self-employed, but last year a tribunal ruled that Uber's drivers aren't self-employed and should earn minimum wage.
The weakness of Taylor's proposals should not come as a surprise. He told a TUC event in London last month that (on the basis of undisclosed evidence) "up to three out of four workers" wanted flexible arrangements and changing that was the "last thing we should do". He went on to say that the UK's flexible job market was a something other countries envied.
4 Comments
Barrister Daniel Barnett reports:

Employment Status: The Taylor Review 'Good Work' Report
The Taylor Report, now called the 'Good Work' report, has been published this morning.

The summary below is adapted, with permission, from blogger and speaker Darren Newman's excellent summary.

Here are the proposals on employment law that emerge from the report.
1. Keep the distinction between employees and workers, but rename workers who are not employees 'dependent contractors' (page 35)
2. Amend the legislation defining employees and workers so that case law principles are reflected in the legislation itself – possibly with supporting secondary legislation (page 35)
3. Remove the requirement for workers (Darren's summary refuses to use the 'dependent contractors' term) to have a contract to perform work personally (page 36)
4. Place more emphasis on control in the definition of worker status (page 36)
5. Consider taking account of the subtly different definitions of 'worker' in the legislation
6. Retain need for personal service in employment contract
7. Amend the law on the National Minimum Wage to make it clear that gig-economy workers allocated for through an app are undertaking a form of output work and will not have to be paid NMW for each hour logged on when there is no work available (page 38)
8. Treat workers treated as 'employed' for the purposes of tax status (page 38)
9. Extend the right to a written statement of terms to workers as well as employees (page 39)
10. Require written statements to be given on day one of employment (page 39)
11. Extend written statement of terms to include description of statutory rights (page 39)
12. Give a stand alone right to compensation if employer has not given written statement (page 39)
13. Consider increasing the rate of the National Minimum Wage for hours that are not guaranteed by the employer (page 44)
14. Preserve continuity of employment where any gap in employment is less than one month, rather than one week (page 45)
15. Improve the information to be given to agency workers (page 46)
16. increase the reference period for calculating holiday pay (where pay is variable) from 12 weeks to 52 weeks. (page 47)
17. Allow holiday pay to be paid on a 'rolled up basis' (page 47)
18. Give agency workers the right to request a direct contract with the end user after 12 months on an assignment (page 48)
19. Give those on zero-hours contracts the right to request guaranteed hours after 12 months (page 48)
20. Require employers to set up Information and Consultation arrangements when requested by just 2% of the workforce rather than the current 10% (page 53)
21. Require larger employers to report on their overall workforce structure – including requests from zero-hours workers for regular hours (page 55)
22. Abolish the 'Swedish Derogation' which allows agencies to avoid matching end user pay by employing agency workers in a way that allows for pay between assignments (page 59)
23. Give HMRC enforcement powers in respect of sick pay and holiday pay as well as minimum wage issues (page 59)
24. Allow claimants to being a claim to ET (without fee) to determine employment status as a preliminary issue prior to substantive claim (page 62)
25. Place burden on employer in ET claim to prove that claimant is not an employee / worker (page 62)
26. Give BEIS the power to pursue the enforcement of Tribunal awards – i.e. pursuing the actual award, not just imposing a penalty for non-compliance (page 63)
27. Allow ET to impose aggravated penalties on employer who does not apply ET ruling on employment status to similar groups of workers (page 63)
28. Allow uplifts in compensation where employer commits subsequent breaches of employment law based on similar working arrangements to those already dealt with by ET (page 64)
29. Consider allowing flexible working requests to cover temporary as well as permanent changes to contracts (page 95)
30. Reform SSP to make it a proper employment right available to all workers – accrued in line with length of service (page 99)
31. Give individuals a right to return to work following long-term sickness absence (page 99)
Some of these proposals are 'ready to go' and others would obviously require a great deal of work to turn them into something specific. For example, it's all very well saying we need a clearer definition of who is an employee and who is a worker – but what would those definitions actually look like?

Ben

said,

" "up to three out of four workers" wanted flexible arrangements…"

This is unbelievable.

In my family there are four young people in their twenties and thirties who are all working reduced hours, but scheduled haphazardly so they cannot take a second job. As a consequence they are unable to make ends meet.