Naz Shah was taunted with anti-Semitic abuse after defending the Jewish state, during a hustings in Bradford.
An audience member during the event appears to shout "Jew Jew Jew" at the Labour candidate for the Bradford West, after she reiterated her belief in Israel's right to exist.
The MP, who is campaigning to retain the seat at the general election, was suspended by Labour last year for an anti-Semitic Facebook post. She has since apologised and been widely praised for her efforts to learn more about the Jewish community and Israel.
Shah said during the hustings, after being branded a 'Zionist' for her reformed views: "Do I believe in Israel's right to exist? I continue to stand by my statement that I believe in Israel's right to exist".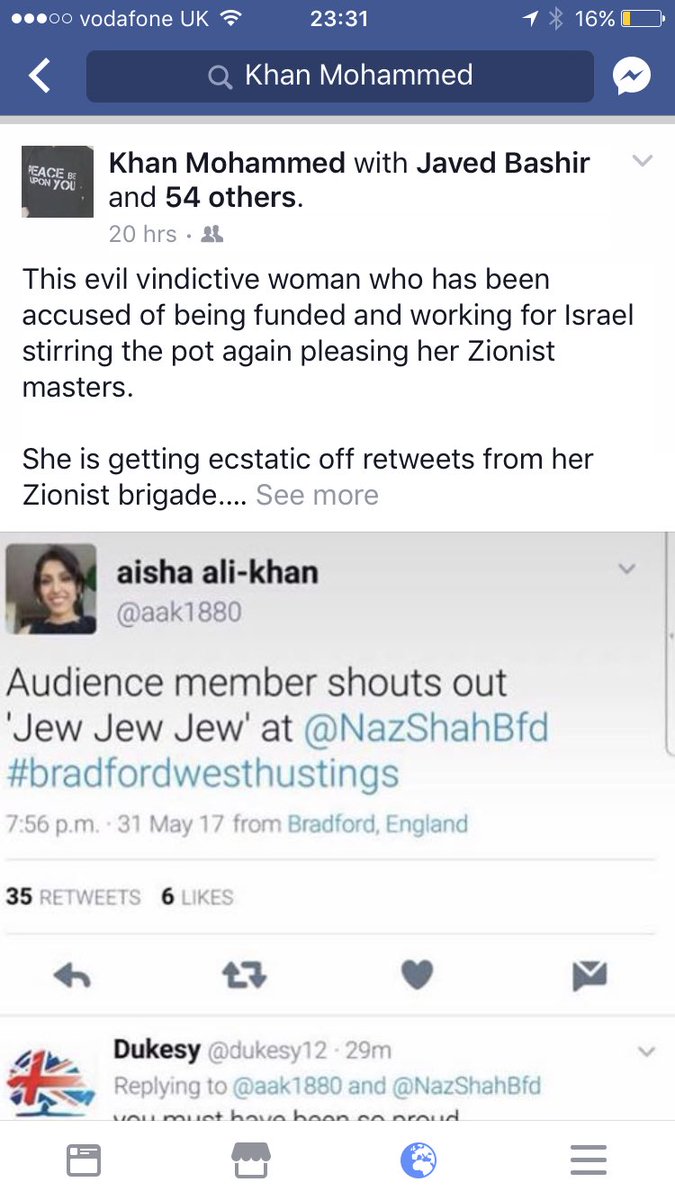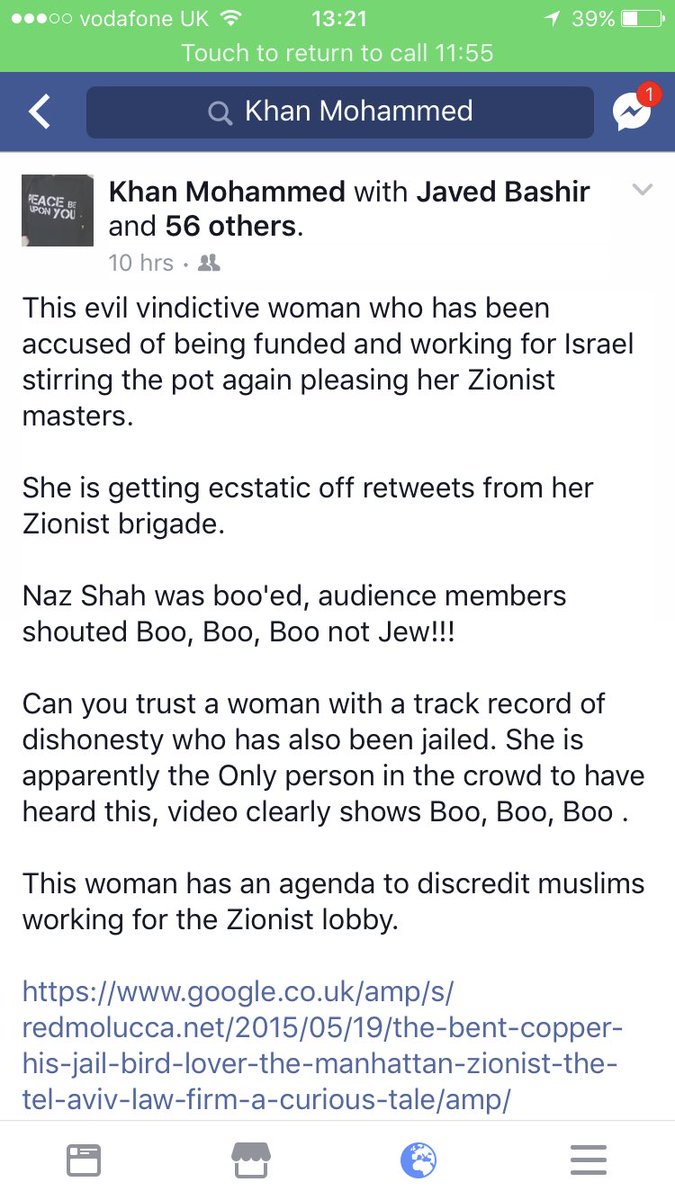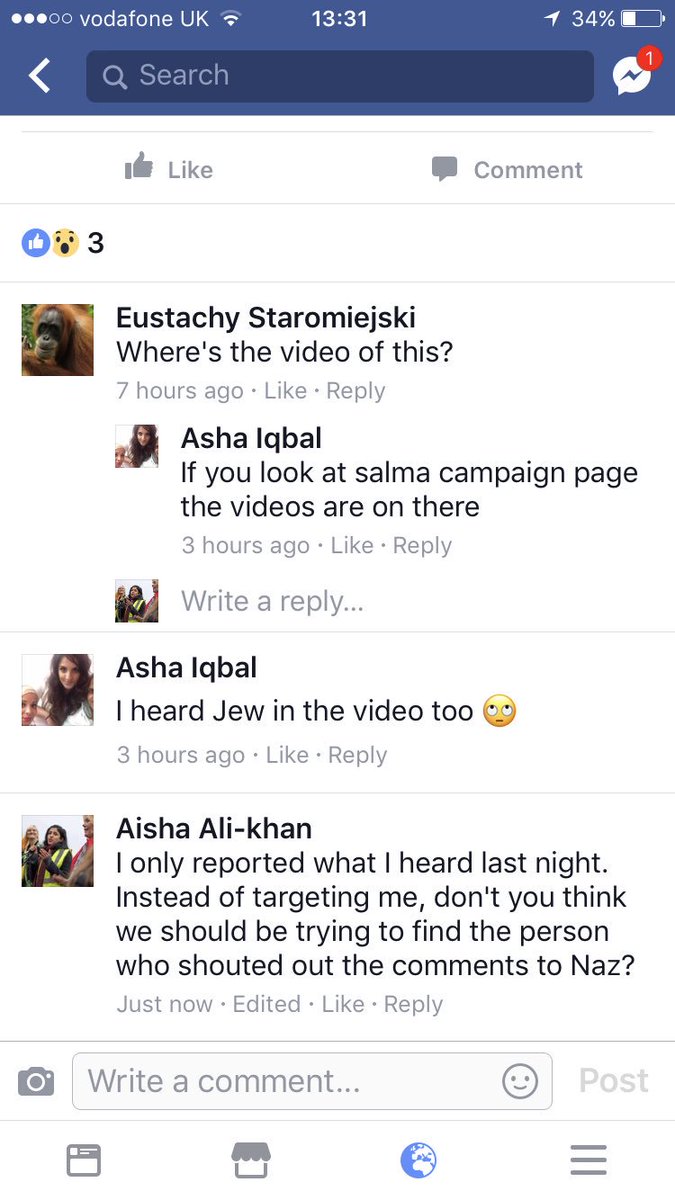 11 Comments
No much ambiguity from this man about what 'Zionist' means.

Mick

said,

For those she is trying to atract, I wonder what the Labour Party's version of the 14 words are! 😀

Mick

said,

Oh, LABOUR LABOUR! Wallowing in karma much, are we?!

The self-same woman showing prejudice herself heckled by the self-same Islamist class the Labour Party has been known to sell out to.

If Labour chase after the BNP of the politicised minorities – to the extend of calling Hamas 'friends', hosting segregated meetings and covering up paedophile rings – they only get the gratitude they deserve.

But after police swooped in Manchester's bomb aftermath, making arrests and finally getting progress, all lefties can whine about are Muslims being offended.

Labour won't come out of this morass any time soon.

Mick

said,

STOP PRESS: And taking a look, Between the BNP and Sharia fanatics, there are way more violent thugs and paedos in one group of people than another.

Pity that if Labour have to even court the support of one side, they only go for the side with the greatest number of bigots and lunatics!

C'est la vie, left!

Naz Shah sees the error of her ways, is suspended by her Party, apologises, reaches out to Jews and now defends Israel's right to exist … and all she and her Party gets is sneering abuse from bigots like Mick. Makes you wonder, doesn't it?

Mick

said,

Aaah, sticks and stones, mate! And talking of stones……… actually, no. With this subject matter, it's a joke you can see coming miles off!

So, the prodigal daughter need not have bothered! Labour gets sneered at for all the crap it gets up to and the company it keeps, not because it's so persecuted and nobody loves it.

Glasgow Working Class

said,

Jim, so she has changed her heart and mind to keep the bank account in credit!

Mick

said,

So when's Shami Chakrabarti going to alight from the House of Lords then, to wave the magic wand and dispel antisemitism from the supporters clubs too?

After all, if football clubs are tainted by even dickish fans then it should be the same for Labour.

That's a fight that some of us are already engaged in … and we're winning.

Replier

said,

Then a word to the Labour wise is not to court support where more of the trouble comes in!!