Alice Neel, Uptown is at Victoria Miro, London N1 from 18 May-29 July. A catalogue accompanies the exhibition, published by David Zwirner Books and Victoria Miro.
"I love you Harlem," the American painter Alice Neel wrote in her diary around the end of World War II, and really, she loved everything in it. Neel celebrated Harlem — specifically its ethnically mixed section known as Spanish Harlem or El Barrio — for "your poverty and your loves." And what Neel eulogized in her diary, she immortalized in oils: street scenes, interiors and, above all, portraits of the men, women and children in a neighborhood far from the suburban Philadelphia of her youth, which the artist adopted as her own.
Little heralded in her lifetime, Neel (1900-1984) has won posthumous acclaim as one of America's most inventive and peculiar portraitists. Her later paintings, especially, made her sitters strange through thick outlining and unelaborated backgrounds. But behind Neel's experiments with form were New York lives — of writers and revolutionaries, lovers and petty criminals – Jason Farrago, New York Times.
Benjamin, 1976
Benjamin was the son of Neel's landlord in Harlem. She painted many portraits of adolescent boys, some more self-assured than Benjamin appears. 'Alice seems moved by his smallness,' says Als. 'There's something about the vulnerability of his shape, the narrowness of his shoulders and the tilt of his head. It's a moving picture of a boy who has yet to become a man and doesn't quite know how to fit into masculinity. He's thinking, "Is this the way a boy or a man sits?" Just as we have paintings of young women in flower becoming women, this is about a boy about to be transformed.'
Ron Kajiwara, 1971
When Alice Neel painted his portrait, Ron Kajiwara was a graphic designer at Vogue; later, he became its design director. 'Kajiwara's face is a kind of mask here,' Als says. 'He and his family had been interned in California during the second world war when he was a kid, and he was gay, and there is something so forbidding about his character. He has been rejected by the world and here he is working in the white avant garde. His pose is a kind of armour. Alice is painting her inability to get further in; his beautiful self defence.'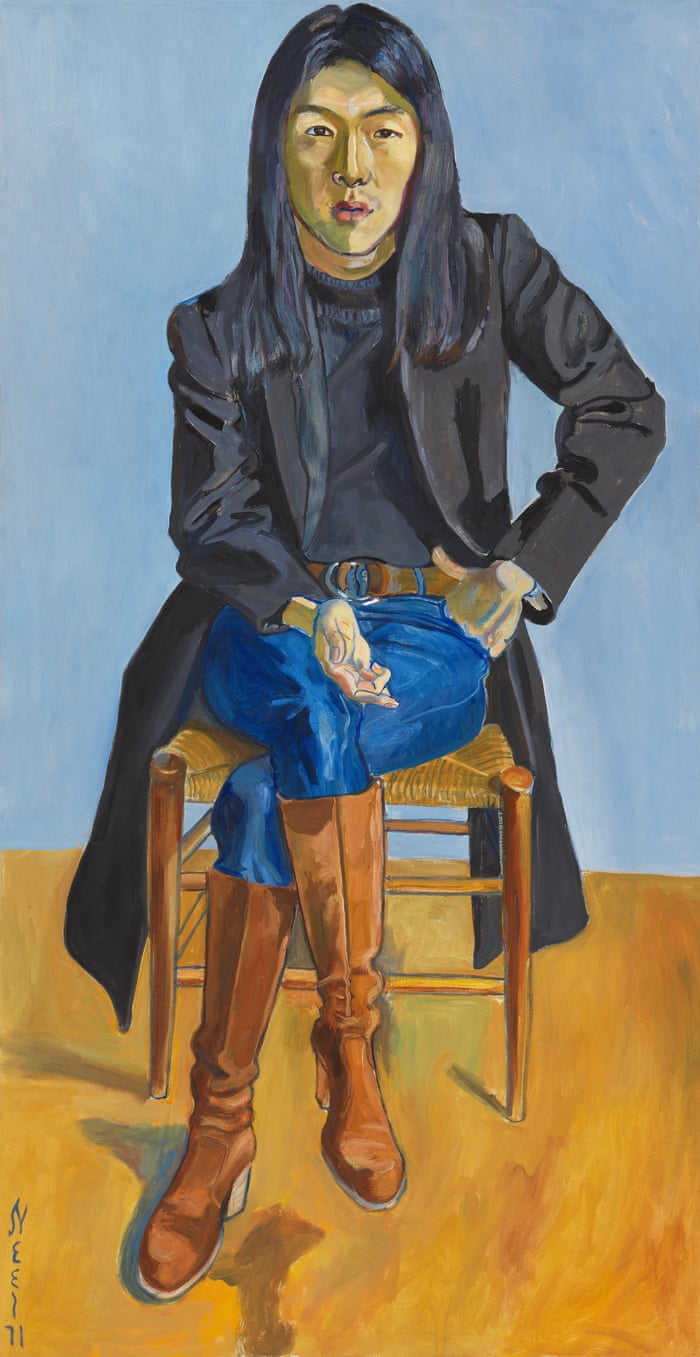 Abdul Rahman, 1964
'I know all the theory of everything,' Alice Neel once said, 'but when I paint I don't think of anything except the subject and me.' Abdul Rahman was a cab driver she painted more than once. Als: 'What's so powerful about a lot of Alice's pictures of men is she doesn't shy away from the erotic element. She lets it be known as part of the work. What is energising in this painting is the erotics of her looking. She looks at men the way men might look at women or other men. It is delectable to her.'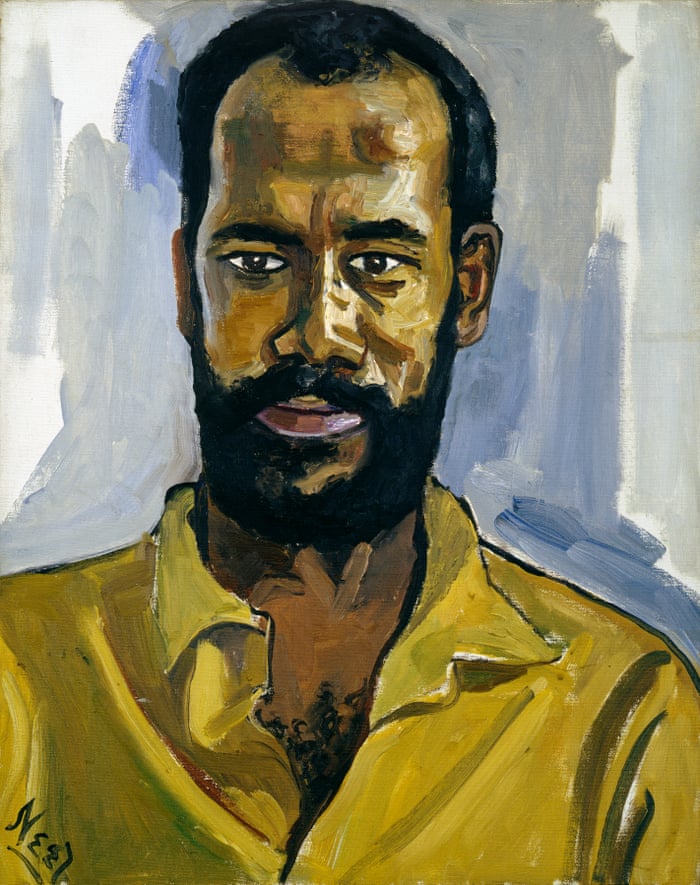 *
Two Girls, Spanish Harlem, 1959
The world treats your children as you have treated them,' Neel once observed. And when she came to paint children, she was always concerned to treat them as equals. She also had some tricks to keep their attention. 'She would suddenly miaow like a cat to keep the children interested while they were sitting,' says Als. 'I love this painting as a kind of perversion of a Sunday-school portrait. There is a kind of fierceness to the girls. Alice liked that. She wanted girls who would stand up to the challenge of being painted.'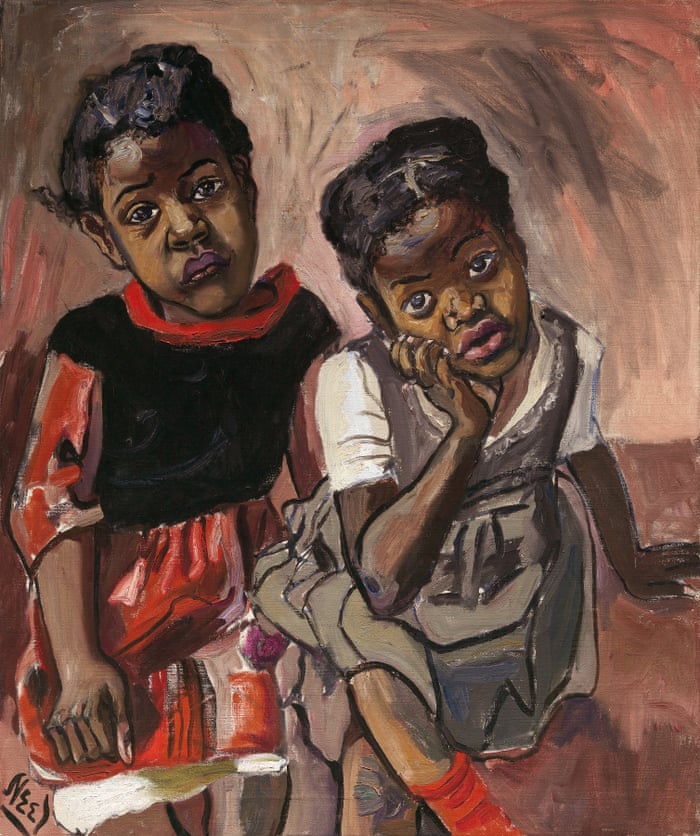 Harold Cruse, c1950


.

All images © The Estate of Alice Neel Courtesy David Zwirner, New York/London and Victoria Miro, London unless stated.
2 Comments
Mick

said,

What pretty pictures. Nice sunny day, too. Easy to forget that June 8 is so tantalising near, isn't it.

'Working in the white avant-garde.'

'..women are always done as sexual objects. A pregnant woman has a claim staked out; she is not for sale.'

The left rarely disappoint. How they wish the public thought in such cliches, then Labour may well get a landslide every time.

Mick

said,

And everything's wonky in that last picture.

Better than anything I could paint, though.