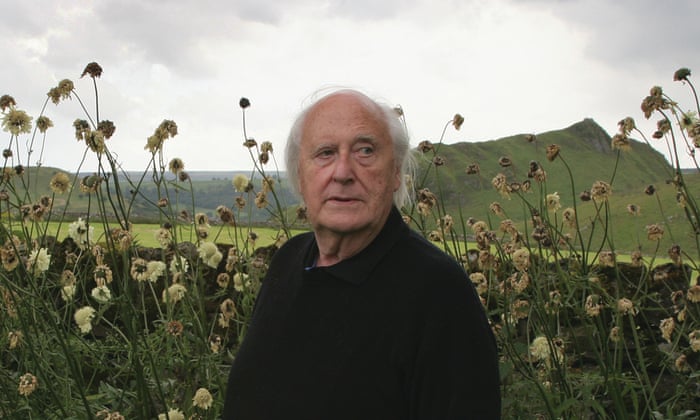 Roy Fisher in his garden at Earl Sterndale, Derbyshire. Photograph: Jemimah Kuhfeld
I have only just heard that one of my favourite poets, Roy Fisher, died last month. There were obits in the Graun and the Telegraph (of which more in a bit), but  – evidently – I missed them.
Anyway, as well as being a poet, Roy was an accomplished jazz pianist who'd accompanied Bud Freeman, Wild Bill Davison and the soul singer Ruby Turner. One of his finest poems was a tribute to the great, but latterly neglected, Chicagoan pianist Joe Sullivan.
Dave Gelly, writing in the present issue of Jazz Journal, takes up the story:
Our resident pedant writes…
Why do people who go to great pains to avoid showing their ignorance of painting, literature or classical music blithely drop dreadful clangers when mentioning anything to do with jazz? The Daily Telegraph recently carried an obituary of the poet Roy Fisher, who, as you may know, was also a semi-pro jazz pianist in the Midlands. (He was proud of having once been the "token white" in Andy Hamilton's Caribbean Combo.) Anyway, one of his poems is The Thing About Joe Sullivan, and the obituary goes into some detail about it. Unfortunately, the writer (Telegraph obits are anonymous) makes the elementary mistake of referring to "the imaginary pianist Sullivan".
Now, you don't expect literary folk to know much, if anything, about jazz, but you do expect them to do a bit of basic checking. It would have taken less than a minute to Google Joe Sullivan and ascertain whether he was a real person or a figment of Roy Fisher's poetic imagination.
And it's by no means the first time this sort of thing has happened. A particularly choice instance occurred in 2000, when the American play Side Man, by Warren Leight, was staged at the Apollo Theatre, London. It's about a trumpet player who, according to the review I read in (I think) The Spectator, idolises an "imaginary figure", called (wait for it) Clifford Brown!
JD: I suspect the Telegraph obit may have been written by Ian McMillan, who made precisely the same error at an event last year in Birmingham in honour of Roy: I should have corrected him, but feared coming across as a jazz bore. For the record, here's the real Joe Sullivan on TV in December 1963, followed by Roy's poem:
The Thing About Joe Sullivan
The pianist Joe Sullivan,
jamming sound against idea
hard as it can go
florid and dangerous
slams at the beat, or hovers,
drumming, along its spikes;
in his time almost the only
one of them to ignore
the chance of easing down,
walking it leisurely,
he'll strut, with gambling shapes,
underpinning by James P.,
amble, and stride over
gulfs of his own leaving, perilously
toppling octaves down to where
the chords grow fat again
and ride hard-edged,  most lucidly
voiced, and in good inversions even when
the piano seems at risk of being
hammered the next second into scrap
For all that, he won't swing
like all the others;
disregards mere continuity,
the snakecharming business,
the 'masturbator's rhythm'
under the long variations:
Sullivan can gut a sequence
In one chorus-
-approach, development, climax, discard-
And sound magnanimous,
The mannerism of intensity
often with him seems true,
too much to be said, the mood
pressing in right at the start, then
running among stock forms
that could play themselves
and moving there with such
quickness of intellect
that shapes flaw and fuse,
altering without much sign,
concentration
so wrapped up in thoroughness
it can sound bluff, bustling,
just big-handed stuff-
belied by what drives him in
to make rigid, display,
shout and abscond, rather
than just let it come, let  it go-
And that thing is his mood:
A feeling violent and ordinary
That runs in standard forms so
wrapped up in clarity
that fingers following his
through figures that sound obvious
find corners everywhere,
marks of invention, wakefulness;
the rapid and perverse
tracks that ordinary feelings
make when they get driven
hard enough against time.
4 Comments
A jazz bore? Surely not. What's wrong with that anyhow, says another.

Thank you for introducing me to that poem. It has the force and subversiveness of its subject.

Agreed! A great pity that Roy's now gone as it would have been fascinating to have talked to and/or interviewed him – especially as there are a fair number interviews he did on his poetry, but none (that I've been able to locate, anyway) concentrating on his life in jazz.