Probably the best coverage you're going to get is from my pal Coatesy, who knows his stuff when it comes to France and has one big advantage over me: he is fluent in the lingo.
His most recent report is here:
Unite to Beat Le Pen in Ballot say French Communists.
Nos rêves d'avenir sont désormais inséparables de nos frayeurs.
Our dreams of the future are henceforth inseparable from our fears.
Histoire et Utopie Emil Cioran.
The French Presidential elections were earth-shaking, "In just one year, we have changed the face of French politics," said a triumphant Macron, whose centrist pitch and so-called "progressive alliance" precipitated the country's great political shake-up. Equally jubilant, his rival Le Pen said it was "time to liberate the people of France from the arrogant elites that seek to dictate their conduct". Reports France 24.
Macron came first with 23.75% of the vote. Le Pen second, with 21,53%. Fillon third with 19,91% and Mélenchon fourth at 19.64%.
The Socialist Candidate, Hamon, at 6,35%, a score only slightly higher than their historic low (when they were called the SFIO), Gaston Defferre 1969 5,01 %  represented a party which is now starting disaster in the face (Après la déroute de Hamon, le PS au bord du gouffre).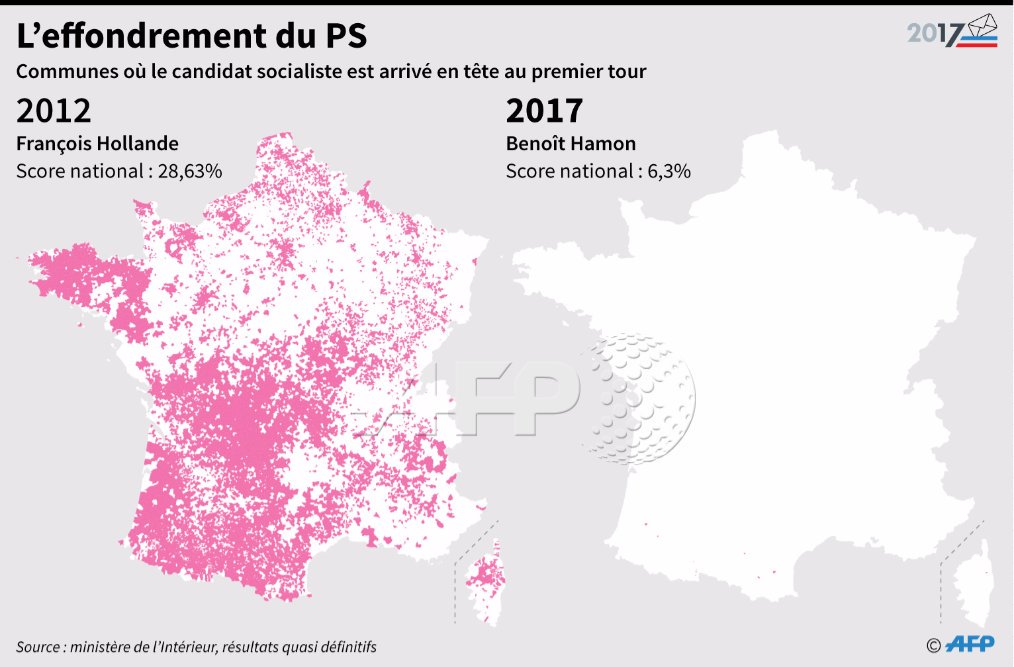 The last time the Front National reached the run off for the Presidential election was in 2002, when Chirac faced Marine Le Pen's Father Jean-Marie.
Much of the left was swept up in a country-wide mobilisation to the far-right from winning power.
Chirac won with 82,1 %  of the votes
This time both Fillon and Hamon have called for a Macron vote in the Second Round.
Mélenchon's supporters, who had hoped for a duel between their candidate and Marine Le Pen, vented their spleen at the "« Médiacrates » and « oligarques ».
They have yet to say what to do in the second round.  Mélenchon preferred to announce that he would be consult his movement, by Internet ("Il n'a donné aucune consigne de vote pour le second tour et a expliqué que les 450 000 insoumis voteraient sur ce point.)
There are voices within la France insoumise  calling for a blank vote.
It has become common on the British left, and more widely in the English speaking world, to draw inspiration from Mélenchon and La France insoumise.
There is little doubt that the movement's candidate is capable of inspirational, lyrical and rigorously argued speaking.
This sour post-election tweet offers a less attractive side to his public personality:
The US publication, Jacobin, has finally published an article which expresses doubts – familiar to readers of this Blog over the last couple of years –  about La France insoumise.
The Meaning of France Insoumise by Grégory Bekhtari.
Bekhtari is a member of Ensemble, a major component of what was the Front de gauche. Ensemble's majority  backed Mélenchon by 72%, but did not accept dissolution into the 'movement' La France insoumise (Ensemble ! soutient Jean-Luc Mélenchon sans intégrer La France insoumise. November 2016. ). This alliance of left socialist, Trotskyist, green left and self-management currents  has published both supportive and – minority – critical views on the candidate and the structure of this rally.
The following paragraph are particularly worth signaling,
Jean-Luc Mélenchon explicitly draws inspiration from the theories of Ernesto Laclau and Chantal Mouffe – an official supporter of his – adopting the formulas already used by Podemos, defining the 'people' against the 'caste' or the 'oligarchy'. His adoption of this approach is clearly expounded in books such as L'ère du peuple [The Era of the People] or Le Choix de l'insoumission [The Choice to Rebel]. Mélenchon no longer uses the term 'left-wing', which in his view has been corrupted by the PS's record in power and unattractive to the wider public. This discourse is also apparent in the position he has taken as a politician who directly addresses the population without the intermediary of a political party and its decision-making structures – not even the party of which he is still a member, the Left Party (PG). He has instead privileged the creation of France Insoumise, a new movement without elected structures whose base unit is the local 'support group' backing his candidacy.

…..

Jean-Luc Mélenchon's candidacy struggled to unite forces to the Left of the Socialist Party. His Left Front partners did not appreciate seeing him proclaim himself a candidate, or indeed the mechanics of his campaign, which only afforded a consultative role to the parties committing to his cause – thus preventing their leaderships from being able to shape his program and the line he put forward. As well as this anti-pluralist modus operandi, some of his politically problematic media sorties were also a turn-off for PCF and Ensemble! militants, for instance when he spoke of detached workers 'stealing the bread' of the French; with regard to migrants, when the first idea he expounded was that he had 'never been for freedom of movement'; with regard to the war in Syria, seeing Bashar al-Assad as a lesser evil faced with Da'esh; or in terms of his refusal to recognise the existence of a Russia imperialism, itself at work in this conflict. Despite his repeated defensive claims – which have consisted of responding that his arguments and his positions were being mischaracterized in order to damage him – we cannot totally dismiss the argument that Jean-Luc Mélenchon has sought to deploy buzzwords able to attract the attention of disoriented voters tempted either to abstain or else to vote for the Front National.
After noting the breakthrough in French TV debates – it worked for me – Bekharti unfortunately speculates,
He came out of the debate as the most effective left-wing vote among all the 'big candidates'. Even beyond the Left, he exercises a certain force of attraction among former right-wing voters seduced by his integrity and his calls for a clean break, which are interpreted as a promise to put an end to a system that today profits only the 'political class' and the 'oligarchy'. Thus just days before the election he finds himself in third place in the polls, tied with Fillon. The possibility of Mélenchon reaching the second round – and even winning a run-off against Le Pen – is thus coming into view, against all expectations.
This has not happened.
The following exercise in wishful thinking looks even less connected to reality,
The strategy of social transformation via a revolution at the ballot box leaves a lot of room for doubt. We can expect a violent reaction by the bourgeoisie to protect its power and privileges. But in the current context, the hope of the step forward that could come from France Insoumise taking power, and the possibility that a period of radicalisation would follow, appear better able to mobilize the masses than any abstract warning of the future betrayals that may come from Jean-Luc Mélenchon once he is elected president.
One might still ask if fourth position is still a strong one – though not much of a hope for those who would wish Corbyn to follow this path.
But at present it's the issue of voting in the second round that dominates the left.
Today the French Communist Daily L'Humanité calls for a united struggle against Marine Le Pen. The ballot box is the central means to stop her.
Noting that Macron represents "financial circles" and liberal economic policies that have harmed France for decades the Parti communiste français nevertheless states that the immediate task is the following:
To block the road to the Presidency of the Republic of Marine Le Pen, to her clan, and to the threat that the Front National represents for democracy, for the Republic and for peace, is to use the ballot, unfortunately the only way to do so.
The Socialists have just endorsed the same position, putting centreplace the need to beat the far-right, (à battre l'extrême droite).
Ensemble  calls to make May the 1st a Big Day of Action against the NF and for an anti-Le Pen vote, "Le mouvement Ensemble! appelle à la mobilisation, dans la rue le 1er mai, en votant contre Le Pen le 7 mai, pour empêcher l'arrivée au pouvoir de l'extrême droite."
The FN remains a party of the extreme-right and not just for France, but for the European left and labour movement, it is important that the PCF's call is heeded.
This does not mean that the problems their vote and deep political roots in France pose is solved by such a vote.
Yet…
Mélenchon is fond of citing Victor Hugo.
On wonders if Hugo would have backed abstention had it been possible to vote as freely as one can in the present French election to stop Louis–Napoléon. 
Then we have the legislative elections….June….
And the Mail is jubilant…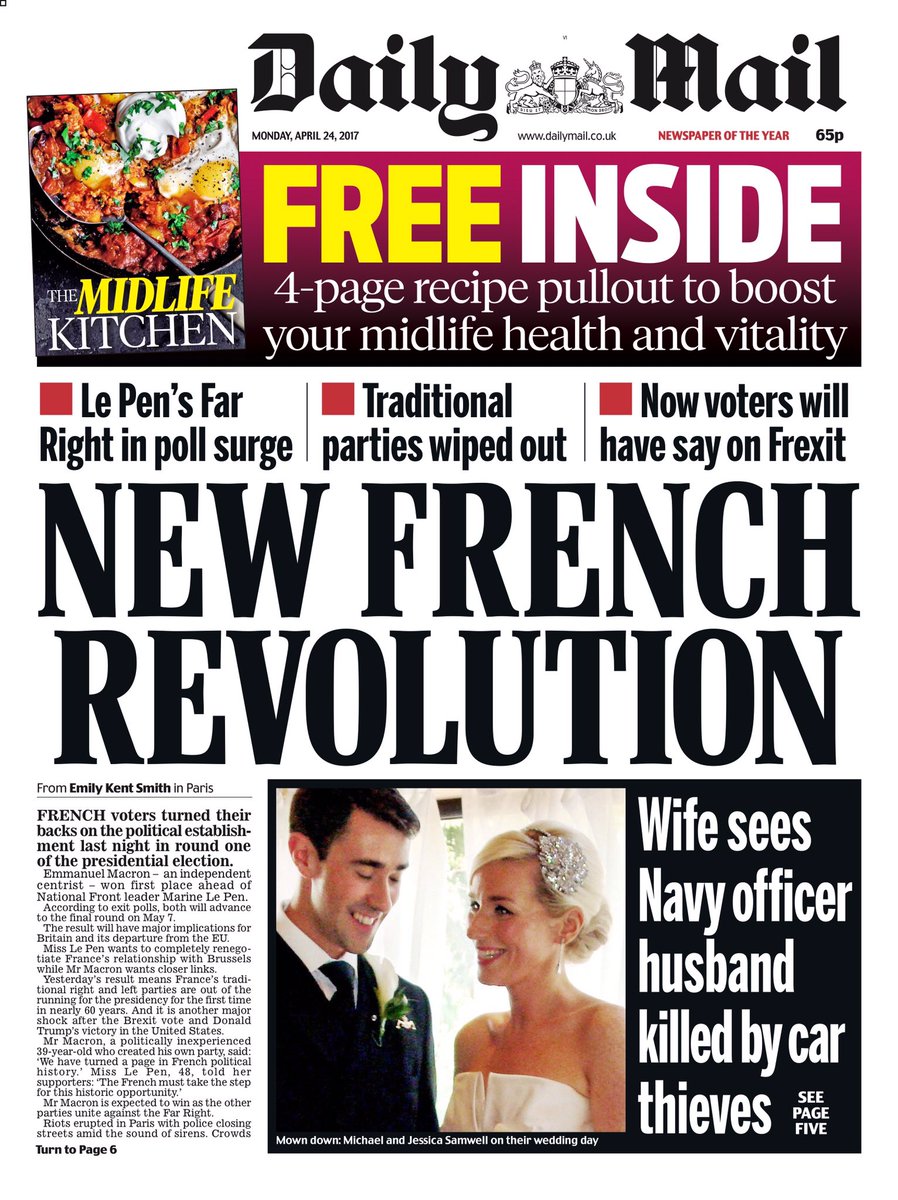 *****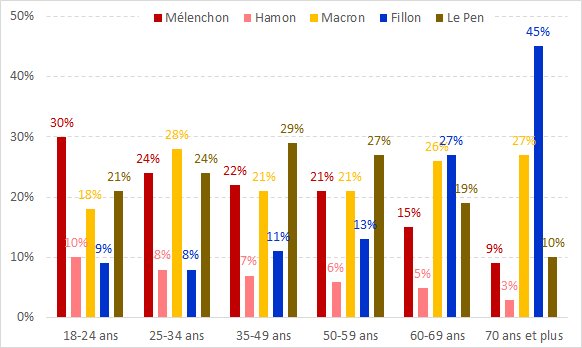 With 106 of 107 departements counted | At 04:49 CEST
Second-round projection
Pollsters Ifop asked voters for the main contenders who they would opt for in the second round, if the remaining candidates were Macron and Le Pen. Using the actual first-round votes cast, this would imply a second-round result along the following lines:
Macron 60.63%
Le Pen 39.37%
Macron inherits
50% of Mélenchon's voters
Le Pen inherits
12% of Mélenchon's voters 
11 Comments
Mick

said,

"Unite to Beat Le Pen in Ballot say French Communists."

Well, it takes a totalitarian demagogue squad to have insider knowledge on another, I suppose. But then, I'm not on the left and so I don't draw up such stupid crap.

I'm just catching Radio 4, which some French guy from Macron saying they are proud to beat back the tide of fascism.

The point is that they're all so smug and they don't learn anything. Same with politicians over here. If only they stopped fantasising about being the nation's saviours and actually run the place to please the punters, people like Le Pen wouldn't have a chance.

"I'm just catching Radio 4, which some French guy from Macron saying they are proud to beat back the tide of fascism" :so you wouldn't be? or, maybe, you'd be on the side of fascism?

Frankly. Mick, I think it's high time you came clean.

Mick

said,

Well there it is, the left have become bankrupt. Drunk, too. Put it this way – Tony Blair said he was against fascism, yet knowing he was smarmy and arrogant didn't make anyone the same as John Tyndall.

And you can tell the left have failed when they take lessons on fighting political extremism from the Communists. The GDR, Soviet Union, Pot's Cambodia, Ceausescu's Romania or Castro's Cuba obviously wasn't lesson enough for them. And when communists were in the French cabinet, they were kicked out for trying to tear down the economy, before moving on to constitutional democracy. But whatever floats their boat.

I'll be sticking with Conservative Party at any rate.

Dave

said,

He's far right Jim just doesn't get around to explicitly saying it.

Mick

said,

Superb example of confirmation bias.

No wonder they're unelectable again.

Glasgow Working Class

said,

Mick if you expect the EU gravy train to run the show for the punters then that is fantasising…..Jim is one of the old fashioned Labour who supported big brother comrades running the unions and the block vote.
The workers too stupid to think for themselves and called fascists if they do not toe the line. The unions love big brother and loads of politicians creaming the cow. Macron was invented and supported by international capital and yet the left are crawling to him as a saviour from fasism.

Mick

said,

There's been too much 'get what you're given' with that lot, as we saw to an extreme in the 1970s. Promises of liberty soon vanished, didn't they. And when people got so angry that they shouted 'Right!' and banged the ballot box, the left saw them as saboteurs to be crushed ever since.

We're seeing this again over Brexit. Lefties care more about meddling in foreign politics than helping our exit from the EU. The Sun actually has something to say on this subject today. (Notice the girly names.)

FRENCH FLOP:
France wants change. It won't get it.

The likely next President Emmanuel Macron is a rich, centre-left Europhile of the liberal elite, ready to continue the calamitous programme of the useless socialist Francois Hollande.

His appeal is based on bland promises and on NOT being anti-immigration hardliner Marine Le Pen.

We're no fans of hers, but the fact she has polled so well illustrates the anger in France over failures in terror prevention and public services. If elected, Macron won't solve any of it.

Meanwhile he is violently anti-Brexit and bent on giving Britain teh hardest possible time.

What a dismal choice France has.

Jim Denham

said,

Mick

said,

Ooo, BIG BOY words for a friend of communism. You and friends give those idiots and tyrants a voice regularly.

And for Le Pen, I've no personal recollection of her doing anything Nazi. The papers don't call her a fascist, nor does the telly. This is as much the Left needing a bogeyman – sorry, person – as ringing the bell over politicians who are their direct opposite numbers.

Jim Denham

said,

This Financial Times article is from 2012, but remains essentially correct in its assessment of the FN:

[…]before one dismisses the links between the FN and the extreme right too hastily, it is worth looking at who the Front National regard as their sister parties in Europe. In the case of Britain, it is the British National Party – as this press-release from the BNP makes clear.

The FN sit with a group of other "non-inscrit" parties in the European Parliament. These include the BNP, as well as the Hungarian Far Right party, Jobbik. Jobbik is really thuggish: it has a uniformed militia, and specialises in stirring up antagonisms towards the Roma.

There is no doubt that Marine Le Pen is in the midst of cleaning up and repackaging her party, which has its roots in a long tradition of far-right intellectual thought in France – as this fascinating blog from John Gaffney at the the LSE makes clear. The FN also has historic links to real, theoretical racism of the sort that underpinned European fascism. Those links are expressed in ties to parties like the BNP and Jobbik. And I suspect they are still pretty strong in the inner circles of the Front National, that Marine Le Pen inherited from her father. The clean-up of the Front National still has a long way to go.

Mick

said,

I should think so. But as the FN seems to be synonymous with its leader, how are the left so convinced that she isn't a true reformer? In the minds of the hardcore, as in the Marxist hardcore of Labour, leaderships risk way too much by sacrificing way too many core values.

Also, wasn't there all that fuss about the Tories in Europe being in a bloc with some foreign extremist party? They tried to give Hague a hard time over it. So I'm not altogether sure that what goes in the EU looking glass mirror can be looked at the same as what happens domestically.