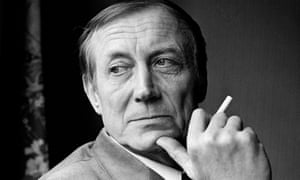 Yevtushenko, January 1972. Photo: Dave Pickoff/Associated Press
Yevgeny Yevtushenko (1932 – 2017)
By John Cunningham
I can't exactly remember when I bought my first copy of the Selected Poems of Yevgeny Yevtushenko, the Soviet/Russian poet who died two weeks ago. It must have been in the late Sixties. I think it was the first poetry book I ever bought and the main poem in that collection, Zima Junction, has stayed with me over the years and I have regularly returned to it. Somewhere between moving to the USA and living in Hungary, I lost my copy. A few years ago I bought a new one. Zima Junction was first published in the Soviet Union in 1956, three years after the death of Stalin and reading the poem today it is difficult to see why it caused as much controversy as it did; maybe it was because the small town, homey, messy reality of the world it portrayed did not conform to the neat, tick-the-box unities of Stalinist (and post-Stalinist) social formulae. Zima Junction (which translates as 'Station Winter' –Stantsiya Zima) is in Siberia, a few hundred miles from Lake Baikal, where the poet was born and in the poem he returns there from Moscow where he is a student. He revisits his old haunts, meets old friends and is feted by his family but he is torn between this old, comfortable world where everything has its place and time and the new world he has embraced in Moscow. Eventually he settles for the latter.
Some commentators have described Yevtushenko as a loyal oppositionist, not a dissident. He believed that the Soviet Union could be changed for the better and in this was he joined by people like the Soviet filmmaker Elim Klimov and the composer Dimitri Shostakovich. He can be considered naive; a loyal opposition to the Soviet bureaucracy was never going to be able to achieve much but Yevtuschenko 'came of age' – he was 20 – in the wake of the death of Stalin. The desire for and expectation of change was understandable. Things appeared to be shifting as Stalin's eventual successor, Nikita Krushchev, introduced reforms and prisoners were released from the Gulag. It would be only a few years before Sputnik was launched putting the Soviet in front in the space race.
Yevtushenko's most notable work was with Shoshtakovich on his 13th Symphony Babi Yar. Using Yevtushenko's poems as its basis, the symphony recounts the horrors of the Nazi massacre of thousands of Jews near Kiev. He continued to write poetry and his A Precocious Autobiography appeared in 1963 much to the outrage of the Soviet authorities. An excellent novel, Wild Berries, was published in 1993. In all likelihood Yevtushenko's international fame prevented the Soviet authorities from stifling his voice and he was a consistent critic of many aspects of Soviet and later Russian policy, not least the war in Chechyna.
Looking back I'm not really sure why Zima Junction made such an impact on me, one that has stayed with me all my life. Maybe it is the final section of the poem and the last seven words:
And the voice of Zima Junction spoke to me
And this is what it said.
'I live quietly and crack nuts.
I gently steam with engines.
But not without reflection on these times,
These modern times, my loving meditation.
Don't worry, yours is no unique condition,
Your type of search and conflict and construction,
Don't worry if you have no answer ready
To the lasting question.
Hold out, meditate, listen.
Explore, explore. Travel the world over.
Count happiness connatural to the mind
More than truth is, and yet
No happiness to exist without it.
Walk with a cold pride
utterly ahead
wild attentive eyes
heads flicked by the rain-wet
green needles of the pine,
eyelashes that shine
with tears and with thunders.
Love people.
Love entertains its own discrimination.
Have me in mind, I shall be watching.
You can return to me.
Now go.'
I went, and I am still going.
7 Comments
Mick

said,

Ah, Soviet Russia. How we all miss you!

Very tricky question, the characteristic condemning of Yevtushenko.
One would expect it for very good indeed the highest most commendable reasons from Joseph Brodsky, when he was at last free to register a difference of opinions (being out of jail and the USSR) and the obvious thing under any circumstances would be either that Yevtushenko was right or was wrong regarding a need to be on some sort of terms with the post-Stalin USSR, even if it was to collapse (it wasn't expected to, and thus little Vile-land Vladdie has never grown out of the still pretty well juvenile expectations which have killed so many people from not London but in London, and from and in a whole lot of other places).

A Scottish poet said to me that 1990 had killed the dissident theme Brodsky had — but that was to mistake the specifics of the USSR case, the what I call (since H is transliterated G in the Russian cyrillic current when I'd more to do with the USSR or Neo-Soviet Russian Republic -NSRR/XSSSR)
Gollywode productions …
which merely magnify and overlay with different variations the central themes of politics all over the world.

I can't say I thought much of Yevtushenko's work, the optimism (accepted with an overlay of unwarranted optimism by some Scottish people and poets on the pro-Independence side) and the compromise cum expansionism. It would be interesting to compare some of his work with work which was also by for instance Brodskian standards a compromise with whatever party. If he was some sort of middle and moderate figure in the USSR, perhaps one would find that compromises and simplifications like his can still flourish among the smug right and the moaning left, even some of the moaning left whose compromise is with economic unrealism, of providing some things as an axiomatic first step despite the likelihood of their turning out so expensive the next generation will in the end suffer even worse.
The price of extreme moderation is shallowness, and Yevtushenko rather than being of both the poetic free-spirited and of the accepted in the USSR was perhaps more a synthesis than he has been taken to have been after 1990, and something short of the sell-out it was useful for some people in the west to say. But worse selling out goes on all the time these days in some academic departments, and in the literary, where actually to stay with rather than abort and bury objections to the nonsense of the prominent is some sort of rule of a game bearing the old name academia.
Evgeny, "you will sleep a long time," as Pushkins fictional Salieri says to the poisoned ailing Mozart.

John Cunningham

said,

A liking for the poetry of Yevtushenko hardly means that I miss the Soviet Union (apart from any other considerations I never even visited it). I have also read and enjoyed some of the works of Pushkin – does this mean that I am really a closet Tsarist? Yevtushenko tried to make a difference in very difficult circumstances and for that alone he deserves credit and our respect. One aspect I didn't mention but should have, is his long campaign for a statue to be errected outside the Lubyanka commemorating the victims of the Gulag.

Mick

said,

"A liking for the poetry of Yevtushenko hardly means that I miss the Soviet Union ."

No it doesn't. I'm just amused that being back in the USSR has already been a well worn path in the left, especially this Revolution centenary year.

John Cunningham

said,

Mick, I've no idea what you are talking about.

Mick

said,

John Cunningham

said,

Yes, never mind. This is my last comment as I am due back on planet Earth very shortly.