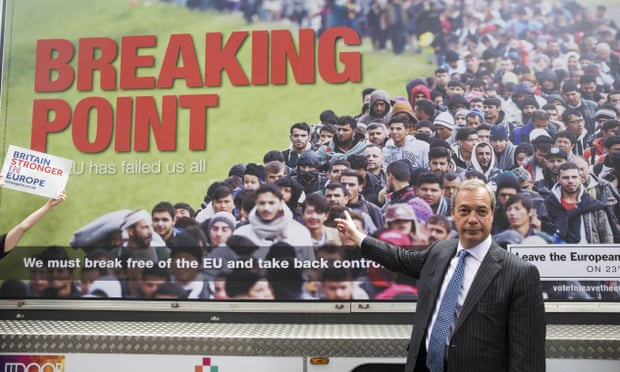 Above: Farage spreading lies and hatred on the morning Jo Cox was murdered
The filthy racist liar and Trump groupie Farage has sunk to new depths by first joining German fascists in blaming Merkel for the Berlin truck attack, then linking Jo Cox's widower to "extremists" and, finally, accusing Hope Not Hate of being "violent and undemocratic."
Speaking on LBC, Farage argued that Merkel was to blame for what happened because she supported the border control-free Schengen zone.
"These leaders of Europe support Schengen," he said. "They support the total free movement of people without borders. And the free movement of people doesn't just mean the free movement of good people. It means the free movement of bad people, as well."
Farage then accused Brendan Cox of links to extremism via Hope Not Hate, one of three charities supported by a foundation set up in the name of his late wife.
Farage said: "Well, of course, he would know more about extremists than me, Mr Cox. He backs organisations like Hope Not Hate, who masquerade as being lovely and peaceful, but actually pursue violent and undemocratic means."
Farage added: "And I'm sorry, Mr Cox, but it is time people started to take responsibility for what's happened."
When the LBC host, Nick Ferrari, pointed out that Cox surely knew the consequences of extremism, Farage replied: "Yes, it's a terrible thing what happened, with the murder of his wife.
"But he continues to be active in the political arena and, as I say, given some of the organisations that he supports, I can't just stand here and say, well, I'm not going to respond."
In a statement Hope Not Hate said: "That Nigel Farage made his remarks in the context of a discussion about Jo Cox, who was so brutally murdered earlier this year, makes them all the more poisonous and hateful."
The organisation posted an appeal on its website for help pay for any legal case. "Help us take Nigel Farage to court," it said, with a link to a donation button.
We can all help Hope Not Hate sue the arse off the scumbag Farage, by donating here: https://donate.hopenothate.org.uk/page/contribute/farage-to-court
Any leftists foolish enough to have advocated a "Leave" vote in the referendum may feel this is a particularly appropriate way to make amends for their dreadful error.
8 Comments
Glasgow Working Class

said,

Thought Merkel and her Gov let the Islamist fascists enter Germany inspite of warning from Assad. Could be wrong do want to be sued by the left liberal elite!

I'm not convinced that bringing a case under England's arcane libel laws is the best way for Hope Not Hate to spend its time or money. Do we really want judges deciding which political organisations are "extremist", "violent" or "undemocratic"?

Jim Denham

said,

Bringing such a claim is a well established means (used by the left in the past) of making a political point. Not always the best way, I agree, but in the case of Farage there are no Queensbury rules.

HNT is stinking rich. It can do what it likes with its funds. But it sure as hell isn't spending mine this way.

Interesting that HNH fingered HJS as an organisation " dragging anti Muslim hate into the mainstream". In the light of the number of LP glitterati that Labour Party sitting on its policy council the Party clearly has a much bigger problem with Muslims than it has with Jews.

I wonder when AWL will be getting onto the case ?

Jim Denham

said,

" In the light of the number of LP glitterati that Labour Party sitting on its policy council the Party clearly has a much bigger problem with Muslims than it has with Jews": what exactly does this mean?

Glasgow Working Class

said,

Mr Bellamy do you think Islam is an extreme religious intolerent fascist violent entity that makes Adolf a moderate type of person?

Rilke

said,

Can I have a job as a full-time anti facist please? I want a very good salary and time off when I prefer. I do know that being an anti-fascist is a disposition and a commitment, but HNH have turned it into full-time job opportunities for themsleves and friends. It emerged out of the Searchlight debacle when a few on the payroll found emsleves out of a job.
Why should we pay people to do things that others do willingly for the sheer human and poltical decency of it?
In any case, I have read much of HNH literature and I know a couple of its main employees; the literature is full of solecisms, crudities and moral exhibitionism and the people are self-promoting 2-1 material at best, certainly not finessed Marxists by any means.
Let them make their own way. Marxist activists don't look for handouts.