August 1939: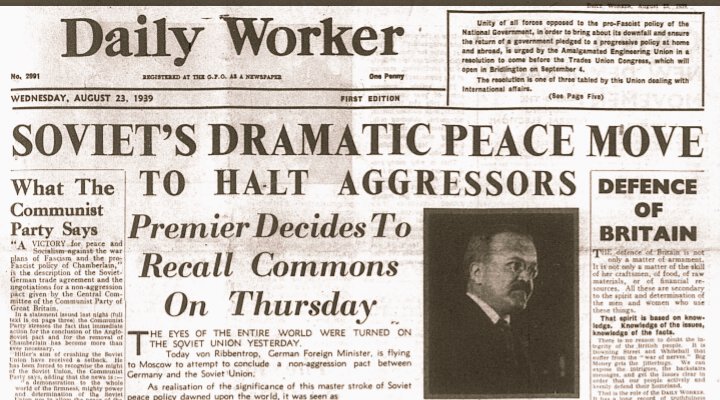 December 2016:
Barbara Speed at the i:
Other voices piped up, claiming that these reports from terrified Syrians, and the warning by UN Secretary Ban Ki-Moon of possible "atrocities" taking place in Aleppo, and the Red Cross's statement about a "deepening humanitarian catastrophe", were mere propaganda. Footage circulated of Syrians celebrating in Aleppo at the impending government victory. Then there was the Morning Star, a socialist daily tabloid. Its front page declared the near-"liberation" of Aleppo this morning, while other publications raised the possibility that "massacres" were being committed there. (Social media was quick to pick up on the fact that when the Berlin wall fell, the paper ran with "GDR unveils reforms package" as its front page splash.)
Read more at: https://inews.co.uk/opinion/comment/aleppo-morning-star-no-excuse/
5 Comments
mark taha

said,

One amusement of mine-reading the "New worker" for November 1989 and January 1992.

Oh, looking forward to next week to commemorate the 60th birthday greetings for Stalin Pravda published on Dec 21st, 1939 –

"Please accept my most sincere congratulations on your sixtieth birthday. I take this occasion to tender my best wishes. I wish you personally good health and a happy future for the peoples of the friendly Soviet Union.

ADOLF HITLER"

"Remembering the historic hours in the Kremlin which inaugurated the decisive turn in the relations between our two great peoples and thereby created the basis for a lasting friendship between us, I beg you to accept my warmest congratulations on your birthday..

JOACHIM VON RIBBENTROP
Minister of Foreign Affairs"

http://riowang.blogspot.co.uk/2011/02/good-wishes.html

kb72

said,

I loved writing for the Morning Star because there were some good things to it. It did give a voice to the disadvantaged and voiceless often. But not the Syrian ones. My three editors were two women and a black man, the first black sports editor in the UK and one of the main reasons I continued writing at the paper by the end (I had more or less switched to sports content). As a liberal left-wing working class British Muslim, the Star gave me a platform to describe the world as I saw it through my own eyes. To talk about the racism, inequality and other vital issues. But they have betrayed the children of Aleppo. The blood and tears of the people of Aleppo did not matter to them. I'm not going to be writing for the paper while they spout disgusting Kremlin propaganda.

Glasgow Working Class

said,

Socialism is not on the sleeve of Islam. Islam is the worst creation of dictatorship and slaughter since this idealogy was invented.