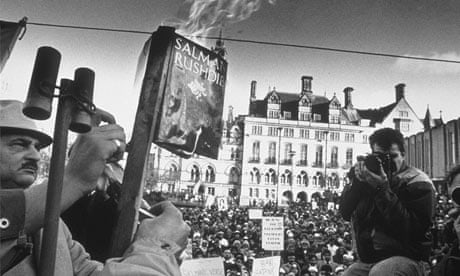 A demonstration against The Satanic Verses, in Bradford, 1989. Photograph: Sipa Press/Rex Features
Peter Tatchell can usually be relied on for common sense, decency and a an instinct for fair play, especially when it comes to those difficult personal-meets-political questions that seem to crop up so often these days.
So when Tatchell came on the BBC Radio 4 Today Programme, saying that Keith Vaz has "not broken any laws" and should not resign from his position as chairman of the Commons Home Affairs Committee in the light of the Sunday Mirror's revelations, my initial reaction was to agree.
Tatchell said he could see no public interest in publishing the story:
"As far as I can see he has not broken any laws, or caused anyone any harm and there's no allegation of hypocrisy; buying sex in this country is lawful," Tatchell told Radio 4's Today Programme on Monday.
"Keith Vaz has a strong record of supporting gay rights. He has never gone tub-thumping in terms of supporting family values so what is the public interest in publishing this story … Whatever you think about Keith Vaz behaviour and some people might take the view that it was irresponsible and wrong, I don't think it's a resigning matter. I don't think there is a serious conflict of interest there" [The Home Affairs Select Committee is currently overseeing an inquiry into prostitution laws. An interim report published in July recommended significant changes to existing laws so that soliciting and brothel-keeping are decriminalised].
Tatchell also suggested that Vaz may have been entrapped by the paper and argued it appeared to be a "classic tabloid sting … "It's a throwback to the sensationalist tabloid style of the 1980s. It's not something you'd expect to see in 2016".
All of which is true and needed saying: well done Peter!
So why am I not inclined to take up cudgels in defence of Vaz?
It isn't just because ever since entering the Commons in 1987 (the first Asian MP since 1929, alongside pioneer black MPs Paul Boateng, Diane Abbott and Bernie Grant), he's been a rank opportunist and unprincipled careerist of almost breathtaking shamelessness (well described here); his personal dishonesty and contempt for free expression, secularism and enlightenment values was exposed once and for all within two years of entering parliament:
Rushdie affair (from Wikipedia):
Shortly after being elected in 1989, Vaz led a march of several thousands of Muslims in Leicester calling for Salman Rushdie's book The Satanic Verses to be banned.[10] According to Rushdie's autobiography Joseph Anton, as quoted by Douglas Murray in The Spectator, Vaz had earlier promised his support against the fatwa:
Vaz said, in that phone conversation, that what had happened was 'appalling, absolutely appalling,' and promised his 'full support'. A few weeks later he was one of the main speakers at a demonstration against The Satanic Verses attended by over three thousand Muslims, and described that event as 'one of the great days in the history of Islam and Great Britain.'

[11]
Vaz is a Catholic of Goan origin. But even so, I'm sure he's familiar with the Buddhist concept of Karma (an attractive idea, even for an atheist like myself): it means, roughly, "what goes around comes around."
2 Comments
Glasgow Working Class

said,

If Vaz is a Kafflik then he has only to confess tae a priest who may fancy him. If Vaz wis a muslim then it is the willie off Allah.

Rilke

said,

Vaz is fundamentally dishonest and a hypocrite. He has a track record as all know. When the cops drove up to question him about the dodgy visa for cash scam, he reckoned he was having a heart attack and spent a few weeks/months 'recovering', while his lawyers worked overtime to get the case dropped. Now he is miraculously without any heart problems at all! Wonder of medical science. Not the worst, but worthless nonetheless. Any takers at 2 to 1, that he suddenly gets 'ill' again now? He will get ill, drop out of sight for a few years and re-appear on the talk show and 'my interesting life' book circuit…ho hum.