We're reproducing another article by Jon Lansman of Left Futures. A behind-the-scenes supporter of Shiraz, who holds a senior position in one of the major unions, recommends Jon's stuff as the best informed and most incisive commentary there is on the Labour-union link. This secret Shiraz-supporter particularly likes the way Jon brings out the fact (ignored by the likes of the Socialist Party and the SWP) that the trade union leadership is 100% complicit in all the Labour leadership's "betrayals."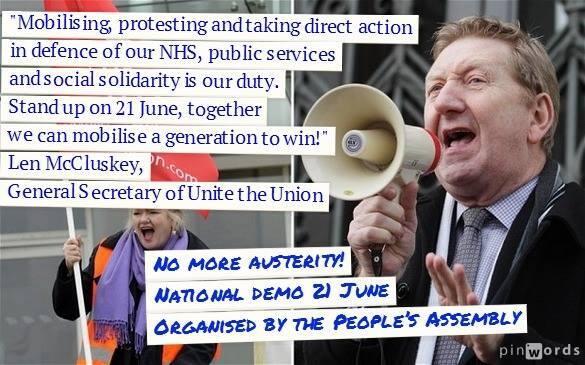 Above: Unite funds the People's Assembly, but Len votes for austerity at Labour's NPF
The climax of Labour's formal policy process this weekend which had involved 1,300 amendments from local parties to eight policy documents, filtered down and composited by 77 regional representatives, was a debate on austerity. That's fitting given that it is the foundation of the Coalition's disastrous economic policy and, unfortunately, in a lighter version, of Ed Balls's approach too.
What was less fitting, indeed shocking, was that it was a debate in which George McManus, the Yorkshire constituency representative moving the amendment, was given just one minute to speak, and Ed Balls the same. George made a great speech which you can read below. Ed's speech consisted of a list of those who had withdrawn their amendments in favour of the "consensus wording" as if that was a sufficient argument for the perpetuation of austerity (and he ran over his time). There were no other speakers. The vote was 127 to 14 against the proposal that Labour's policy be amended to read:
We recognise that the cost of living crisis is inextricably linked to government's self-defeating austerity agenda. That is why we will introduce an emergency budget in 2015 to reject Tory spending plans for 2015-16 and beyond and set out how we will pursue a policy of investment for jobs and growth."
Those voting against included some people representing the seven CLPs and numerous NPF members who had submitted almost identical wording and many more who essentially agreed with the amendment including representatives of all major trade unions (I'm told media and entertainment union BECTU voted for). After the vote, some of them, including leading MPs and trade unionists admitted their continuing support. They nevertheless felt compelled to vote against their own preferences and the policies of their unions. Continue reading →
1 Comment
Mike Killingworth

said,

"Social democracy" – or "democratic socialism" or whatever else you want to call it – is as finished to-day as communism was in the 1990s.

It supposes that people want equality and will devote at least some of their energy to using political means towards getting – if not equality, then less inequality. The politics of class.

But that politics is dying. What we are seeing (George Galloway, UKIP) is the politics of race. And this is a politics in which "I" only feel safe and at peace with myself if "I" have more than "you".

It is not a politics that any of us wants anything to do with. But we are too few, too feeble and all too often too old to anything about it. It is a juggernaut.