This, from Hope not hate, seems like a sensible initial response to this remarkable development:
posted by: Nick Lowles | on: Tuesday, 8 October 2013, 11:18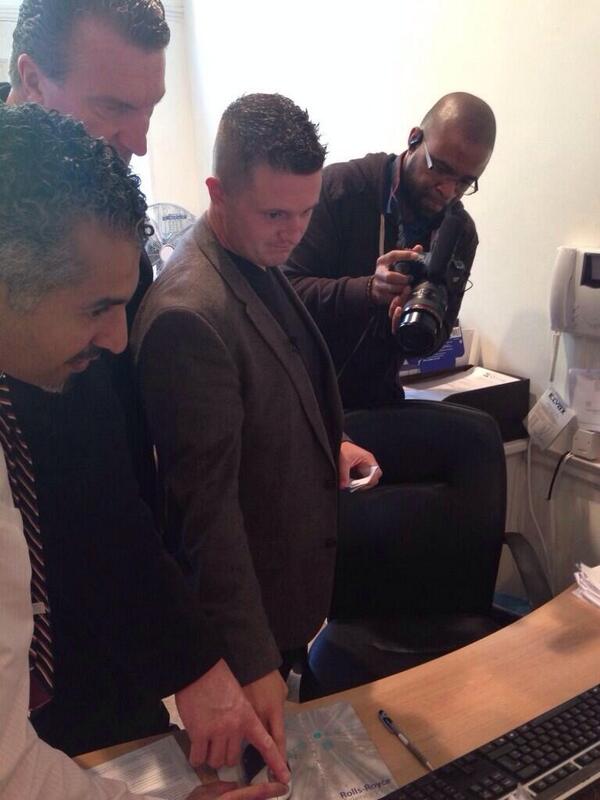 Above: Robinson with Quilliam's Maajid Nawaz, today
We are reacting with cautious optimism to news from the Quilliam Foundation that English Defence League (EDL) leaders 'Tommy Robinson' (Stephen Lennon) and his cousin Kevin Carroll are leaving the EDL.
In its statement, Quilliam announces that Robinson and Carroll can "no longer keep extremist elements at bay" from the group they founded in Luton in 2009.
However, what is less clear at this stage is whether Robinson and Carroll are renouncing the racism, Islamophobia and violence that they promoted, or for the anti-Muslim hatred that followed in their wake.
Since Robinson/Lennon descended with 100 supporters in a drunken riot on the night Drummer Lee Rigby was murdered in Woolwich, there has been a large spike in anti-Muslim incidents – including mosque arsons, bombings (with the alleged perpetrator also accused of murdering a Muslim grandfather), desecration of Muslim graves and the Metropolitan Police recording a sharp rise in Islamophobic crimes in the capital.
There are still many questions over the future of the EDL post-Robinson/Carroll, and what happens to all the thugs they have so gleefully whipped up.
Said HOPE not hate director, Nick Lowles: "We celebrate Quilliam's efforts here, but only a complete renunciation of the violence and hatred the EDL leaders have promoted, and a turning away from the anti-Muslim rhetoric they have championed, will be enough for the many thousands who have suffered from the EDL's ugly actions over the past three years.
"EDL supporters have called for mosques to be burned, holy books to be destroyed, Muslims to be deported, they have cost us £10m in policing bills, brought disorder to our streets, and many, many more have been sentenced for acts of violence, gun possession, paedophilia and other crimes.
"To claim they represented working class Britons was laughable: HOPE not hate and others have worked closely with unions, faith groups and the real working class of Britain to oppose the blind hatred and violence promoted via the EDL and its counter-jihadist backers. What happens now to those wealthy individuals who have backed the EDL leaders to the hilt? We doubt they, or Lennon/Carroll, will disappear so quickly from the scene.
"Merely setting up a new party or anti-Muslim organisation will not be enough to convince anti-hate campaigners, and those interested in democratic government, that Lennon and Carroll have truly renounced their ways. We hope they have. Well done to Quilliam but many questions still remain."
For more information, please contact 07951237721 or 020 7681 8660
#wearethemany
6 Comments