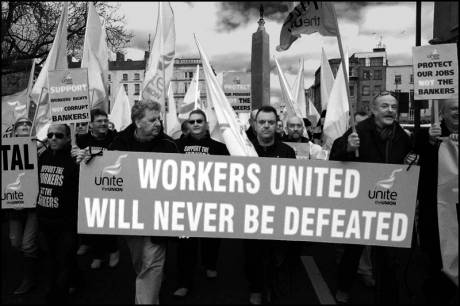 Borders divide the working class more than they divide capital. That is the core socialist argument for voting no to separation in Scotland's referendum on 18 September.
The core argument can be overruled where one nation is conquered and ruled to ruin by another. Then, the national oppression creates divisions as evil as any border. Separation lifts the oppression. Workers are better united by a common struggle in which the workers of the oppressor nation side against their own ruling class's sway over others.
But Scotland has been an equal partner in British capitalism for centuries. Scottish capitalists were equal partners with English in ruling the British Empire, not victims of it. The core argument applies.
Already Scottish workers will stand outside the big strike on 14 October, because public sector pay terms are a shade different in Scotland.
Some will say that's all right, because Scottish terms are a shade better than England. But a united struggle could win much better than that shade of not-quite-as-bad.
It is still true today, as when Marx wrote the Communist Manifesto, that "the struggle of the proletariat [working class] with the bourgeoisie is at first a national struggle".
The first move in workers' struggles is almost always against conditions, settlements, and laws within the borders where they live. Working-class liberation can be won only by a struggle which unites workers across the world around common aims, transcending those local details. Each new border creates a new hurdle to jump in the effort to unite workers globally. It can be jumped; but it is a new hurdle.
Global capital, however, flows across borders easily. It uses borders to its advantage, by imposing a race to the bottom. Governments compete to win and keep global capitalist investment, by offering lower and lower tax rates for the rich and for business, easier and easier regulation, and more and more beaten-down workf­­orces.
Individual workers move across borders. But often with difficulty: look at Calais, a border within the EU! Even where individual workers can move easily, whole working classes can't move.
Working classes cannot threaten a government with losing its working class to a neighbour unless it cedes better conditions to workers. Yet global capitalists threaten governments with capital-flight unless they match their neighbours' sweeteners.
The Scottish National Party promises that in a separate Scotland the NHS will be safer and the Trident nuclear submarines will have to be moved to England.
But it makes no sense to set up a new national frontier on the strength of those promises. It makes no sense to rank such unstable promises above the fundamental, long-term truth that the working class benefits from borders being reduced and removed.
The SNP used to promise that a separate Scotland would join the "arc of prosperity" of small states on the edge of Europe: Iceland, Ireland, Norway, Finland.
Then Iceland, Ireland, and Finland were among the hardest-hit by the 2008 world economic crash and its sequels. Norway is better off only because of its huge oil reserves. Separation will not stop the decline of the North Sea Scottish-British oil reserves, or make the exploitation of declining reserves eco-friendly.
Scottish separatists used to mock socialists who opposed separation on the grounds that we were implicitly defending the British monarchy, NATO, and the British financial system.
Now the SNP says that its separate Scotland will still have the British monarchy, NATO, and the British financial system. Socialists and democrats who oppose separation do not defend the status quo.
Our arguments — against increased nationalism and creating borders — are a world away from the official "no" camp. We have no truck with UKIP types who want to keep the status quo and the Act of Union out of "patriotic" commitment to the United Kingdom.
Will Hutton, no socialist but clear-headed on this issue, put it well in the Observer of 7 September:
"If Britain can't find a way of sticking together, it is the death of the liberal enlightenment before the atavistic forces of nationalism and ethnicity — a dark omen for the 21st century…
"[But the only alternative is] to trump half-cock quasi-federalism with a proper version… a federal Britain… a wholesale recasting of the British state…
"The first casualty would be the Treasury, which would… become a humbler finance ministry. The next casualty would be the House of Lords…"
For united working-class struggle within a democratic federal Britain, within a democratic federal united Europe! Read the rest of this entry »