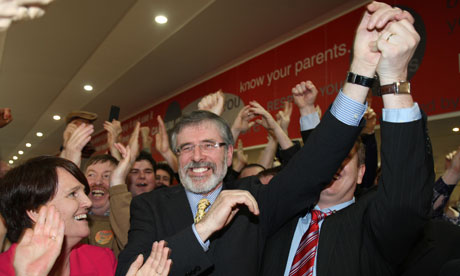 Shiraz Socialist is not in a position to express any opinion on the alleged involvement of Gerry Adams in the 1972 murder by the Provisional IRA of Jean McConville. Adams denies any involvement. Certainly, the timing of his arrest raises the possibility that it was politically motivated. However, this 2002 article by Sean Matgamna casts a useful light on Adams' relationship with the Provos and the "physical-force" tradition within Irish republicanism:
I once knew a man who was shot by a Provisional IRA gang which included Adams
"Ireland occupies a position among the nations of the earth unique in… the possession of what is known as a 'physical force party' – a party, that is to say, whose members are united upon no one point, and agree upon no single principle, except upon the use of physical force as the sole means of settling the dispute between the people of this country and the governing power of Great Britain…
"[They] exalt into a principle that which the revolutionists of other countries have looked upon as a weapon… Socialists believe that the question of force is of very minor importance; the really important question is of the principles upon which is based the movement that may or may not need the use of force to realise its object…"
James Connolly, 22 July 1899
Seeing pictures of Gerry Adams grinning his Cheshire-cat-who-has-eaten-six-mice grin in triumph at SF/PIRA's latest success reminded me that I once knew a man who was shot by a Provisional IRA gang which included Adams.
His name was John Magennis. Who was he? A British soldier? A member of the Royal Ulster Constabulary? A member of an Orange paramilitary group? One of the Northern Ireland workers shot by the Provisional IRA in the early 1990s for doing repair work on RUC stations?
No, John Magennis was a Republican. He belonged to the then mainstream Republican movement from which the Provisionals split away in December 1969. Those who remained were thereafter called the "Officials". They seemed to be the left wing of the Republican movement. They talked about class and about socialism. But in fact their leaders were Stalinists.
The Provisionals were traditionalist Catholic right wing Republicans. They recoiled from the Officials for a number of reasons – their leftism, their Stalinism, their feebleness in responding to the communal fighting in Northern Ireland in August 1969, but, most of all, their turn to politics in general. The split was triggered by the decision of the IRA leaders that Sinn Fein would henceforth take any Dail seats which they might win in an election.
The split led to conflict between the two Republican groups over control of weapons and to a shooting war in which people on both sides died.
John Magennis, a member of the Official IRA, refused to surrender his gun to the gang of Provisional IRA men. They shot him, leaving him paralysed. He survived in that condition for some years and then died.
I met John Magennis only once or twice, about the time the IRA split was taking place. John Magennis was not yet an IRA member. He had come to Manchester to visit his uncle, John-John, a one-time Belfast Republican and later a prominent trade union militant on the Manchester docks, where he worked closely with a small group of Trotskyists, of whom I was one.
A big debate on Ireland had been going on in the IS group (now SWP), at that stage a democratic organisation in which such issues could be debated and of which we were members, since the deployment of British troops on the streets of Northern Ireland in August 1969, when serious sectarian fighting broke out in Derry and Belfast. Were we for or against British troops in Northern Ireland?
The discussion was very heated. Those of us who rejected the IS majority's tacit support to the British state in Northern Ireland were denounced as bloodthirsty "fascists" at the September 1969 IS conference.
John Magennis came with one of his uncles to one of the debates in Manchester. He said he couldn't see any acceptable alternative to "troops in".
I remember something he said which later took on a special meaning. He expressed it in the jargon of Catholic nationalism, which idealises patriotic self-sacrifice "for Ireland", the so-called "blood sacrifice": "I don't want to die for Ireland".
Back in Belfast, he joined the "left-wing" Republicans. I heard he had been shot and paralysed, and later that he had died. It was many years before I saw him again – on TV on a home video, filmed in a nursing home, trying to learn to walk again – staggering painfully, spastically, a poor wreck of the vigorous young man he had been.