The fascists of the Taliban, and their appeasers like Imran Khan, have been defied and (hopefully) defeated by the people of Pakistan, led by the women. Those sections of the decadent western "left" (notably the SWP) who support such fascists in the sub-continent, should be ashamed.
Millions of voters turned out to cast their ballots in Pakistan's historic election Saturday despite Taliban threats and a series of attacks in a few volatile areas. The poll marks Pakistan's first-ever transition of civilian governments.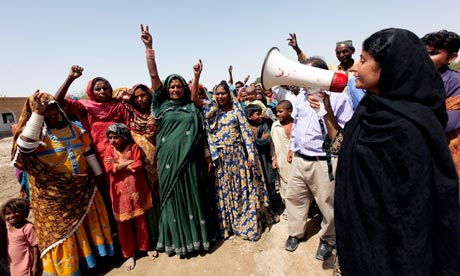 Veero Kolhi (in green sari), a freed bonded labourer turned election candidate, at rally in Hyderabad, Pakistan. Photograph: Akhtar Soomro/Reuters
.
Braving Taliban threats and attacks, millions of Pakistanis turned out to vote today in a landmark election marking the first transition between civilian governments in the country's 66-year history.
Polls opened amid tight security across Pakistan with voters lining up at polling stations in some of the main cities despite the searing heat and the omnipresent fear of attacks.
By midday, the country's election commission said the voter turnout was 30% – an indication that the total turnout looked set to cross the 44% mark of the last general election in 2008. Voting was extended by an extra hour nationwide to allow people queuing at polling centers to cast their ballot, according to the AFP. In Pakistan's largest city of Karachi, polling was extended by three hours in some constituencies because voting started late.
A series of gunfights and bomb attacks targeted party offices and polling stations in some of the volatile parts of this South Asian nation, killing at least 17 people.
In the tinderbox port city of Karachi, a bomb attack on the office of the (ANP) Awami National Party killed 11 people and wounded around 40 others. At least three other attacks – including gunfights – were reported across the city.
Gunmen killed two people outside a polling station in Baluchistan, the southwestern province where separatists oppose the election, and in the northwestern city of Peshawar, a bomb explosion killed at least one person and wounded 10 others, according to local police officials.
Voters undeterred
But the attacks failed to deter people from the polls as millions of Pakistanis, buoyed by a prospect of change and keenly aware of the historic nature of Saturday's vote, cast their ballots to elect representatives to the National Assembly – or lower house – as well as provincial assemblies.
"This election is very significant," said Mustafa Qadri, Pakistan researcher at Amnesty International. "Yes, there are many problems, but we should not dismiss this election – it's a chance for Pakistan to deepen its democratic process and also for citizens to demonstrate they won't be intimidated by groups like the Taliban into not exercising their right to choose their government."
Violence has been a key problem in the run-up to Saturday's vote, with the Taliban targeting three secular parties – including outgoing President Asif Ali Zardari's PPP (Pakistan Peoples' Party).
Security was tight across Pakistan, with the military deploying troops and additional security personnel at polling stations and counting centres amid Taliban threats to disrupt the vote.
In the most populous province of Punjab alone, 300,000 security officials – including 32,000 troops – have been deployed. Another 96,000 security forces have been posted in the Taliban stronghold regions in northwestern Pakistan.
Saturday's vote came just days after former Pakistani Prime Minister Yousuf Raza Gilani's son, Ali Haider Gilani – a provincial assembly candidate – was kidnapped during an election rally in the central Pakistani city of Multan.
The kidnapping highlighted the relentless levels of violence in a country that's no stranger to election-related bloodshed.
"It's been a very, very brutal and very bloody campaign," said FRANCE 24's Rezaul Hasan, reporting from Islamabad days before the historic vote. "There are widespread reports that there could be attacks during the polling and the army has deployed hundreds of thousands of security personnel. But it still remains to be seen whether polling will be peaceful because the militants – the Taliban – have shown their ability to strike despite all the security measures that have been put in place." Read the rest of this entry »