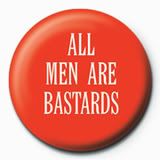 Okay, I promised myself I wouldn't get addicted tothe writings of rad-fem activist and blogger Maggie Hays, but it's no good – I'm gripped. Having already mentioned her online tantrums about being being disagreed with by her commenters (and having also mentioned Caroline's response), I've now had a better look at her blog and it's actually one of the most astounding tinfoil-hatted masterpieces I've ever seen. But then I would say that – I'm a man, with a fondness for restaurants, wine and music – and an enjoyment of having dinner or drinks with women. You see, unless I've grossly misinterpreted her writing, in Hays' eyes this already takes me halfway down the road to becoming a rapist. I kid you not. I and my fellow regulars at the local eateries are dangerous and we need to be stopped. Arrest me. Now, before it's too late.
Have a look at this post, and then move on to this one, which is its "follow-up". Notwithstanding the fact that she appears to be rather prone to using her own personal experience in order to make general political points (to an extent we all do that, whether we acknowledge that or not), some of the things said are quite bizarre.
Let's look first at the defininitions she gives of "rape". To my mind, and I don't pretend to be an expert on the subject, rape roughly or approximately is defined as sex that is in one way or another co-erced by one person from another. If one participant hasn't (or can't) give informed consent, then it's rape. Simple as. But no. There are also these two categories:
- seduction: when a man persuades a woman to have sex with him, often subtly, through being kind, polite, chivalrous, while playing on her feelings, possible vulnerability, or sometimes getting her consent by deceiving her, distracting her, or, sometimes, intoxicating her (with alcohol or drugs) so that he can use her for his own sexual gratification and purpose.

- rape of our souls: when we, women, are not allowed to be ourselves because of having to conform to patriarchal feminine gender 'norms'. Whether we do it to "be liked" or not to be criticized, most of the time, we conform. This culture trains us to conforms and alter our body parts because, in a patriarchy, we are not allowed to Be Ourselves; we are not allowed to be human beings, i.e. we are not allowed to have a full bodily integrity (e.g. we 'have to' shave, wear make-up, etc to conform to male-supremacist feminine norms).
Polite, you say? Kind? Chivalrous? Does the sheer deviousness of man know no end? That Leslie Phillips and his beastly ways, I tell you! Seriously though, I don't think she's talking about date-rape here, so much as excessive charm causing someone to give consent to sex. Now I'm terribly sorry but it strikes me that the number of healthy adults of either gender on the planet who've never had sex with a charming, nice person (or at least wanted to do so) after having been wined, dined and had a really nice night, cannot be very large beyond the ranks of the celibate. Taking this definition at face value there would be very few women in the UK who haven't been raped, and an alarmingly small number of men who haven't committed an act of rape. Add in the even more wacky definition of "rape of the soul", and you're left counting on the fingers of one hand. Of course, the definitions are a nonsense, justifiable only by the rad-fem version of a conspiracy theorist's "that's what they want you to believe" cry – "you would say that because your perception is blinded by patriarchy". The idea, I would suppose, is to expand the definition of the word "rape" to cover vast swathes of the population because to do would prove the determinist dictims espoused by (some) rad-feminists about men's inclination to commit rape. 
As for debating the matter? Forget it.
The worst thing is that people who harass rad fems online probably know that our little feminist community is at the margin of patriarchal society. Patriarchists' views are mainstream; but that does not seem to be enough for them: they need to persistently attempt to silence the few dissenting voices, the few heretics. We, radical feminists, are heretics, mainly because we despise this whole culture and all its diverse forms of misogyny and we will not agree with views that purport that most women or all women enjoy being degraded in every possible ways. Female psychology is a lot more complex than this and women have restricted autonomy within the boundaries of patriarchy.
You can't win, you see. On Hays' terms if you argue with her then you're either proving her standpoint to be correct by victimising her (and if you're – a man – then I don't suppose it's even worth bothering to comment unless you agree with her), or simply blinded by patriarchal ideology and therefore not worth the effort of debating with. Further, presumably if you ignore her then that is also proof of her self-evident correctness, because nobody has disagreed with her stance.
In the second post there's an even more stand-out quote:
The fact remains that men of course ARE the ones who perpetrate rape and who also condone pro-rape attitudes, especially within their pornified male circles. And they get away with it. "Not my Nigel" notwithstanding: the vast majority of men 1) hate women, 2) participate in rape culture and/or 3) have been conditioned to get off on the oppression of women.
I haven't misquoted her above – she actually said that the vast majority of men hate women. "The vast majority"? Really? I can't say I've ever noticed that. Even such men as I know who have the odd rather misgynistic view about xyz issue couldn't really be said to hate women, so much as to buy into one or another sexist worldview, out of which they can often be persuaded anyway. If anyone can show me any kind of proof, whatsoever, that "most men hate women" then I'd love to see it, but until then I say Hays is simply talking bollocks. Again, her claim really is the most astounding and baseless gibberish, which is perhaps one of the reasons why I find it so perversely interesting…
Why am I bothering with this, I hear you ask. I don't know Hays and I hadn't heard of her until I wandered across Caroline's post earlier today. In the first instance, there's the fact that it simply fascinates me to work out how anyone could write such patently risible and irrational material and yet still have people agreeing with him/her at the end of a post. Have a look at the comments – by no means all of them are scathing, and many are actually supportive. I also think that it doesn't help discussion of rape, which is a traumatic subject and one which in the real world actually claims lives, if the term itself is cheapened by artificially expanding its definition so far as to render it next to meaningless. On another level I think it's also important to note that the author of this stuff is not some random lunatic raging into a laptop from a mountain cave in the Rockies, but is actually a relatively well-respected figure, and is also the creator of the Against Pornography website. And people wonder why I find it hard to take seriously rad-fem standpoints on issue after issue? The furious, irrational and incorrect truth-claims which I mention above don't exactly speak of a healthy political movement do they?
But then of course rationality is a patriarchal, malestream concept. And I would say that cos I'm a guy, probably writing this before heading off to the titty bar for the evening. I could, you know - we've got a lot of them in the West Midlands. I wonder what it was that fucked up my life and turned me into such the monster I am today?
That Milk Tray Man has a lot to answer for.