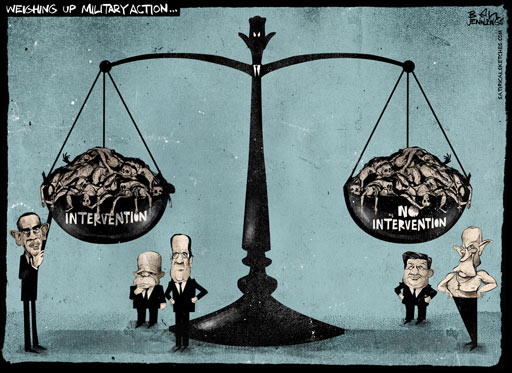 Cartoon from the Guardian
The international ruling classes are clearly in a quandary over Syria. But so is the serious left (the word "serious" meaning discounting Assad-supporters and hypocritical fake-Westphalians who've been looking forward to western intervention for the past two years and more, just so's they can have something to protest about).
Shiraz Socialist does not oppose foreign intervention in principle, especially when a country is descending into sectarian mass-murder. Also, the use of chemical weapons should be recognised as a "red line" and, if possible, the perpetrators punished.
The problem with regard to Syria is not any "principled" objection to "outside" intervention, but the fact that the opposition seems to be a bunch of sectarian Islamists who are already attacking Kurds, Allowites, Christians, Shias and others.
The best result  now would be a cease-fire arrived at by a conference brokered and enforced on the ground by the UN, Arab League or, indeed, NATO. Frankly, that's not very likely.
It looks like Labour are going to opposes unilateral military action http://www.newstatesman.com/politics/2013/08/douglas-alexander-warns-cameron-vote-must-be-held-syria-and-labour-could-oppose-gov
.
The left in general, perhapd due to the bank holiday, has yet to react. There are a few voices though – Owen jones opposes military action but, against all the evidence, appears to doubt that  the Assad regieme launched the chemical attack. He calls on the international court to bring charges and for UN peace talks: "There's no question that those who use chemical weapons must be  arraigned in an international court. But a UN-brokered peace process  involving all the local and regional players remains the only solution." http://www.independent.co.uk/voices/comment/for-the-syrians-sakes-and-for-our-own-we-must-not-intervene-8784220.html
.
The wretched Lindsey German and 'Stop the War' are entirely predictable. They call it a proxy war but conveniently only mention the Western and Saudi arming of the rebels, not Russia or Iran who have been sending arms and troops to aid Assad.  They call for peace talks, but really they're in support of Assad: http://www.stopwar.org.uk/news/attack-in-syria-no-pretext-for-intervention
Others (eg: Galloway) are spreading conspiracy theories about who did the gassing: Mossad, Al Quida, the FSA, Turkish intelligence, Saudi Intelligence-  take your pick.
.
Assad supporter John Wight at the Socialist Unity blog thinks it's all of them conspiring to take out Assad because he is part of the "Axis of Resistance":
.
A few voices of sanity, solidarity and common decency:
.
.
.