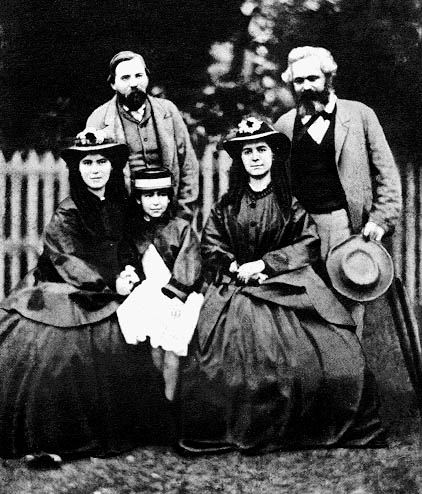 Above: Jenny, Laura and Eleanor in the foreground; Engels and KM behind
"there is a deep and enduring connection between the reconstruction of socialism as an enlightened, cosmopolitan radicalism and the overcoming of anti-Semitism in all its shapes and forms" - Bob Fine (see below)
The present issue if the neo-con magazine Standpoint carries a pretty vicious attack on Karl Marx as an individual, including the old canard of his alleged anti-Semitism:
Much more serious than plagiarism is the fact of Marx's anti-Semitism and racism. Many Marx scholars are still squeamish about this subject, but the evidence is undeniable. The authorities on this subject are Julius Carlebach and Robert Wistrich, neither of whom is cited by the new biographers, but who agree that Marx went beyond any previous expressions of anti-Semitism by blaming Jews for the corruption of Christian society and demanding their "abolition". Marx's early essays "On the Jewish Question" are, in the words of Carlebach, "a logical and indispensable link between Luther and Hitler". Marx vilified Jews — "whose god is the bill of exchange" and who created Christianity in order "to attain world dominion" — and Judaism, a religion so "anti-social" that it "makes even the lavatory an object of divine law". Later, his anti-Semitism became less Hegelian and more racist. His notorious description of his benefactor and rival Ferdinand Lassalle as "a Jewish nigger", whom he accused of selling out the socialists to Bismarck, is all the more odious when one considers that Marx had in fact allowed himself to be used by the Austrian government as a source of intelligence on the exiled revolutionaries in London. He also demonised Jewish bankers in his 1856 article "The Russian Loan": "Thus we find every tyrant is backed by a Jew, as is every Pope by a Jesuit." Marx loved conspiracy theories: he believed, for instance, that the English ruling class, led by Lord Palmerston, was in the pay of tsarist Russia.
Read the whole article here.
The charge of anti-Semitism against Marx has also been made recently by Nick Cohen in an otherwise quite good article. It is undoubtedly true that 'On The Jewish Question' contains some (to contemporary sensibilities) unpleasant formulations that have given some latter-day "Marxists" an excuse to engage in unforgivable anti-Semitism (including in below-the-line comments on this blog in the past).
But Marx was a person of his time, and deserves to be judged accordingly. Hal Draper (a strong opponent of anti-Semitism) defended Marx against this charge in a 1977 article , but the best answer (imho) has been provided by Bob Fine on the 'Engage' website in 2006:
Let us explode the myth that Karl Marx was in some sense anti-Semitic in his critique of capitalism. The myth arises in part out of the inability of a very diverse array of commentators to read Marx in the original, in part out of a deafness to the uses of the ironic style in Marx's writings, and especially out of the presupposition of an intimate association between revolutionary socialism and anti-Semitism. From his earliest writings Marx sought to develop a radical critique of all existing conditions which distinguished itself from other forms of radicalism by its complete and explicit rejection of any anti-Semitic coloration.
There were to be sure, strong anti-Semitic currents on the European left in Marx's time, but Marx defined himself and his own radicalism in opposition to such currents. In the latter half of the nineteenth century the 'left', if we can call it thus, was a battle ground on which anti-Semitic and anti-anti-Semitic currents battled with one another right up until the Dreyfus case in France. The position of Marx was one which clearly and distinctly had no truck with anti-Semitism in any form and his particular supplement was to show that anti-Semitism was a symptom of deep political problems within what might broadly be called the communist or anti-capitalist movement. On the whole, Marx did not see anti-Semitism as a motivating force on the left but rather as a sign of other political and intellectual deficiencies.
Marx's 1843 essay On the Jewish Question was an important and early case in point. In this essay Marx's aim was to defend the right of Jews to full civil and political emancipation (that is, to equal civil and political rights) alongside all other German citizens. The target of Marx's critique was one of the mainstays of the young Hegelian movement, a well-known radical by the name of Bruno Bauer. In the previous year Bauer had written a text called The Jewish Question, in which he argued that Jews had to give up their Judaism if they were to become worthy of equal rights. His core argument was this: that as long as Jews remain Jewish, they are too consumed by Jewish self-interest and communalism to be worthy of full citizenship. In effect, Bauer was calling for opposition to the nascent movement for Jewish emancipation in Germany. His long essay was replete with anti-Semitic themes: if Jews were ill-treated in the Christian world, they provoked this mistreatment by their obstinacy; Jews were not hated because they were misunderstood since true understanding ought to lead to hatred; Jews had lost interest in the progress of man and concentrated entirely on personal advantage; Jews had evolved no moral principle from their suffering; and so forth. Read the rest of this entry »