(or: The Strange Case Of The Sleeping Policeman)
Pure comedy gold from Georgie Galloway and his Respect posse: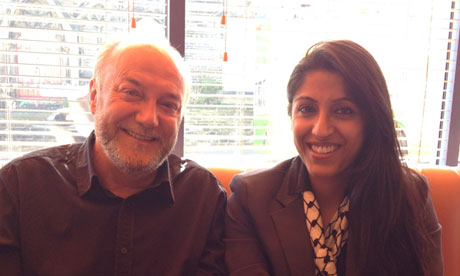 Above: any suggestions as to why he hired this woman in the first place?
From today's Graun:
By Helen Pidd
Even given his own talent for hyperbole, the claim George Galloway made on Sunday night was extraordinary: that he had discovered his secretary was working as an "agent" for a Metropolitan police counterterrorism officer who was running a "dirty tricks" campaign against him.
It was a serious allegation. "A direct attack on not just me but on democracy," the MP said. He complained to the police, who promised an investigation, voluntarily referring the matter to the Independent Police Complaints Commission. And he wrote to Theresa May, the home secretary, demanding an inquiry, saying he had "incontrovertible evidence" that the duo had set up fake email addresses to spread "rumour, disinformation and downright lies".
But Galloway's now former secretary, Aisha Ali-Khan, is fighting back. She says she is married to Afiz Khan, whom Galloway correctly identified as a detective inspector in the Met's counter-terrorism unit, SO15.
She says the two wed in a Muslim ceremony in 2009 and have had an on-off, hush-hush relationship ever since. She is furious that their relationship is being presented as somehow illicit.
"Not only have I lost my job and my credibility but I've been branded this tart sleeping with random police officers."
Suspended on full pay but not expecting her job back, Ali-Khan has filed a complaint with the Met, accusing Galloway of either hacking into her private emails or ordering someone else to do so. She believes there can be no other explanation for how he was able to quote verbatim, in his letter to May, from emails she and her husband had written to each other. Galloway says he was given the emails by his lawyer.
Ali-Khan believes she has been "thrown to the wolves" because she was disliked by certain male figures in Bradford's Respect party who wanted her out, and because Galloway wanted to deflect attention from a story about his personal life which he believed was about to hit the papers…
Read the rest of this wonderful story, here
12 Comments
badmashman

said,

if someone is reading this, please investigate it: Aisha ali (alias Aisha Kausar) is not legally married to Afiz Khan. Aisha Ali was on the one hand involved in a citizen ship course for muslims and then had an affair with an already married police officer – which then turned into a second marriage under shariah law (not british law). There are untruths in her statement; God alone knows whether the officer was using police resources for other illicit purposes ………If some smart journalist could check this out, you might be onto a bigger story here

Jimmy Glesga

said,

This story is just to detract from GG wanting to get prices reduced for popcorn and such other delicacies in cinemas.

Monsuer Jelly More Bounce to the Ounce (Much More Bounce)

said,

such charming persons glesgarr and MoRoN are. just the sort who yoo would want depositing cooMnets at a 'nominallY' 'socialist blerggHH. isn't it…

bring back alarn TomARSE. he knows his kebabbs from his onion bhajis.

Jelly is referring to some disgusting comments left by Glesga and Moran. I've deleted them and suggest that Glesga and Moran go and wank over another site – there's plenty of porn on the internet.

Badmash number 1

said,

the makhanmalai is probably the detective himself – as hes on restrictive duties and cant give anymore false emails, hese given his name away. Here are some questions mr police man for you and your "wife" :

why are you asking me about more details detective? do your superiors know you are misusing police resource (again) for your own benefit cos if you are readin these blogs in police time, they will find out? trouble with police these days is they are corrupt and most of them are liars.

why not mention who your first wife is ? Does she know about the 2nd "wife" ? why have one wife under islamic law and another under british law ? Does the media know about the first wife ?Do your kids know about your affair with Aisha Ali ? Did you ask them first before you got married a second time, like good muslim husbands do ? did you marry aisha in secret before your first wife found out ? is this consistent with the citizenship courses you and aisha ali used to run ? why doesnt aisha ali say she is married under british law ? – or would that be cos its bigammy ? and then you lose your job ? Most tarts in the UK are usually married as second wives in the UK anyway. Which places did you stay in when you were supposed to be on police duties ?- if you can go into Galloways house during police time for a "quick shag" , why would you not have done it at other times?, if you have been married to her for 3 years or whatever, my guess is its not the first time you have misused police computers and time to either trace someone for aisha ali (is it ?) or spend time with her – what do you think?

By the way the imam Abdul Kareem my mate in bradford mosque told me you aint married to her – and says 'Hi' . Afiz khan, i believe you are a corrupt policeman and a liar and that "wife" of yours who referred herself as a "slag" makes a good couple. the 'tart' thats trying to defend you is feeling guilty cos she got you into all this , so she invented a hacking claim against Galloway. No one hacked her emails, you know it and so does she. as if she has highly confidential details that are worth hacking into.

All my love: Imam Badmash Shehen Shah

superspud

said,

please could you pass this info to the police investigating this as they should look into this

superspud

said,

Many unanswered questions . If she ,Aisha ali was married properly to Afiz then why did she say to the Guardiian reporter that they were on and off hush hush. Married couples are not hush hush. He wanted it hidden from his innocent 1st wife. I agree that the marriage needs investigating as under british laws 2 wives are not permitted. I hope the MET dont let one of their own off but investigate fully and bring justice.
On his twitter account Afiz is boasting that his bosses have provided an all inclusive holiday. Why should we tax payers foot this ?
He should be suspended immediately as he has been up to no good during paid time. He should have kept the county safe- yet it is claimed that he was seeing the other woman.
Justice must be done >

badmash123

said,

so you see, i was right, being based in bradford, it gets around what corruption and scandal is happening…dismissal has to be a strong possibility as she was arrested along with her so called husband for what appears to be aiding and abetting missue of police resource. I wonder if any school will employ her again ?? not sure id want my son going to a school where someone arrested for aiding and abetting corruption is teaching (ive heard she was a teacher in the past). If this marriage is not legal in teh BRITISH courts (leave the nonsesne about sharia law etc out of it) then this is seems tantamont to extracting information from police databases for sexual pleasures from the accused – but i wonder what others think ??. Both MUST be punished and should serve sentences because 95% of other police offers who comitted similar offences went down. Both have not done the muslim and asian communities no favours, because this shows again muslims in important positions within Bristish society failing to meet the standards needed for public service. Imam Badmash Shahen Shah

Monsuer Jelly More Bounce to the Ounce (Much More Bounce)

said,

faith Ahmet

said,

My concern with this whole affair is the use or rather misuse of Muslim women's rights for one's own gain – and that is what I fear has happened here – again. Aisha Ali Khan is no stranger to controversy. Last year she took a Muslim charity to court for unfair dismissal, accusing them of sexual discrimination. Could she have been sacked not because of her gender but rather her lack of competency with computers? – as she admits to the guardian. One thing is for sure – this isn't the first mess she has been known to leave behind.

'She admits to asking Khan to set up a fake email address…He did it for her, she says "because I'm not that literate with computers" The Guardian, 18th October 2012

What business does someone who can't even set up an email address have working as a PA? Does anyone else think this could be a porky pie on Aisha Ali Khan's part?

Her marriage is also of concern in this case, particularly its 'hush hush' nature as she reports. Mr Khan lives in Watford with his wife (not Ms Ali Khan) and their children, Ms Ali Khan lives in Bradford. The on/ off hush hush marriage is not something Islam supports. If one marries one should not conceal it, nor only claim to be married when convenient. What on earth is that all about? It's certainly not hush hush now that's for certain. Can we assume the reason Ms Ali Khan wanted to spend so much time in London was to be in convenient proximity to Mr Khan, given he lives with his other wife and kids? I'm guessing his home in Watford wouldn't have been an option for the two to spend quality time together : /

I agree the whole thing does stink and the very sad thing about this, from a community perspective, is we have someone here using the misogyny/ victim card when it suits. It's a sad sorry affair for all those working for the betterment of grass roots Muslim communities and those who have faith in political participation as a vehicle for community mobilisation. People like Ms Ali Khan need to learn the meaning of the word professionalism and understand the damage their actions and words can have. Perhaps she should do the community a favour and stay away from NGOs and the public sector from now on.

Monsuer Jelly More Bounce to the Ounce (Much More Bounce)

said,

too much interest in a single matter. there is a name for such behaviour and shit. see a psychologist.