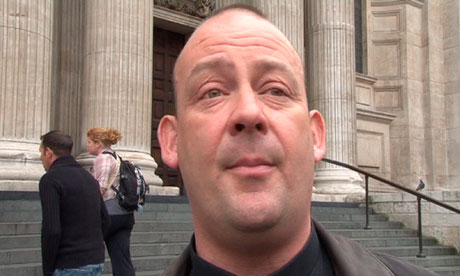 Above: Fraser: pompous, sanctimonious and ignorant
"Yet the circumcision of babies cuts against one of the basic assumptions of the liberal mindset. Informed consent lies at the heart of choice and choice lies at the heart of the liberal society. Without informed consent, circumcision is regarded as a form of violence and a violation of the fundamental rights of the child. Which is why I regard the liberal mindset as a diminished form of the moral imagination. There is more to right and wrong than mere choice.
"Indeed, making choice the gold standard in every circumstance is to concede to the moral language of capitalism" Giles Fraser in today's (print) Graun.
You can read the rest of Fraser's drivel here.
In his sanctimonious but incoherent attempt to justify violence against babies and toddlers in the name of "identity" Fraser never gets round the central issue that he himself raised early in the piece: that the child has no rights in the matter, no ability to choose and no means of protecting himself from this physical violation. The thought inevitably arises: would he make the same case for female circumcision, which (it is argued) is also central to certain cultures?
Of course, both male and female cicumcision is child abuse, plain and simple.
Fraser's half-baked attempt to denigrate children's rights (ie: "choice") as somehow symptomatic of "the moral language of capitalism" and "liberalism" with "no sense of history" just shows how backward and ignorant this semi-educated but pompous ex-SWP'er-turned god-botherer is. And how debased his conception of "morality" is.
Mind you, the fact that he himself is circumcised as a result of being part-Jewish, comes in handy when turning a blind eye to the CofE's antisemitism and claiming to be some sort of authority on Israel/Palestine.
"Circumcision identifies me" is the title of the piece in the Graun's print edition today. To which I'd reply, not entirely Giles: in most respects you remain a complete prick.
34 Comments
The problem I have with the unthinking demonisation of "choice" is that "choice" can be whatever the user wants it to be; it *can* be a euphemism for nothing but Maroon 5 and Train, but it can also be the liberating power of jazz or soul or hip-hop. Fraser's language thus is too redolent of the sort of trade unionists who did everything they could to marginalise African-American influence in British culture (viz Simon Frith in Melody Maker, 1979) – the sort Little Englanders like David Lindsay and Ian Martin love. The traditional conservatism of the CofE in pseudo-progressive guise, then.

Rosie

said,

"Circumcision identifies me" is the title of the piece in the Graun's print edition today. To which I'd reply, not entirely Giles: in most respects you remain a complete prick.

Very funny.

Matt

said,

The question of the circumcision of male children should be looked at scientifically: if there is evidence that men who have been circumcised experience physical and/or psychological problems, then of course it should be banned, whatever the objections of religious people. I'm not convinced that the evidence does exist though – the Jewish and Muslim men I know don't appear to have suffered physically or mentally because of it. I also have problems classifying male circumcision as violence/abuse when it's also carried out by doctors on male children for medical rather than religious reasons.

It is also worth noting that the decision of the court in Cologne which has sparked this debate will only apply to the largely Catholic state of Nordrhein-Westfalen and will overwhelmingly affect the minority of Turkish Muslim migrant workers rather than the small Jewish community. The first time I went to Cologne a couple of years ago, there was an state election going on and the local Christian Democrats had put up posters in the square outside the Catholic cathedral referring to a planning application for a mosque with the slogan "Istanbul has a mosque, Cologne a Cathedral, let's keep it like that".

On that "logic", one could justify cutting the little toes off of babies because they're really not necessary. This isn't a matter of religion or psychological problems- it's a question of one human being imposing his religion and will on another. A parent does not have the right to make such a drastic decision for his/her child.

Matt

said,

Er, no, not really, because toes *are* really necessary and cutting them off would lead to major problems for those children in later life.

If you want to argue that irrespective of medical evidence about male circumcision parents have no right to impose their religion on their children, I'd have some sympathy. But that's not what the Cologne court decision is really about. If it were just about that, they would move on to ban baptism too.

Medically speaking the loss of the little toe or cutting off an ear lobe would have no serious consequences; Yet, they are mutilations that should not be in the hands of another human being. If someone chooses to be circumcised when they're 16 or 18, that's fine.
I'd be happy for baptisms to be banned as well and for no parents to be able to impose ridiculous mystical fantasies on their children.

"It is also worth noting that the decision of the court in Cologne which has sparked this debate will only apply to the largely Catholic state of Nordrhein-Westfalen and will overwhelmingly affect the minority of Turkish Muslim migrant workers rather than the small Jewish community."

Actually, the decision of the court has benn taken as applying nationally. A hospital in Berlin has suspended circumcisions and the German equivalent of the BMA has advised its members not to do em. So, one of the most basic tenets of Jewish practice is now illegal in Germany.

Freedom of religion is the freedom of an indidividual to apply religion to THEIR OWN LIFE, it's not the freedom to impose their religious beliefs on others. Circumcision is an imposition.

Faster Pussycat Miaow! Miaow! Miaow!

said,

Is it not Dawkins who says that, just as it would be regarded as absurd to refer to a child as a 'communist' child, or 'objectivist' or 'Nietzschean' child, so it is absurd to refer to a child as being 'Christian', 'Muslim' or 'Jewish' when this is merely the world view imposed upon them by their parents?

My religious upbringing was certainly oppressive and I yearned for the moment I could shake off these onerous shackles. Luckily I didn't have a foreskin for my parents to hack off.

I do have a friend who was circumcised in his late 30s. This was his choice and is therefore entirely different.

Is it not Dawkins who says that, just as it would be regarded as absurd to refer to a child as a 'communist' child, or 'objectivist' or 'Nietzschean' child, so it is absurd to refer to a child as being 'Christian', 'Muslim' or 'Jewish' when this is merely the world view imposed upon them by their parents?

On one level that's true, but the religious worldview is a huge part of an ethnic identity and cultural heritage. So, if you come from a Yezidi, Coptic Christian or certainly Jewish background and live in Christian Germany (and specifically Catholic Cologne, for example), the practices which your community follow are part of who you are and might matter to you in ways that aren't just about philosophical worldview. What this legal ruling does is force Muslim, Jewish, Yezidi, Coptic etc residents to be like the Catholics.

That wouldn't matter if Germany was some neutral debating society where Nietzcheans, objectivists, Dawkinsites and communists discuss theology with Muslims. But it isn't. It's a normatively Christian society, with both deep-rooted and powerful new forms of intolerance against Turkish, Jewish and other minorities. That context matters.

For once I am with the God-Botherers here – this is so central to male Jewish and Muslim identity that it just can't effectively be banned.

Plus male circumcision is really not a big deal – there is allegedly some minor loss of sensitivity (meaningless to anyone who isn't circumcised as an adult) balanced by some significant health and hygiene benefits.

Above all it literally saves lives by reducing HIV transmission rates: http://www.who.int/hiv/topics/malecircumcision/en/.

So this really is just anti-religious bigotry (not that there is anything wrong with that – but let's at least be open about what it is).

"there is allegedly some minor loss of sensitivity (meaningless to anyone who isn't circumcised as an adult) balanced by some significant health and hygiene benefits."

Although this is not an issue I'm zealous about – reading arguments in favour often seem to have, on me, the opposite effect of that intended. I think David Aaronovitch is best on the 'for' side, partly because he makes no attempt to appeal to logic.

SteveH

said,

The logic should tell us that entire societies don't go around abusing their children, child abuse by relations will always be a minority sport. It flies in the face of Darwinian science to say otherwise – oh the irony!

I am against a ban but I would point out that the health benefits have been pretty much debunked.

prianikoff

said,

"Of course, both male and female cicumcision is child abuse, plain and simple."

The fact that you even equate the two shows that you're certainly simple.
One denies sexual pleasure, the other doesn't.
Male circumcision also has potential health benefits; less likelihood of infection in adulthood; lower incidence of cervical cancer.
I'm a socialist and I'm circumcised.
I've been to Jewish Brit Milah ceremonies as an adult.
I don't recognise the description "child abuse", nor the lurid terminology used by some of the commenters on this thread, which have deeply racist overtones.

Ever since the Romans, state bans on male circumcission have had reactionary, cultural suprmacist motives. During the reign of Hadrian, they even provoked a mass uprising against Imperial control.

The background to the current German legislation isn't so different.
Having already committed genocide against European Jewry, the German capitalists encouraged millions of culturally Muslim gastarbeiten into their country.
Now that German capitalism faces a Europe-wide denbt crisis, the racists are coming out of the wood-work and encouraging a cultural backlash against them.
Anyone who is a socialist should realise this.
They shouldn't be providing grist to the mill of another imperialist bandwagon with spurious liberal secular arguments.

Anyone who's a socialist should recognize that changing the body of another citizen without their consent is plainly wrong.
This isn't about religion, this is about the rights of the individual. And, by the way, the "potential health benefits" of circumcision have been debunked a long time ago…

Priankoff: both male and female circumcision are vicious physical attacks on defenceless children. The fact that female circumcision is far nastier in its effects is important but does not change the fundamental principle at stake – the rights of children not to be physically mutilated.

That's child abuse by any definiton.

Anyone who thinks that opposition to this form of child abuse is "racist" is a morally degenerate relativist, against whom "liberal secular arguments" deserve the support of every socialist – well, every civilised human being actually.

prianikoff

said,

As I've already said, female circumcision is a seperate question, due to its suppression of female sexual pleasure. There is no religious obligation amongst Muslims to practice it and where it happens, it can be eradicated by education and even religious edict.

Male circumcision is no more of a "physical attack" than having your appendix out , or wisdom teeth removed. In terms of its physical consequences, it's about on par with having your ears pierced.

As far as medical benefits are concerned;
I've yet to meet any Jewish or Muslim male for whom male circumcision was an issue. But I once worked with a gay man who had to have a medical circumcision as an adult due to an infection.

Obviously doctors should have the professional choice about whether they want to carry out a circumcision.
But by supporting state bans will end up with legimising police violence against practising Muslim and Jews.
I'd imagine that the current German government isn't stupid enough to want to go down that route again.
Evidently some of the denizens of this blog are.

Andrew

said,

Assuming that you lost your foreskin without your permission, as a baby, sorry to here it dude. I'm really glad that I've still got mine.

Monsuer Jelly est Formidable

said,

cocks are are fuckking. Not chopping.

Leave the cocks alone religious fucknuts.

prianikoff: if you really cannot see the difference between a necessary medical intervention and a culturally/religiously decreed physical assault, then you understand nothing.

Pinkie

said,

Let's face it, circumcision is simply weird. It is unnecessary and does not even act as a unique marker, as if that were itself necessary.

What is the argument in favour of circumcision? Is it possible to be a Jew or Muslim with an intact foreskin?

I have no strong view on 'banning' circumcision other than tending to go for the status quo in the absence of good reasons for change. I would, however, like to know why circumcision is 'a good thing'.

Faster Pussycat Miaow! Miaow! Miaow!

said,

Circumcison is a symbol of barbaric authoritarianism. As ever with these sorts of things, the religiosi pop up and defend their special barbarism as essential to their humanity while simultaneously excoriating the barbarism of the Other as the ne plus ultra of wickedness. 'It is no different to having your ears pierced' – this is mere assertion shameful at that. My friend who was circumcised as an adult can attest to the seriousness and discomfort of the procedure. To subject infants to the same is the worst form of barbarism.

prianikoff

said,

"….worst form of barbarism"

The argument of a hysterical liberal imperialist.

Kikuyu initiation rites have tradtionally involved circumcision.
No doubt British settlers to Kenya used similar arguments to yours, as they shot, butchered and drove Mau-Mau suspects into concentration camps.
For some reason, you seem more interested in discussing a misguided German court ruling on circumcision – which all Jewish and Muslim organisations there have condemned
- than the court case now being brought over British atrocities in Kenya.

Imperialism is the worst form of racism.

SteveH

said,

Are we really saying to large sections of the planet, "You are child abusing scum"? Sounds like the kind of hysteria you would get from the anti abortion brigade to me.

And what gives us planet destroying consumption junkies the right to start laying down the moral code?

Andrew

said,

What gives me the right to start laying down a moral code? I don't know. I just *thought* about what I thought was right, I started with what I thought was best for me (e.g. I sure am glad no-one cut off my foreskin when I was baby) and then I thought what was best for everyone else (I bet given the choice, and especially because if they really wanted to they could have it done later, *all* babies would prefer no-one cut away at their foreskin). Given that babies can't say whether or not they're happy for this it makes sense to me not to circumcise kids. That seems to me like a general principle you could apply in most cases – there may be exceptions such as vaccinations I suppose but there you can see a very clear reason (health) to ignore the principle.

So that's one approach – I don't know what you expected?

My other thought is just that it's really fucking *weird* to cut off a babies foreskin. The thought of it makes me feel a bit sick. I feel very sorry for anyone who was forcibly circumcised. Given the relatively high amount of people who have had this happen it's very difficult to debate it as of course no-one really wants to think that they have a brutalised cock.

But… seriously… LEAVE LITTLE BABIES PENISES ALONE?

SteveH

said,

"I started with what I thought was best for me "

How morally virtuous! A rich and powerful person who will pass on that wealth and power to their kids would be morally justified in keeping it if one uses the what is best for me argument!

Someone living now, while the planet is still habitable, may think being able to drive where they want is best for them. Who cares if it threatens all those unborn children and their unborn cocks?

I think you probably get to the bottom of morality in 'advanced societies', is it any wonder they are so morally fucked up!

vildechaye

said,

RE: so drastic as circumcision

Snigger. There's the "problem" in a nutshell. There's nothing "drastic" about snipping foreskin of an 8-day-old baby. And 99.9999% of the "survivors" of this "drastic" procedure would happily say so, if only the "intactivists" would bother to listen.

This entire circumcision non-issue reminds me of Chris Rock's old joke that "there's no lactose intolerance in Rwanda." I bet there is anti-male-circumcision movement in any country where poverty, hunger and sickness or other real social problems exist.

vildechaye

said,

RE: CI'm really glad that I've still got mine.

I'm glad having a foreskin makes you so happy. I guess it doesn't take much. I can assure you, though, that not having one is no great loss, despite the fact that a teeny weeny (pun intended) subset of circumcised men apparently have no better use of their time and emotional energy than to mourn and grieve over the loss of their precious foreskin. One can only snigger…