May 2, 2012 at 7:30 am (Jim D, pensions, political groups, Socialist Party)
.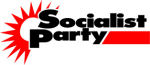 As you'd expect, it's all quite Panglossian, especially in terms of the pensions dispute:
"The dominant feature of the situation in Britain in the last year has been the re-emergence of the working class as the most decisive force in society, characterised by the three great events of 26 March, 30 June and 30 November..the outcome of this battle is in the balance…The pusillanimous right-wing trade union leaders – led by Prentis and Barber – wish to abandon the struggle without any real concessions from the government…From the outset, the strikes and demonstrations were merely 'for the record' – to let off steam – and not a serious attempt to force the government to retreat.
"Fortunately, the left unions – the PCS, NUT, UCU – remain in the frame and are prepared to do battle.
"The magnificent conference organised by PCS Left Unity at the beginning of the year did the job in mobilising the resistance from below to the sell-out of the right-wing trade union leaders."
Mind you, it's nowhere near as entertaining as this.
H-t: Matthew
1 Comment
May 4, 2012 at 8:46 am

Sad, though, that Dave Nellist has lost his seat in Cov.