Congratulations to the people and the government of Argentina – especially as their enlightened decision is one in the eye for the child-molesting hypocrites of the Catholic Church.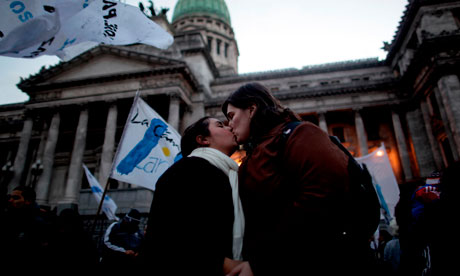 Argentine Senate backs bill legalising gay marriage
Argentina has become the first country in Latin America to legalise gay marriage after the Senate voted in favour.
The country's Chamber of Deputies had already approved the legislation.
The vote in the Senate, which backed the bill by just six votes, came after 14 hours of at times heated debate.
The law, which also allows same-sex couples to adopt, had met with fierce opposition from the Catholic Church and other religious groups.
Read the rest here.
4 Comments
Yes, a great step forward! Well done Argentina!

shug

said,

Hpoe it includes adoption rights.

It's almost been a year!! If you're gay in Argentina and have an Argentine partner, I suggest checking out this page: http://www.argentinafaq.com/how-does-gay-marriage-work-in-argentina/

It has a step-by-step process, more or less, of how it works! Saludos to all!