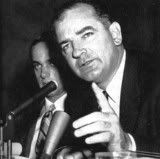 Long-time readers will be aware that this blog has historically been critical of prominent pro-war left site Harry's Place, whilst nevertheless continuing to link to it and regarding it as an important part of the political blogging landscape. We have attracted criticism from members of the SWP and others for that stance, and I for one do not envisage it changing. That having been said, I cannot let some of their recent output pass without comment.
Harry's Place has for a long time had very obviously different politics amongst its various posters, as indeed we do here. There is nothing wrong with that – blogging is not like party politics, still less like hard-left party politics, and there is no need for any one blog to have a set political "line" on any one issue. However, Harry's Place at its inception had carved itself out a very deliberate niche as an advocate for the use of military force to ensure workers' rights around the world. Whilst I do not agree with them over the war in Iraq, I do not think that anyone could deny the power of the single, raised ink-stained finger picture that marked the first Iraqi general election, nor the righteous fury of the writing which underlay it. It's in the archive on their site, somewhere.
So, what has happened recently? In place of all this, we have increasingly bilious attacks on essentially random individuals who oppose Israel's gross and nauseating military actions in Gaza, which do not even make the pretence of protecting democracy for the Palestinian people. We have attacks on the protests against those military actions and in my view, intimations of anti-semitism. I have attended three such demonstrations in the past fortnight, one in London, one in Coventry and one in Birmingham, and the idea that their tone was an anti-semitic one is quite simply arrant nonsense. I myself was sickened by the "We are all Hezbollah" chants that could be heard on London demonstrations against Israel's war in the Lebanon – the protests that I have been on categorically did not have that tone, and anyone who says that they did was either watching something else, is desperate to fill out a pre-existing narrative or is simply an outright liar. Further, as people who constantly ask why Israel is held to different standards than other democracies (a contention which is often spurious: imagine what would have happened if the UK launched air strikes against the Shankhill Road in the 1980s), perhaps these supporters of Israel's actions would like to explain why they seem always to be automatically willing to offer any Israeli administration a blank cheque to do anything at all when it is attacking Arab civilians?
Another thing, which has been particularly galling, is the recent descent into red-baiting. I have already blogged about the bizarre McCarthyism which surrounded the apparent attempt to get Owen Hatherley sacked from the New Statesman for writing a review of Lenny Seymour's book that didn't accord with David T's (or Oliver "I'm left-wing, honest" Kamm's) opinions. I fully endorsed Lenny Seymour's comments at the time, and I gladly do so again here. For those who do not remember what they were, this summarises them quite well:
Describing the reviewer, Owen Hatherley, as the "Dilpazier Aslam" of the New Statesman (recalling a case in which a trainee journalist was fired from The Guardian, having written an article that included praise for Hizb Ut-Tahrir while he was a member of said organisation), the post on Harry's Place claims that Owen Hatherley is a member of the Socialist Workers' Party. He is not, and never has been. But it is on the basis of this single fabrication that the author of the post launches a lengthy diatribe effectively demanding that the New Statesman publish a correction and fire the reviewer. It is a small irony that, while in effect demanding a purge on the basis of an invention, David T fantasises that it is SWP members who are 'totalitarian'.
More recently there was this, with an even more blantant exhibition of the most disgusting red-baiting from one "Lucy Lips". In reference to people of "far left" views getting democratically elected to positions and putting their politics up for discussion, she says:
This is why the far Left needs to be kicked out of all elected positions in the Union movement. They've no interest in pay and conditions. They're happy to wreck a union, as long as it helps them to recruit. They're waiting for the Revolution, after all.
If that isn't a classic 1950s-era "reds under the bed" style tissue of lies and paranoia then I don't know what is. Political arguments aside, as someone virtually whose entire family in some way was born, bred and worked on the left of the labour movement, I find it personally insulting to see some superannuated metropolitan middle-class tosser (forgive me if you're a destitute M & S worker Lucy, but somehow I doubt it) chooses to tell me what our movement can and cannot discuss in our own forums. And if you don't like your union officials then vote them out without indulging in McCarthy-style ideological purges. Anyone who does not support that basic level of labour movement democracy is scum pure and simple, and that is the impression which the author gives to me in that post.
And finally we have the ultimate descent into utter Bullingdon crap, with a post taking the piss out of a middle-aged woman's looks. "LOL TROTZ!". Jeezus, next week it'll be "Hey, that Roosevelt, get him and his funny wheelchair!", "LOL HAWKING!" and "Pavarotti was fat! LOL OPERASINGERZ!". Either that or a guest post by Roy "Chubby" Brown – hey don't laugh, I'm sure he probably wants to Defend Freedom too.
Maybe it's a case of watching Shachtman's descent (from fascinating dissident left-winger to outright supporter of the political right) in fast-forward from the comfort of my living room. Or maybe they just always were the political equivalent of American Dad mixed up with Beavis and Butthead. Either way I won't pretend that it isn't deeply disturbing to see a group of people engaging in tactics worthy of the lowest form of witch-hunting pondlife whilst claiming overtly that they are doing so in the interests of pursuing a progressive political agenda.
Guys, I hope this recent spate of behaviour represents a loss of political bearings and not a display of your true colours. Sort your shit out.
69 Comments
modernityblog

said,

Why not send a copy to HP, I am they'll cross post it

This pretty much nicely sums up why I lost interest in the whole Euston Manifesto crowd (that and I got kicked off the Drink Soaked Trots page for being nice to Wardytron).

For all their talk of creating a new left, they've never really developed a coherent platform beyond, "Rah, rah, the SWP are oiks. That Galloway chap has gone a bit too far." Gratuitous SWP-bashing can be enjoyable, and at times deserved, but the SWP are by no means the biggest problem in political discourse at the momnet.

The whole Eustonite/Decent Left manifesto is one that's easily lampooned and has never really got beyond being an exercise in kicking straw men.

Ben

said,

I'm sorry but ur wrong with regard to Howard Miles. Miles is an SWP senior activist who has been extremely active in antizionist and boycott campaigns in the UCU. Somebody like that needs to be challenged and people have the right to highlight and challenge the odious politics of Miles.

Stringy Bob

said,

I find it healthy and reassuring to see a lot of people at HP picking up on the rampant anti-semitism and romanticising of fascists like Hamas.

The pedantic wankfest view of 'socialism' offered on here by people who reek of a spoilt over-priviliged life is exactly what turns 'normal' people away. I'm from a mining area and from a mining family, years on the dole in the mid-80s, but self-educated and living a happy life. A real-life working class hero. You'd hate me. It's so funny.

You'll not like to hear it but there you go.

voltairespriest

said,

And a self-proclaimed working-class hero at that. There again I'm sure there's another descriptive term I could use. Incidentally you're full of shit on the question of "over-privileged lives", not that it matters much.

Do tell what HP's vision of socialism is then Bob.

John Hasburger

said,

I agree with Stringy Bob. The whole idea that this post on HP is taking the piss out of a middle-aged woman was blown to bits by the author telling you he got the picture from wikipedia and made no comment on appearances. The ridiculous dishonest hyperbole of your calling it: a post taking the piss out of a middle-aged woman's looks. " is only matched by your pathetic attempts to suggest that posting a picture without comment is equivalent to racism or laughing at the disabled. If you don't see why this sort of thing makes people think the Marxist left are dishonest then perhaps you need a lie down.

Ed

said,

So what *is* the joke, then?

voltairespriest

said,

John: the dude's been posting on there for how long now? Don't even try to tell me that he either thought the picture was flattering, or that he didn't know what reaction it would get, Look at the comments – more disparaging comments about a woman's looks you will not find outside of a Jim Davidson show. I'm not being dishonest in the slightest, just calling it as I see it.

(cue usual defence – free speech for pricks in the comments, we can't be expected to control them etc… etc)

voltairespriest

said,

twoseventwo

said,

Yeah, I agree. I'm prepared to give them credit for the range of guest posts they've solicited on Gaza, and for finally doing something about how disgusting their comments have become, but the lack of objectivity in covering the demos has been just breathtaking. And while I know David T takes a position that the SWP are an totalitarian organisation not entirely dissimilar to the BNP and therefore, perhaps, fair game for the kind of tactics (exclusion, unpleasant mockery) you might use against the latter, you don't have to have any kind of brief for (or respect for) the SWP to see that this is really pushing it.

I suspect they feel backed against a wall by the Gaza crisis; they have naturally pro-Israel instincts (certainly no worse than having naturally pro-Hamas instincts, in my view) and on an occasion when critics of Israel have something of a point (to put it mildly) they're under a lot of angry pressure and lashing out rather irrationally.

Waterloo Sunset

said,

I think we have to look at HP's politics in a corporate sense. The Your View section needs to be put to one side, simply because isn't always representative of the blog as a whole.

I'm honestly unconvinced that they are left wing at all now, if they ever have been. It's not because they were pro the Iraq war. I'd still see the Drink Soaked Trots as left, whatever the 'eccentricities' of some of their more prominent members. Neither is it their "naturally pro-Israel instincts", as twoseventwo. puts it. BobfromBrockley (who I have a lot of time for) arguably has those, albeit in a far more nuanced way. And, again, he's undoubtably a member of the left.

But HP aren't. There's no committment to social change and, indeed, an absolute hostility to any form of socialism on there. A simple perusal of the last few months posts will illustrate that. They're a blog of the Labour right. Indeed, they're actually to the right of the old style SDP.

The other thing often left unmentioned in looking at HP is the politics of Harry himself. When you have a blog set up by a ex Stalinist, I think it's fair to say that attacks on Trotsykists particularly (and I'm hardly a great fan of Trotskyism myself) come from a certain political context. While they don't currently delete references to Harry's politics, neither do they ever address them. Despite the fact they're hardly normally shy about bringing up people who they disagree with's political pasts. It makes it a bit hard to take their supposed 'anti-totalitarian' stance seriously, when they were undoubtably set up by someone with a totalitarian stance.

And the concept of the Stalinists allying with the Labour Right to attack Trotskyists is hardly without precedent…

Where's Harry?

said,

Harry aka Shabba Goy aka Jimmy Bradshaw aka …

Cuckoo in the Nest

said,

David T aka Lucy Lips aka Kick the Trots out aka Look at me with my really really leftwing friends, like, er, Teresa Villiers.

This is a really good, tight, well-argued post.

Few comments:

1) The site is nowhere near as good as it was when Harry was running it. He really made the case for the violent overthrow of Saddam Hussein and, despite everything that's happened, I've heard no coherent answer to the question: 'How else would you get rid of Saddam Hussein'?

2) Harry used to be a communist but as far as I can tell he was in the party when he was eighteen. We all had stupid ideas when we were younger. I certainly never read a defence of Stalinism on his blog and indeed his public enemy number one, George Galloway, is a Stalinist rather than a Trot.

3) Their line on far left factions in unions is that the noisy SWP minority in unions are trying to hijack organisations to promote meaningless and sinister gesture politics (like the Israel boycotts) rather than fight for pay and conditions for trade unionists. The contact I've had with trade unionists in Manchester seems to support this.

4) The Seymour/Hatherley thing was ridiculous but on the whole I think the site is still worth reading. Edmund Standing's articles on the British far right are essential.

Flying Rodent

said,

Some good points, but I would've thought it was pretty clear that these have always been HP's tactics – red-baiting, guilt-by-association, argument from assertion, half-assed McCarthyite smears. The only difference is that David T.'s descent from The Sane One At Harry's Place to outright Citizen One At Little Green Soccerballs has led him to invite total loonies to post, rather than the original ideological cranks.

This was always going to be the logical outcome, and my guess is that the longer it continues, the further into Melanie Phillips territory they'll sink.

Cuckoo in the Nest

said,

Their line on far left factions in unions is that the noisy SWP minority in unions are trying to hijack organisations to promote meaningless and sinister gesture politics (like the Israel boycotts) rather than fight for pay and conditions for trade unionists. The contact I've had with trade unionists in Manchester seems to support this.

Bilge.

Does the CBI confine itself to so-called bread and butter issues? Of course not. Or does it involve itself in politics? Very much so.

The two are inseparable.

Grow up.

Come on, the UCU activists' lists focuses almost entirely on how to create a discriminatory boycott of Israel rather than issues affecting people in their trade union.

Where's Harry?

said,

"rather than fight for pay and conditions for trade unionists"

HP advocates strike breaking in the case of any industrial action which might personally inconvenience them. As well as a creepy fixation on 'Trots' with little or no real world power or influence, HP posts obsessively about scary and threatening 'muslims' no-one has ever heard of. Their political trajectory is all too predictable. Then again, It's possible that it's all a front.

modernityblog

said,

Volty,

as I suggested, send a copy to David T and I'm sure he'll put it up as a guest post at HP.

chjh

said,

Well, beter late than never – there is more rejoicing in heaven over one sinner that repents, etc. But you might want to look a bit closer to home.

Max Dunbar, in a post that you hosted, said that the January 10 rally …teemed with Nazi iconography and flags of Hamas, Hezbollah and Al-Qaeda, and rang with chants advocating the destruction of Israel. and aserted that I think it's reasonable to conclude that anyone attending such a rally is a supporter of clerical fascism.

Now in my political tradition, them's fighting words. Are you not bothered about being called a supporter of clerical fascism?

modernityblog

said,

"Are you not bothered about being called a supporter of clerical fascism?"

Chjh,

how many times has the SWP hosted or promoted that racist and London Hamas rep, Tamimi??

how many times has the SWP hosted or promoted that anti-Jewish racist, Gilad Atzmon??

maybe you should do a bit more thinking and less "fighting"?

Shabba Goy

said,

Well I don't have any information about demonstrations in Coventry, Leicester or wherever. Let's stick to what we do know.

Last week there was a pro-Hamas demonstration in London. Let's not pretend otherwise.

http://www.hurryupharry.org/2009/01/10/hey-ho-israel-has-gotta-go/

Leaving aside the presence of Hezbollah and Hamas flags on the protest, the swastikas, holocaust and genocide slogans which I am sure you agree are Jew-baiting tactics – the pro-Hamas character of the demo was confirmed by the presence of an invited official of Hamas on the platform. You couldn't get a clearer confirmation.

The fascist Azzam Tamimi, representing a group which calls for the elimination of Israel and which targets Israeli civilians, made a speech which was greeted with cheers not booing.

Then the Stalinist George Galloway spoke (again to great cheers) and called on people to go into particular shopping centres and "close down the Israel Shops."

In the hours and days which have followed this pro-Hamas demonstration there have been, as you know, attacks on Jewish individuals and a series of attacks on perceived Jewish businesses.

The Community Security Trust talks of record levels of anti-semitic incidents.

There is not a word of protest against the violence on the websites of any of the far left groups. No calls for solidarity with the Jewish community – NOTHING.

The only voice of the far-left to make at least a criticism of the pro-Hamas protest was Sean Matgamna:

http://www.workersliberty.org/story/2009/01/15/politics-demonstrations-against-israels-offensive-gaza

As for the trade union movement – Harry's Place posters have been involved in exposing the shameful boycott campaign in the UCU and are quite right to call for the far-left to be defeated in that union and for academics to be led by people committed to improving education and the rights and conditions of people working in the education system. I fail to see what is McCarthyite about that.

As for HP's 'position' on the conflict between Hamas and Israel – there is no line as you conceded – there have been posts calling for Israel to stop, there have been posts lamenting the absence of a left-wing alternative in the region, there have been posts exposing the true nature of Hamas and yes, of course, there have been posts supportive of Israel's position.

You will find in the comments that HP writers take on anti-Palestinian chauvinism — Gene may be one of the more pro-Israel posters on the site but he is also the first to hit back at any anti-Arab racism.

HP doesn't have many friends – a fact most of us have long accepted. We are attacked by Islamophobes for not seeing Islam, the religion, as the main problem and for opposing anti-Muslim bigotry. We are attacked by ultra-Zionists for calling for a two-state solution and a return to the 1967 borders. The Labour blogs don't like us because we criticise the government's position on various issues. The far-left and the Islamists hate us for obvious reasons.

Some people don't like the style of the blog, or the domination of certain issues, or the focus on the words and actions of individuals. The far-left isn't used to being held to account – the media and political class ignore them, they are only used to critiques from within their own camp.

Then there are some friends of the blog who think there should be more 'labour movement' posts and less stuff on Islamism. Others lament the absence of this issue or that issue from the agenda on HP – all well and good, it is a political blog, nothing more, nothing less.

Sue R

said,

I look upon Harry's Place in the same way that I used to look up the New Statesman (in the 70s) and the Spectator (in the 80s). Some interesting, well-informed articles, thought provoking but not my politics. I do think that they can be a bit Compulsive/Obessessive about certain things, but, hell, it takes all types to make a world. I do not know much about the backstory to Harry's Place, but I have never really looked upon them as particularly left, more right-wing/Liberal Labour. Is Shabba Goy the elusive Harry? That's interesting.

Waterloo Sunset

said,

@Max

2) That's certainly the official line. And in terms of party membership, it's almost certainly true. Harry was a member of the old CPGB, who split up in 1991, so it's logical he wasn't actively in a Stalinist party after that. He claims he was a member in 1990, but that's close enough to not be problematic. He also claims that even though he was a member of a Stalinist party

I don't think that membership of that party made me a Stalinist.

which is ridiculous.

The question is however, whether Harry was still an ideological Stalinist after that. And there's strong evidence for that.

First, there's his choice of username. "Harry Steele" was a columnist for the ultra Orthodox Stalinists of the Straight Left faction of the old CPGB. Now, Harry claims that name was

the name was a piss-take out of someone else who wrote under the pen-name Harry Steele and not a 'hommage' to anyone.

(Both quotes from Harry can be found here.

Um, yeah, right. Even if that is true (and Stalinists aren't exactly known for their political honesty), that means his username is still a dig from a factional fight that finished in 1991. That's hardly leaving his political past behind.

Even more damning is this exchange on the AWL site.

It's notable he takes the opportunity to take a swipe at his old factional rivals in the new CPGB. Coincidence? Possibly. This, from Janine however, isn't:

Really, Harry, it is difficult to take seriously your moral stance against bans and proscriptions when you support some of the worst practitioners of it in labour movement history.

You are the same 'Harry Steele' who frequently posts messages praising Stalinist dictatorships, are you not? Yes, you must be – the e-mail address is the same.

That's from 2002. It really doesn't sound like Janine is talking about the distant past, does it? Even the biggest leftist trainspotter among us is hardly going to bring up posts made 11 years ago, let alone remember the email address used.

His dislike of Galloway is neither here nor there. Stalinists are as prone to splits and falling out as the rest of the left. And Galloway's alliance with the Trotskyists of the SWP (before they fell out) is going to be anthema to any orthodox Stalinists.

So there's strong evidence that Harry had Stalinist politics, despite probably not being a member of a Stalinist party, for at least 10 years. Why precisely should I take any preachings on the "totalitarian left" seriously from Stalinists and their fellow travellers?

3) That would be fine, if they were arguing for democratically campaigning against the far left in the unions. There's no evidence of that in the cited post. A reasonable reading has to suggest that they want the state to interfere in the democratic procedures of trade unions. That's text book McCarthyism.

4) Ridiculous? David T's public position is that the SWP are the same as the BNP. I don't agree, but I'll take that at face value. So, he's making false accusations along the same lines as me calling you a BNP member. Would you not think that was disgusting? Should it not exclude me from the left in any meaningful sense?

I'll agree with you on Edmund Standing's articles though. I don't agree with all his analysis and there's some odd omissions (he's never written much on the influence of Griffin's political soldier years on his current politcal trajectory, which I think is vital to understanding the BNP). But they're pretty good, certainly as an introduction for people who aren't that knowledgeble about the ideological twists and turns of the British far right.

I like Edmund Standing's articles as I'm not knowledgeable about the British far right and view with awe anyone who explores that particular swamp, if only for their strong stomach. What's that about Griffin's political soldier years?

HP concentrates on antisemitism and islamism, as well as gay issues – all important issues. I would call it democratic and liberal rather than socialist, which I suppose is damning it in some people's eyes.

And finally we have the ultimate descent into utter Bullingdon crap, with a post taking the piss out of a middle-aged woman's looks.

I agree with Volty about that, and a reasonable indicator from left to right is the amount of sexism. Right wing blogs have a lot, left very little or none at all. This is the first time I've taken issue with a post as such, rather than with some boorish comments on a thread.

HP is also literate and entertaining and threads can get away from politics into literature, with good, lively discussion.

Waterloo Sunset

said,

I like Edmund Standing's articles as I'm not knowledgeable about the British far right and view with awe anyone who explores that particular swamp, if only for their strong stomach. What's that about Griffin's political soldier years?

That's fair enough. As I said, I think Edmund Standing's articles are probably the best thing on there. Just to clarify my background, I came into the left very much via militant antifascism, so the British far right are a subject I've looked into a lot. So I fully recognise that I'm probably not Edmund Standing's target audience for those posts.

On Griffin's political solider years, I'll give a brief summary. This is obviously a complex subject and I don't want to completely sidetrack the thread.

Griffin was an active follower of the ideological position known as the 'political soldier' wing of fascism, first of all as part of the Offical National Front (one of the factions of the National Front as a whole) and later in the International Third Postion, before he joined the BNP.

I think it's crucial to understand that in order to look at what he's doing tactically today. A lot of what Griffin has introduced to the BNP (the downplaying of overt antisemitism, having a cadre of experienced activists within a wider organisation, opposition to 'globalisation', the rebranding of racial seperation as being about 'diversity', the temporary alliances with non-white racists etc.) are concepts he first tried out then.

Where I think Griffin is unique among the British fascist movement is that he's synthesised those tactics with a broader pseudo-Tory populism for public consumption. The latter is also how the BNP presents itself to many of its members and supporters outside the inner circle of activists surrounding Griffin.

This could be a guest post.

'Nuff said

said,

Thanks Waterloo. I do remember when the BNP database was leaked onto the internet, there were indignant BNP members saying, I'm a BNP member and I'm not a Nazi. I think some of them were perfectly sincere – they just saw the BNP as a patriotic, anti-immigrant movement.

voltairespriest

said,

Shabba Goy: I wasn't on that demo but (and it doesn't gladden the heart to say it) frankly given the obviously partisan nature of the reporting of the first London demo which I was on, I'd hesitate to take the HP report in isolation. I do realise however that the posters of the two reports were different people. Of course you're right to assume that I wouldn't support such a demo if it were clearly a rally for Hamas though.

I'm also not saying that there hasn't been good stuff in the past (I hope I made that clear in the original post). I'm just concerned at the sight of such stuff being steadily replaced by quite unpleasant (and, to me, right-wing) crap like the growing number of "trot bashing" posts.

Re: the rise in anti-semitic attacks, of course that's a serious worry, however I fail to see what the direct link is with protesting against the Israeli attacks in Gaza. I daresay that the odd anti-semitic nut might watch one on the telly (or even peripherally attend it) and go trooping off, however they were probably an anti-semitic nut before they went on the demo.

Chjh – I'm pretty confident that Max doesn't think I'm a supporter of clerical fascism. No worries here on that score.

Mod – Maybe he would. For what it's worth, everyone I know who has met David says he is a nice bloke, and I have no reason to doubt that's the case. But in terms of a guest post, really what would be the point? All you'd get is defensive reactions from some of the posters (look at what Graham, admittedly a special case, has been writing in the "LOL TROTZ" thread), and the usual bollocks in the comments.

Max – what should be a guest post?

Tami

said,

Chjh is right. Why do you allow Max to post nonsense saying that everyone attending a mass rally is a supporter of clerical fascism without comment? I find it incredibly offensive and am disgusted by the nature and tenor of that post. I am glad that Volty finally had the guts to say something about HP and how ridiculously right-wing it has become over the Gaza crisis, but why are you perpetuating the same kind of lies about the character of the demonstrations on your own blog then?

In addition, the bashing of the trade union left groups is something that the labour right-wing and the BNP fascists do. I really take issue with Max's seeming agreement that the union left's don't do anything except for pass boycott motions and don't fight for the pay and conditions of members. Utter bollocks. Have you ever lived with anyone who works within these union left groups? I have, and the man poured his heart and soul into case work, defending members against management action, organising ballots and strikes for pay and conditions and supporting motions defending trade unionists around the world. He also supports political motions in the union as well. Do you even know the people you are talking about??? Or is this just all a bit of fun to go around bashing people who actually try to do something about the way the world is instead of just comment about it, attack them and deride them on blogs. Do your consider these people your comrades or enemies?

voltairespriest

said,

Tami: as you're perfectly well aware, it's not a question of me (or Jim) "allowing" anyone to do anything. We have a consciously libertarian approach to posting on this blog, and everyone has equal posting rights. Max is well aware that I don't agree with his views on the Gaza crisis: it's not something that either of us have kept secret from the other. There are other issues where he and I do agree. Same goes for all of us – me, Jim, Rosie, Max and Caroline.

I don't believe, and never have, that someone taking a different political stance from my own means that they should be cast into the outer darkness. This blog doesn't have a political "line" on anything at all, and I'd just as happily host a guest post from a member of the SWP. The problem is that the likelihood of that happening is minimal because they tend to stick to their own closed circles – with the exception of Mr Lenin whose profile presumably gives him a bit more wriggle-room. The same goes for several of the other grouplets, with some exceptions. The issue is with their unwillingness to engage, not with any policy at this end.

So, yeah. Max gets to say things which I don't agree with on Shiraz. I make no apology for that.

Tami

said,

Volty – the question is why write this post about HP which details a number of the reasons you think they have gone too far and include in that their misrepresentation of the demonstrations, yet allow the same misrepresentation to go on here on Shiraz. What are you going to do about the fact that your blog prints the same lies about the demos and the people attending them that you correctly oppose HP for doing? This is your blog. Sort your shit out.

Voltaire

I think our disagreement is around the demonstrations rather than Gaza itself.

As for the bias around media coverage of the demo – what do you make of the fact that Sunny Hundal, no friend of Israel, shares similar misgivings to mine?

I want an end to the killing and so do you.

The guest post I was referring to was Waterloo's stuff about Nick Griffin at 27. I have in fact offered John G a guest post about Gaza, but he ignored the offer.

Tami

My point and HP's about the SWP union factions is that they concentrate entirely on trying to arrange a boycott of Israel rather than fighting for better pay and conditions for their representatives. HP concentrate on the UCU and if your mate is doing a great job then good for him.

voltairespriest

said,

You're missing the point Tami (and not for the first time to be honest). The issue I have isn't with individual crap posts at Harry's Place, although obviously I've cited individual posts as examples. The issue I'm trying to highlight is one of political direction.

I think Waterloo Sunset said it very well above – there is nothing much recently on Harry's Place which gives the impression that it's a left-wing blog at all, or indeed to suggest much in the way of a progressive agenda on the part of many of the posters (regardless of what their private views may be). That is qualitatively different from Max, whom I think you would have to concede is recognisably a political progressive, albeit one with whom you would disagree about this issue. Similiarly, Jim, Rosie and Caroline will all say things that you don't like, but that doesn't in and of itself make them "right wing". Jim and I have been in situations where I thought we must look like we were about to have a fight due to blazing rows about political issues, especially overseas. Yet the actual fact of the matter is that we are good friends and comrades.

And that is the difference. I won't pretend to agree with every post on here, because I don't. Frankly I think the blog would be less interesting if I censored posting to include only stuff that concurs with "Volty's View" of the world, However I would stand firm on the fact that this was founded as and remains a progressive left-wing blog, and that anyone who says it isn't either hasn't read it, is fixated on an individual issue whereby they disagree with a particular post, or indeed is adhering to a particular group's sectarian agenda.

And no it isn't "my" blog. I founded it, yes, but it's a group blog on which all posters have equal rights.

Roger

said,

What a fucking ridiculous post. The 'peace' march here in Dublin was stuffed with Hammas supporting cunts of every kind. We even had little kids dressed up as suicide warriors, getting cheered on. It was an theocratic fascist wankfest with Jew hatred about as well concealed as a irate chimp in a Tesco bag.

And you are outraged that HP are pointing this stuff out. Catch a grip.

voltairespriest

said,

The 'peace' march here in Dublin was stuffed with Hammas supporting cunts of every kind

Err well I wouldn't have marched on that one then, would I? I would think that was obvious.

voltairespriest

said,

Max; maybe so. Either way, I think HP's effective characterisation of all of these demos as being supportive of Hamas is simply bollocks. And yes, absolutely – Mr Sunset and JG are always welcome to a guest post.

John Meredith

said,

"I think Waterloo Sunset said it very well above – there is nothing much recently on Harry's Place which gives the impression that it's a left-wing blog at all"

I think that says a lot fo the way the well of left wing discussion has been poisoned by Islamism. Vigorous oppostion to clerical fascism is well and truly iwithin the left traditions, as is opposition to racism in all its forms and support for trades unioionism even in countries such as Iran. The fact that this no longer seems obvious to all comrades on the left is disturbing and saddening.

voltairespriest

said,

Indeed John. However red-baiting, witch hunts and support for military aggression are not.

John Meredith

said,

It appears to me that 'witch hunt' on the blogosphere, has come to mean something like 'criticism of someone I consider a political ally'. And Hamas are not 'red' in any sense and nor are any organisations who can accept or even endorse their genocidal antisemitism. The fact that this does not now appear obvious to many comrades is justfifction enough for HP's continuing exposes, to my mind.

Waterloo Sunset

said,

John-

Sure. But I don't think this thread is full of Hamas supporters. If you go down to the Gaza thread, you can see for yourself that I have absolutely no time for alliances with Hamas supporters or for the 'anti-imp' analysis in general.

Indeed, if you look at my comment at 11, I mention two blogs that very much criticise clerical fascism and support trade unionism in countries such as Iran, that I absolutely consider to be on the left

But merely taking those positions doesn't make a blog on the left. Melanie Phillips is heavily critical of Hamas. Margaret Thatcher supported Solidarity. Are they left wing?

So you're not actually seeing the main thrust of my argument against Harry's Place, I think. A bit of it is about what they do post. (Which Volty has outlined well). But it's mostly about what they don't post. And what they don't post, aside from the "Your View" section is anything to the left of Gordon Brown.

VP-

Cheers. I'll try to get something down and email it you. It might take a couple of weeks. I'm currently prioritising the fact I have a new girlfriend over politics. Outrageous, I know. :-p

Andrew Coates

said,

I think the issue was not the London March was a pro-Hamas Demo but whether leftists should parade in the street with people, even if a minority, who were supporters of clerical reaction. The dilemma is how to oppose the Israeli state's actions without being linked with the 'we are all Hamas brigade'.

As for Harry's Place attacking name leftists, many pretty run-of-the-mill political activists, I find it ridiculous – if sometimes funny. I agree with Volly's main argument. It's dispropoportionate and extreme to go on endlessly about leftists.

Comrade Dave Dudley may have his weak points, but frankly, politics is full of much more objectionable people than the average left-winger. And many of them a lot loonier than the SWP at its worst. MInd you I am only talking about the Conservatives, the Liberals and Labour: all three of which locally contain some of the nuttiest fruit-cakes this side of a rich tea and the first two parties some right bastards. And that's not even going onto UKIP, the Greens and, hey the BNP.

John Meredith

said,

"The dilemma is how to oppose the Israeli state's actions without being linked with the 'we are all Hamas brigade'."

It would be much less of a dilemma if the demos did not put Hamas spokesmen on the platform. I think that would satisfy most HP-ers, although a clear statement distancing the demos from Hamas and all other forms of antisemitism would be an improvement. Nobody suggests that you can vet every marcher at a demonstration, but if someone spoke from the platform denouncing all pro-Hamas demonstrators, it would make it a bit more uncopmfortable for them.

All you'd get is defensive reactions from some of the posters (look at what Graham, admittedly a special case, has been writing in the "LOL TROTZ" thread), and the usual bollocks in the comments.

I have seen Graham defending workers' rights through a long thread, and doing it with fact, reason and without swearing at anyone.

Similiarly, Jim, Rosie and Caroline will all say things that you don't like, but that doesn't in and of itself make them "right wing".

Then why isn't my site on your blogroll?

As for HP, it knows what it's anti – islamism, antisemitism, gay bashing, totalitarians generally – but doesn't know what it's for. except for removal of same But David T is very knowledgeable about islamism in Britain and that in itself would make HP worthwhile.

Blogs are all a bit eccentric. Unlike a newspaper they can't commission on a broad range of subjects, they have to take what their volunteers offer. Anyone reading this blog could complain, the only music they ever deal with is jazz, for Chrissake. Where's the classical? Where's the country and western?

Waterloo Sunset

said,

As for HP, it knows what it's anti – islamism, antisemitism, gay bashing, totalitarians generally – but doesn't know what it's for. except for removal of same

That would prove the point that they aren't a left site, surely? If they're only against things, not for them, that makes them an odd kind of liberal nihilist blog.

I don't think being anti something makes you nihilist. I'm anti leaks in my roof as I want a sound roof and a dry house.

Do you know anything about this?

http://www.israelnationalnews.com/News/News.aspx/129509

Lauren Booth, Tony Blair's sister—in-law, addressed a rally in Blackburn re Israel. NICK GRIFFIN has laid a charge of racial hatred against her:-

"I wish to make a formal allegation of incitement to racial hatred, contrary to S.5 of the Public Order Act, whereby it is an offence to use words intended or, having regards to all the circumstances, likely to incite racial hatred. The offence was, I believe, committed by Lauren Booth in the course of her speech to the Muslims for Gaza rally in Corporation Park, Blackburn, on Sunday 11th January 2009… This rally was attended by many thousands of mainly young Muslim men, already in a high state of anger as a result of media coverage of the Israeli/Palestinian conflict in Gaza. …[H]er use of the plural in the phrase "you are the criminals we detest", juxtaposed with comments such as "we want Israel out of this country", (not, please note, "the Israeli Embassy", but simply "Israel") are clearly likely – if not intended – to be taken by those present as a green light for hatred, indeed quite possibly actual physical violence, against individual Jews and against Jewish businesses in our High Streets."

I did a quick google and the only sites covering this story are the nationalist sites. The story in the Israel National News may have been sourced from Griffin himself, with no verification from other sources. He has been trying to disguise the antisemitsm lately.

http://www.hurryupharry.org/2009/01/11/the-british-far-right-has-its-say-on-gaza/

modernityblog

said,

KB,

best to take what Israel National News says, with a hand full of salt.

voltairespriest

said,

Then why isn't my site on your blogroll?

I thought it was already there, sorry it's my fault and the reason is that I… forgot. Nothing to see here, and indeed if you'd mentioned it before (say in an email at, like, any point since you started posting here) it'd have beern done already. But no worries I shall sort it.

Also KB actually Waterloo Sunset is right, being anti-things is not what being on the left is about, in my view. Obviously clear stands against racism, homophobia and sexism, et al, are a part of the left, but on one level it's perfectly possibly to hold those views and fit in perfectly comfortably within the Tory party. The left (however diffuse it is) shares a certain level of analysis about why those things happen, and draws issue-by-issue stances from that. That is what I no longer see from HP, and that is what I once did. Therefore that's what concerns me,

voltairespriest

said,

I have seen Graham defending workers' rights through a long thread, and doing it with fact, reason and without swearing at anyone.

Well done him.

Mod – if they're using Nick Griffin as their source I shall take it with bucketfuls of salt!

The cheeky bugger though, bringing a charge of incitement to race hatred.

Waterloo Sunset

said,

Griffin is claiming it, but it doesn't seem to be reported anywhere else from what I can see.

It's possible though, for two main motivations.

Firstly, as you say, Griffin's been downplaying overt antisemitism for some time, in favour of anti Muslim agitation. That's obviously a tactical shift He feels that anti Muslim bigotry is more use to the BNP in terms of gaining support.

It's also possible that there may be another round of bloodletting about to take place in the BNP. We've seen this before. Griffin makes this kind of statement in the full knowledge that the hardliners will react negatively. He then uses it as an excuse to purge any he thinks might be a threat to his leadership from the BNP ranks.

Tami

said,

Ah yes, nice little dig about me "missing the point" Volty – no sour grapes then about the past. You are the one confusing the issues. You site HP's recent posts on the demonstrations as an example of the change of political direction of the blog but think similar posts on your blog do not change its political direction or character? This argument doesn't make sense. You either think that a blog that posts wilful misrepresentations of the protests is moving to the right or you don't. If you do think that, then you must include your blog in this characterisation as well. It looks to me as if you are defending Max's post on your blog under the guise of "diversity of opinion" while condemning similar posts on HP as an indication of a right-wing trajectory. You can't have it both ways.

I'm not sure how you could have written this post without mentioning their conflation of the small number of anti-Semitic attacks with Kristallnacht – a comparison so ridiculous that it ought to discredit most of their arguments as a whole.

voltairespriest

said,

Ok Tami… once more, from the top.

Max is a poster who comes from a place which is genuinely progressive. He believes that the world should be made more equal than it is, and he clearly recognises the class system which makes that happen. He is clearly also nauseated by the killings in Gaza. However he disagrees with me about the demonstrations against them (oh, the horror). He and his posts (most of which are thoroughly within the progressive tradition in my own view) are part of a blog which is unambiguously pro-labour movement, pro-working class, anti-racist and pro-equality.

Harry's Place these days is increasingly full of witch-hunts (Hatherley), puerile jokes (LOLTROTZ) and red-baiting (Lucy Lips on the NUJ).

Is the difference clear enough yet or do I have to try again?

Lobby Ludd

said,

VP:

"Whilst I do not agree with them over the war in Iraq, I do not think that anyone could deny the power of the single, raised ink-stained finger picture that marked the first Iraqi general election, nor the righteous fury of the writing which underlay it."

What does that mean?

The Iraqis participated in a formally democratic election but political power remained in the hands of the invaders. What's to celebrate here?

That HP, at its 'bes't, celebrated a formally democratic but politically sterile election, made possible by lies and wanton destruction, tells you all you need to know about them.

voltairespriest

said,

I wasn't "celebrating" it Lobby, and I entirely agree with your analysis of that election. The point I was making was that in those days HP had a politics to it beyond "yah fuck the trots yah", which had effective imagery and a message. I think that has been lost.

Tami

said,

Ah it's all clear now – your blog can post the same kind of biased rubbish that HP does but because Max and the rest of you have good intentions that makes it all better. You're going down the same road by letting this kind of nonsense be written on your blog Volty. You know full well that claiming that those who went on the demo are supporters of clerical fascism is right-wing shite, yet make hypocritical excuses defending it when it happens to be written on your blog in the name of "differences". I hope this blog doesn't go the way of HP but with Max's posts attacking the left it is certainly getting there. Let's post it again for those who may have missed it – brought to you by Shiraz – but it's ok because Volty, Max and everyone else support difference and have good intentions:

"I think it's reasonable to conclude that anyone attending such a rally is a supporter of clerical fascism."

Dr Paul

said,

Political divisions are not always that clear. Both Workers Liberty and the Socialist Workers Party claim to stand in the Trotskyist position, much of this blog's comments are arguments between their respective supporters, the former calling the latter apologists for 'clerical fascism', the latter accusing the former of capitulating to imperialism. Nonetheless, despite my disagreements with the SWP's dalliance with Islamicist elements and its Respect fiasco and its sometimes crudely-expressed anti-Zionism, and despite my disagreements with the AWL's dipping into the lexicon of Decency and its half-way accommodation to Zionism, I do not write off either group as traitors to the working class. I discuss things in a fraternal manner with members and supporters of both groups.

Harry's Place, however, is quite different. It picks on the stupidities and opportunism of the SWP and other left groups, turns those factors into reasons to associate far-leftists with genuinely reactionary elements, such as real fascists; using all the time 'progressive' and 'secularist' language to make its witch-hunting look vaguely left-wing. Harry's Place is a deliberate and open McCarthyite operation. It would turn on the AWL with alacrity should it transgress its criteria for Decency; indeed, the AWL's opposition to the Israeli assault on Gaza has probably consigned Sean Matgamna & Co to the same pit of oblivion as it has put Tony Greenstein and others like him.

Like Decency in general, like the Euston Manifesto, Harry's Place is an enemy of genuine socialists. It is McCarthyite poison; it aims to destroy the reputation of anyone to the left of Blair and Brown. Genuine socialists should have nothing to do with it.

modernityblog

said,

DrPaul,

I always try to read your comments in the best of spirit, but I am struck by your use of "group as traitors to the working class. " and "Genuine socialists should have nothing to do with it."

but firstly, you state:

"It picks on the stupidities and opportunism of the SWP and other left groups, "

1. surely, if someone (the SWP & co) had been doing things for over 30 years, that's 3 plus decades, then we might hope that those "stupidities" might be fairly minimal?

instead, SWP & Co deliberately encouraged communalism, rejecting any criticism

next, you have the SWP pandering to anti-Jewish racism for 4+ years at their premier event, Marxism XXXX, hosting and promoting Gilad Atzmon, ignoring the advice of Jewish socialists

only recently, you have an SWPer shouting racist chants in front of long standing comrades, when picked up on it, rather than take the point to heart they attack Dave Rosenberg (see the other thread for details)

I am sure there are plenty of other examples, so a "socialist" organization which consciously and with thought, indulges in this type of activity they lay THEMSELVES open to criticism?

there plenty more on that topic, but surely very very experience politicos don't have ANY, NONE, no excuse to pander to anti-Jewish racism and maybe people have decide the days of "having a quiet word with them" are over?

2. Turning to your comment, "group as traitors to the working class. " if we were older we would have heard this type of comment thrown around since 1917? and in particular in Germany in the 1930s with third period Stalinism

Far be it for me to draw the parallels, but shouting "SOCIAL fascists" at people was a failure in the 1930s and seems to be morphing into new slogans nowadays, with equal sucess?

3. "Genuine socialists should have nothing to do with it." PRECISELY who decide who is a "Genuine socialist"??

the SWP?

would they be? do "Genuine socialists" host racists (Atzmon, Tamimi) and play down racially motivated violences (physical attacks on Jews)? would "Genuine socialists" do that?

or does it become a subjective judgment, rather than one coming down from on high?

I think that most on Left should have learn the lessons of making such pronouncement by now?

Waterloo Sunset

said,

Nobody's claiming that HP are fascists. (Well, ok, Resistor might be. But I don't read his comments, so who knows?".

People are arguing they're right wing liberals.

Would you honestly disagree with that?

Waterloo Sunset

said,

Oh, and once more.

I have a friend from university who held some extremely racist views- David T

resistor

said,

voltairespriest

said,

Tami I'm sorry but that's utter bollocks. There are individual issues where we all disagree, individual issues indeed where you and I disagree. That self-evident fact does not in my view make either of us "right wing", it just makes one of us right and the other wrong. I supported a critical vote for Obama, you opposed it. Does that make me "right wing" in your view, or simply wrong?

I think Max is wrong about the demos, and I've said so. However I agree with far more of what he writes on various issues, than I disagree with. The British Left is uniquely fixated with Israel-Palestine amongst issues overseas – whilst we may argue furiously about other questions, nothing quite rouses the swivel-eyed doctrinaire fury of UK left-wingers (on both sides in the conflict) like this question. I think that's unfortunate because of all issues, this is one where a bit more light and a lot less thud and blunder would be useful.

It simply beggars belief that you can't tell the difference between Max's politics and those of many HP'ers, it really does.

voltairespriest

said,

Dr Paul's comment for the win.

Jim Denham

said,

#61, above (to "Dr Paul): "I always try to read your comments in the best of spirit, but I am struck by your use of "group as traitors to the working class. "

As I recall, Dr Paul supported HOPI's equivocal non-support of Monsour Onsanloo and other Iranian workers:
http://www.itfglobal.org/campaigns/freeosanloo.cfm
..a betrayal that I initailly described as "scabbing" but then agreed to tone down to "disappointing"..I think (in retrospect) that I'd re-instate the word "scabbing".

voltairespriest

said,

Actually what he's saying is that he doesn't always agree with others on the left, but still recognises them as comrades and engages in debate on that basis. That sounds fair enough to me – unlike the quasi-Calvinist "one of your mates disagrees with my line on Israel-Palestine therefore you're a right-wing bastard" thing that appears from fairly obvious partisan members of various Trotskyist grouplets on here and, in similar fashion, from right-wingers on Harry's Place. In that sense I think Dr Paul's coimment is very fine.

Waterloo Sunset

said,

As an update, Harry's Place have now descended into Daily Mailesq "If you know 'em, shop 'em'" stuff- http://www.hurryupharry.org/2009/01/23/appeal-to-trace-demonstration-crime-suspects

Do you want to be linking to grasses?

The situation with Brett is interesting. He's a member of Outrage, a direct action group. It's obviously an organisational matter for them, but it's my view that having someone who openly supports going to the old bill if people break the law is an obvious security risk.