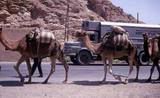 Sorry not to have been blogging at my usual prolific rate folks, but I've been in the process of moving from Coventry back to the throbbing metropolitan heart of the West Midlands that is Birmingham. You'd be amazed just how much shite you accumulate over the years; I discarded around eight bin bags full of left wing papers alone. Although I did find one gem… remember that MAB newspaper with the interesting article about what should be done to apostates, the one that SWP members will demand you produce on the spot, and call you a lying racist Islamophobe if you don't happen to have it in your back pocket? Found one.
Anyways, normal service shall be resumed shortly!
8 Comments
modernityblog

said,

Volty,

a tip for moving:

get about 10-20 Bags for Life from Tesco or Sainsbury's, those strong reinforced plastic bags, they are handy when lugging books, etc around and don't fall apart like normal plastic bags,

perhaps you could scan that MAB article and put it on the web for future reference?

"I discarded around eight bin bags full of left wing papers alone. "

Wouldn't it have just been easier selling your quota of papers at the time?

I believe a bogus petition helps.

Voltaires: Hey, if you had the time and was bored with watching paint dry…you could sell your papers on ebay… Simple! There's always some sad schmuck who will buy them and you could make a couple of quid…..

Oh, Coventry …the land of the Specials.. B'ham the place of my birth and of the Beat ,UB40 (one half of Duran Duran) and Led Zeppelin. Homesick. Not!

Btw: which bit of B'ham, if I may ask?

Paul Hunt

said,

VP!
does that mean i won't be able to text you saturday mornings to get your backside out of bed to buy the socialist?! how will you survive?

good luck comrade
ph

Ah the joys of sorting through long accumulated piles of what seemed at the time like vitally important papers, pamphlets, letters and so forth. As an inveterate hoarder it is an exercise I must perform at least once every two months at least. If only I be like the late, great Quentin Crisp and refuse to clean anything up, declaring with insouciance, "after four years, the dust doesn't get any worse."

voltairespriest

said,

Have another glass of red wine, wake on the morrow and have thyself a bacon sandwich, then revisit that comment. I have no idea what you are talking about at this moment, me dear

Oh, talking about mess and clearing it up. 'Twas provoked by your observation "its amazing how much shite you accumulate over the years."

voltairespriest

said,

Ave, Maria. Adorable girl, you really are. I was merely japing.